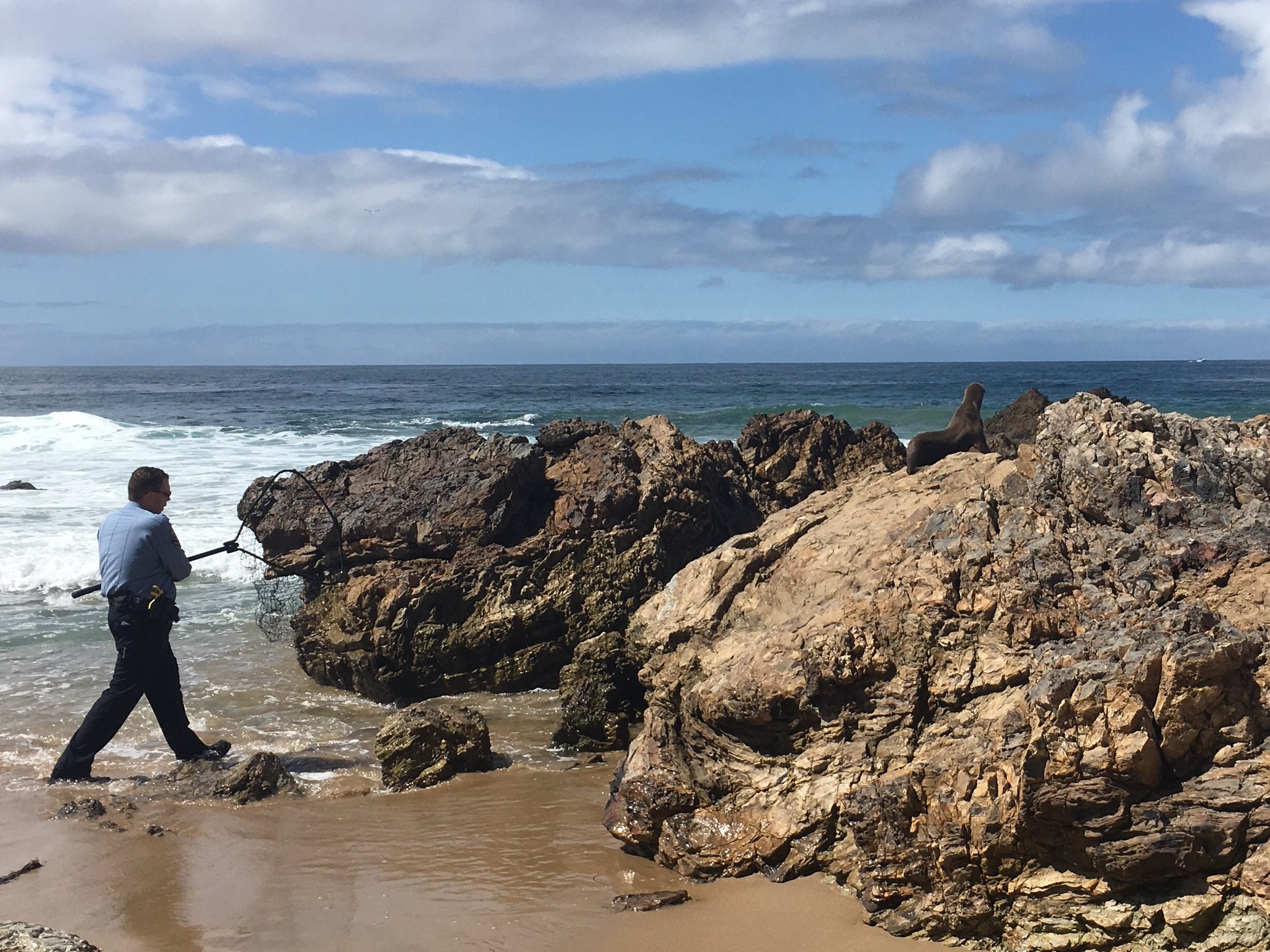 Newport Beach Police Department offered an inside look at a day with an Animal Control Officer this week through a live virtual ride-along on the NBPD's Twitter account.
Virtual guests spent a shift on Saturday with ACO Nick Ott, who made headlines earlier this year for helping rescue an injured white pelican.
NBPD spokeswoman Jennifer Manzella was the "designated tweeter" for the day.
Participants on the ride-along learned tidbits like Ott keeps a tennis ball in the cup holder of his truck and that Ott used to be a Parking Control Officer.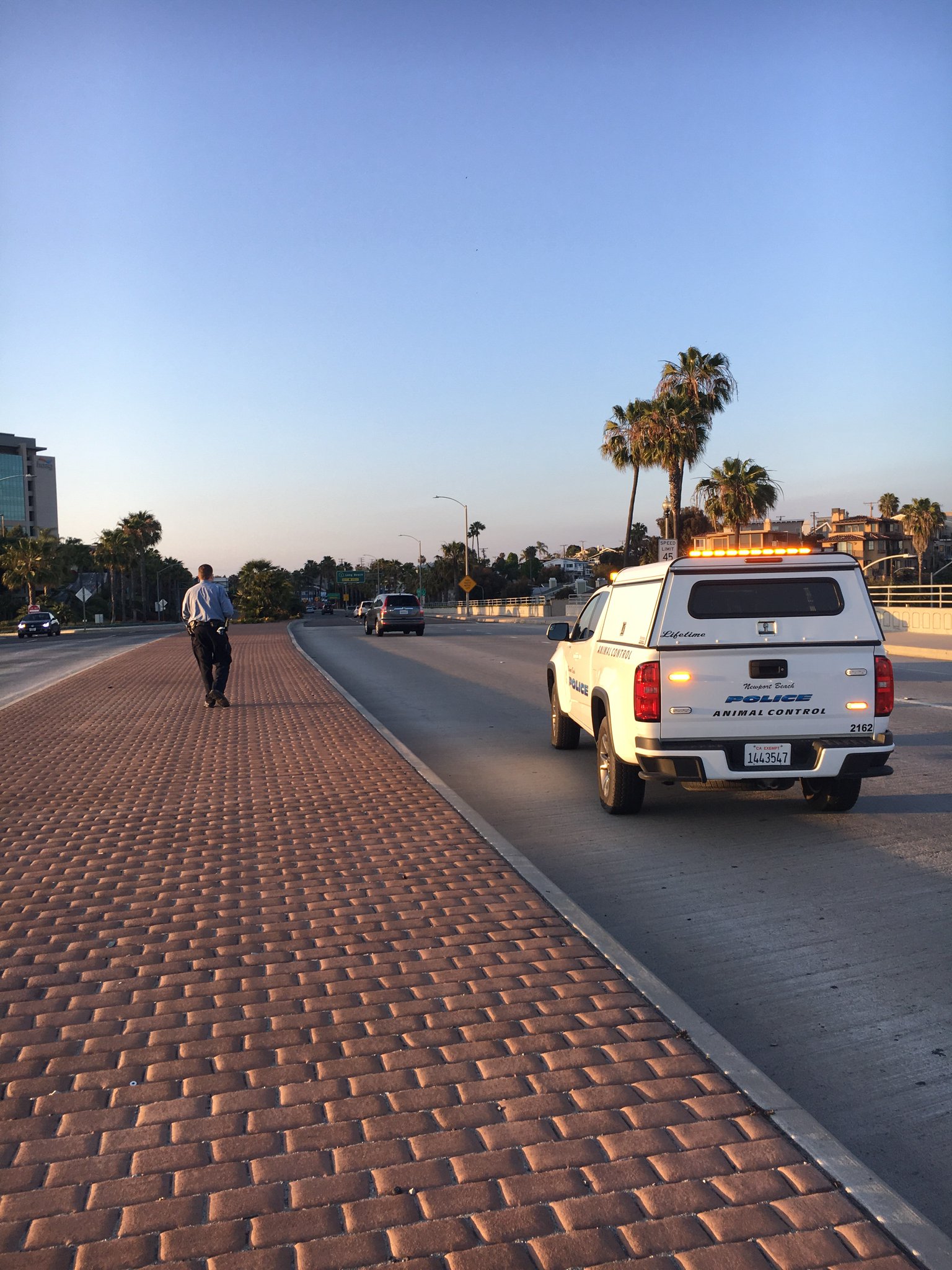 They started their day off on the sand in Crystal Cove, helping out a malnourished California sea lion pup. With assistance from a Crystal Cove State Park lifeguard, Ott was able to get the sea lion in a crate. They brought him to Laguna Beach-based Pacific Marine Mammal Center, a rescue, rehabilitate, and release nonprofit, where the young 51.5 pound pup can get healthy before being released back into the wild.
The NBPD due dubbed him "Sykes," Manzella wrote.
Though that wasn't the only sea lion call of the day. The second pup, named Eliza, was found hiding in a cave at Corona del Mar State Beach. She was underweight at only 35.7 pounds and also transported to PMMC.
They also received calls for dogs locked in cars, a snake call in Spyglass Hill, barking dogs, an injured bird (fledgling crow) on Lido Isle, and a possibly injured cormorant (who swam away and evaded capture).
The snake ended up being a non-venomous gopher snake.
"Fun fact: The only venomous snakes we have in NB are rattlesnakes… So if you spot a snake *without* a rattle, it's gonna be relatively harmless," Manzella wrote.
With several calls about dogs locked in cars, Manzella and Ott took the opportunity to remind people of an earlier NBPD post about what to do about animals in vehicles, including that it's against California state law to leave an animal unattended in a vehicle under conditions which could endanger the animal's welfare.
Ott, along with Manzella and those tagging along on social media, watched for law violators in Upper Newport Bay, inquired about fishing licenses and wrote a few tickets, spotted and removed a dead squirrel from the road, and caught a few vehicles with parking violations.
Ott also ticketed two two illegally parked vehicles: A vehicle parked in a red zone, partially blocking a wheelchair ramp, on the Balboa Blvd., and someone in a marked "no parking" area in Back Bay.
Comments from people "riding along" were mostly about the "cuteness" of the animals, support and questions for Ott and the work of animal control.
Newport Beach police previously hosted virtual ride-along events with an ACO, as well as with NBPD officers.
For more information, visit nbpd.org and twitter.com/newportbeachpd