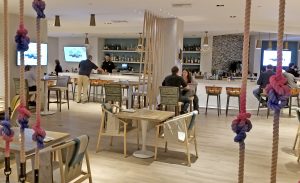 Great cuisine comes in all shapes and sizes, and at the most unexpected places.
This holds true for the new Renaissance Newport Beach Hotel and its dining concept, CURRENT Coastal Cuisine.
Formerly The Duke Hotel and The Fairmont Hotel, the Renaissance on MacArthur Blvd. near John Wayne Airport has had a makeover. It now feels like fun upscale boutique hotel with a colorful lobby and upbeat dining area.
I was invited to a Chef's Table Dinner at CURRENT featuring a five-course tasting menu courtesy of Chef Jessica Roy, so naturally I said yes, not fully knowing what delights awaited me.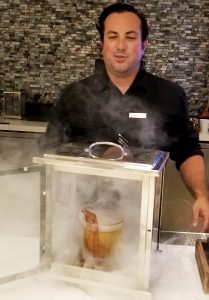 I arrived at the Renaissance a few minutes early and was shown to the bar. I perused the cocktail menu and saw one with the word "bacon" listed twice in the description, so I had to try it.
The "Not So" Old Fashioned is made with bacon infused Maker's Mark, maple syrup, applewood smoke, orange bitters, and candied bacon.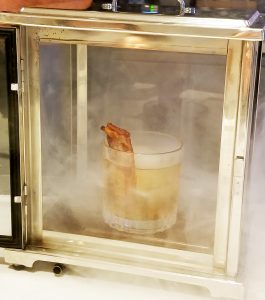 The cocktail arrived inside a clear box filled with smoke. The bartender slowly swing open the front door of the box and applewood smoke poured out on to the bar counter. I admired the show for a moment before removing the drink and taking a sip. Yes, it's as good and as decadent as it sounds.
That fun cocktail prepared me for Chef Roy's creative cuisine. She trained with renaissance hotels and the Fairmont, and spent time working in a Chicago restaurant. She also won $25,000 from the TNT cooking competition On The Menu for her California Seoul pizza, which ended up on the nationwide menu for California Pizza Kitchen.
"I have a strong vision for how I want a dish," Chef Roy told us. "Eating and dining should be exciting."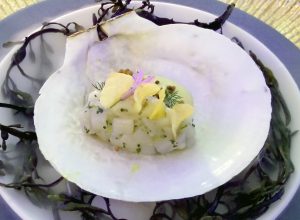 The excitement started with sea scallop tartare served with crisp potato, lemon aioli and seawater mist. This was paired with a cucumber fresh cocktail that combined Aviation gin, sake and cucumber. We dubbed it a vacation in a glass.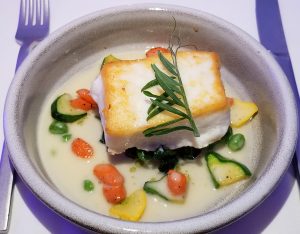 Next up: bursting heirloom tomato (more like tomato tartare) with balsamic, basil, tomato and corn chip, served with a nice cotes du rhone rose.
Third course was seared wild caught halibut with spring vegetables and lemon sage, paired with Chateau Montelena chardonnay. The plating was colorful, the halibut firm yet tender, with the lemon sage offering the right balance of flavors.
For an intermission, Chef Roy created a tableside nitro sorbet, a showpiece with billows of nitro smoke flowing from a large bowl as Chef Roy mixed her frozen concoction.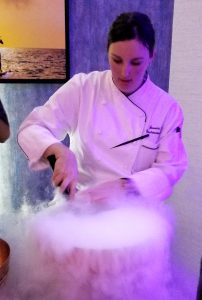 Fourth course was wild mushroom pasta with a porcini glace, served with Cherry Pie pinot noir, followed by an unusual steak and potato dish with bordelaise sauce.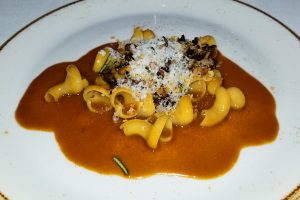 "I wanted to come up with a potato that you won't find anywhere," said Chef Roy. "This is not your typical potato. I have little potatoes that I source. I boil them, scoop out the inside, put in a freezer to get crystallization, fry them in a deep fryer, and make puree potato using two parts butter and one part potato."
Chef Roy takes her concoction and stuffs it back inside the potato. The result: a potato unlike anything else, and one that makes you want more.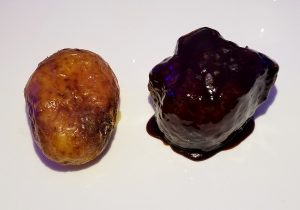 "It's an illusion of a baked potato," said Chef Roy. "I like to do things that are interesting in presentation and flavors. I try and create memories. I love having showmanship and telling stories."
For a finale, dessert was strawberry tart with rhubarb cream, fennel, and elderflower.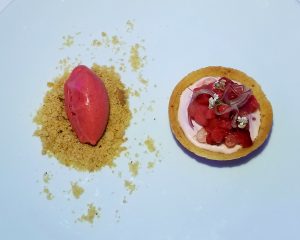 "Summer is approaching, and strawberries and rhubarb are amazing flavors together," noted Chef Roy, who told us she's already working on a fall menu.
For now, go to CURRENT and savor Chef Roy's current menu. The halibut and pasta dishes are on the menu, others we sampled may be added soon, but if our dinner was an example of Chef Roy's culinary talents, I'd be delighted to order anything.
For more information, visit marriott.com/npbbr.