By Garry Brown, Executive Director / Orange County Coastkeeper
One of Newport Beach's greatest treasures is Crystal Cove State Park.
Stretching for 3.2 miles along PCH, Crystal Cove is known for its stunning cliffs and trails that are popular for hiking, biking, and camping. Its charming cottages and pristine beach are enjoyed by families on vacation, or for locals simply spending the day at the beach. But what most people do not get a chance to see is the beauty below the surf.
Crystal Cove is a state underwater park, and for good reason. Under the water, an array of ocean life thrives in the kelp forests and rocky reefs.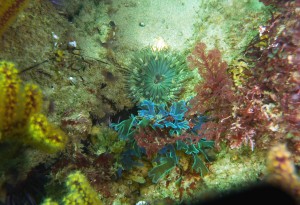 Ryan Boughey of Costa Mesa has been diving for 13 years. He says, "Crystal Cove is a great place to dive because it is an easy location to access and contains a lot of sea life to explore. It has an easy sandy bottom beach entry, and the kelp forest can be reached after a short swim." There are also underwater sights to see, such as historic anchors and even a crashed WWII plane. For newer divers, and those looking to learn, Crystal Cove has some beginner friendly coves with depths varying from ten to twenty-five feet.
What makes Crystal Cove such a special diving destination is the abundance of life in its lush kelp forests. Giant kelp is the fastest growing aquatic plant and can grow up to two feet per day. It creates a dense ocean forest and acts like a rain forest canopy at the surface of the water. It provides food and shelter for more than 800 species of marine animals. Charles Darwin once compared a kelp forest to a terrestrial rain forest.
At Crystal Cove there are many rock outcroppings inside the kelp forest, with each one providing a home to different forms of sea life. Of the many species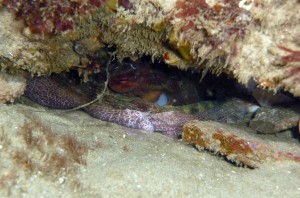 that dwell in the kelp forests, some of Boughey's favorite sightings have been harbor seals, bat rays, octopi, lobster, sheep crabs, horn sharks, leopard sharks, and many different species of fish including garibaldi, halibut and sheephead.
Boughey's advice to people looking to make a beach dive in Crystal Cove is to go to the Reef Point entrance of the park, and proceed to the southern end of the parking lot. "It is a little bit of a walk down the trail to the beach with full SCUBA gear, but the dive is more than worth it."
For anyone who does not dive, Crystal Cove is also a great place to spend a day at the beach with your family playing in the water and exploring the tide pools. The state park also offers a lot of great summer activities.
To get the latest on their upcoming summer programs, visit crystalcovestatepark.com.