Dogs and their humans around Balboa Island. 
Chloe and Earl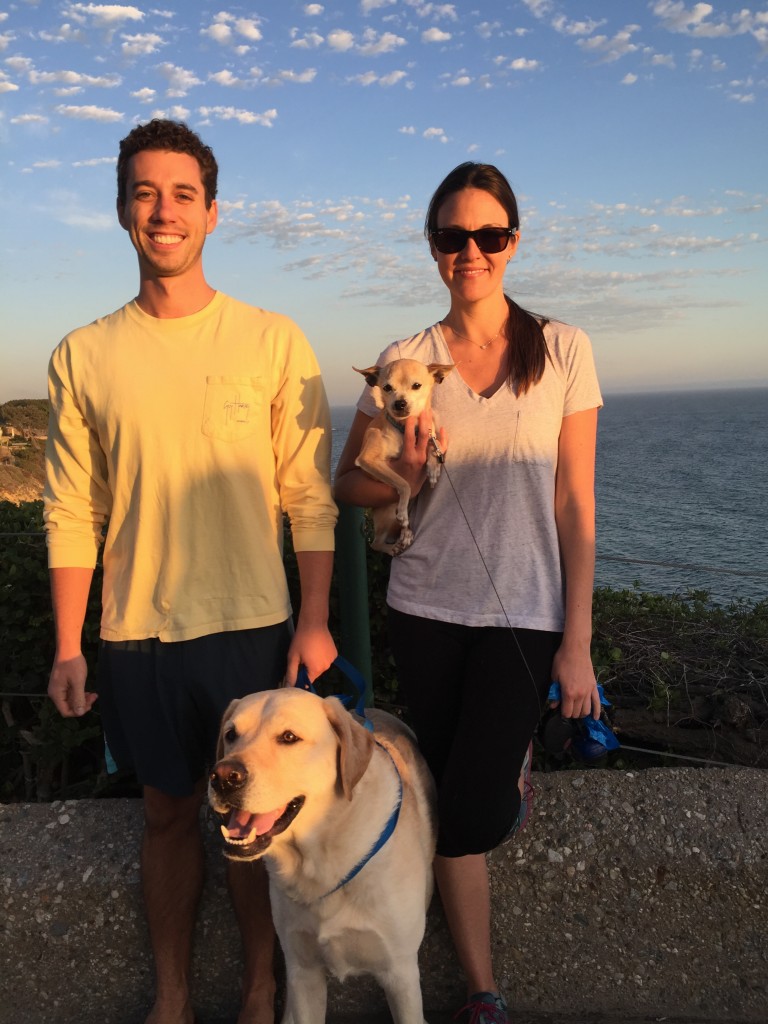 Just look at them—they're one of the happiest couples you'll ever meet.
We're talking about seven-pound, 12-year-old Chloe the Chihuahua, and her best friend, Earl – all 105 pounds in a 5-year-old, laid-back Yellow Lab bod.
Alyssa Hastings and Austin Neuhart walk the inseparable duo at least four days a week at the CdM overlook, and then parade around Balboa Island most weekends. Although successful leaders in the marketing and health care industries, both humans agree that they're totally controlled by Chloe and Earl, who have talents of their own: Earl picks up just about anything he can put in his mouth and then walks possessively with it, often "singing" rather than barking.
Chloe actually does hand stands, but only when her tiny bladder screams for her to mark her spot on the sidewalk.
Samantha and Jaxon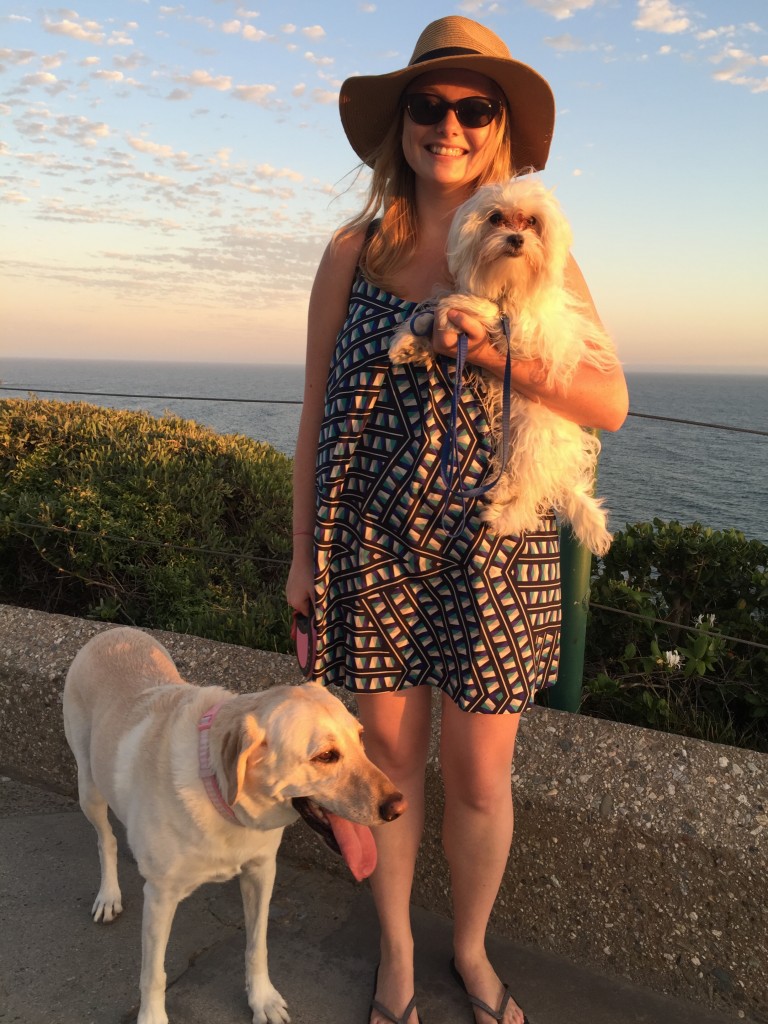 Traveling Nurse Christina Stark, 26, has the ideal traveling companions: Samantha, seven, a Yellow Lab, and Jaxon, a seven-month-old Maltese that seems more wind-up toy than puppy — except in Jaxon's case, the spring doesn't unwind.
Christina, who works for AYA Healthcare, drove out from Michigan several months ago, with her dad, plus Sam and Jaxon. Dad flew home, leaving the three to explore California, while Christina ministers at a variety of hospitals. However, Christina found the Little Corona view so entrancing, she said that she might try to delay a re-assignment to San Francisco.
Samantha discovered the beach, Jaxon discovered that he likes to lick Sam's salty ears while Sam tries to sleep after an evening of enervation along the shore line.
Diddy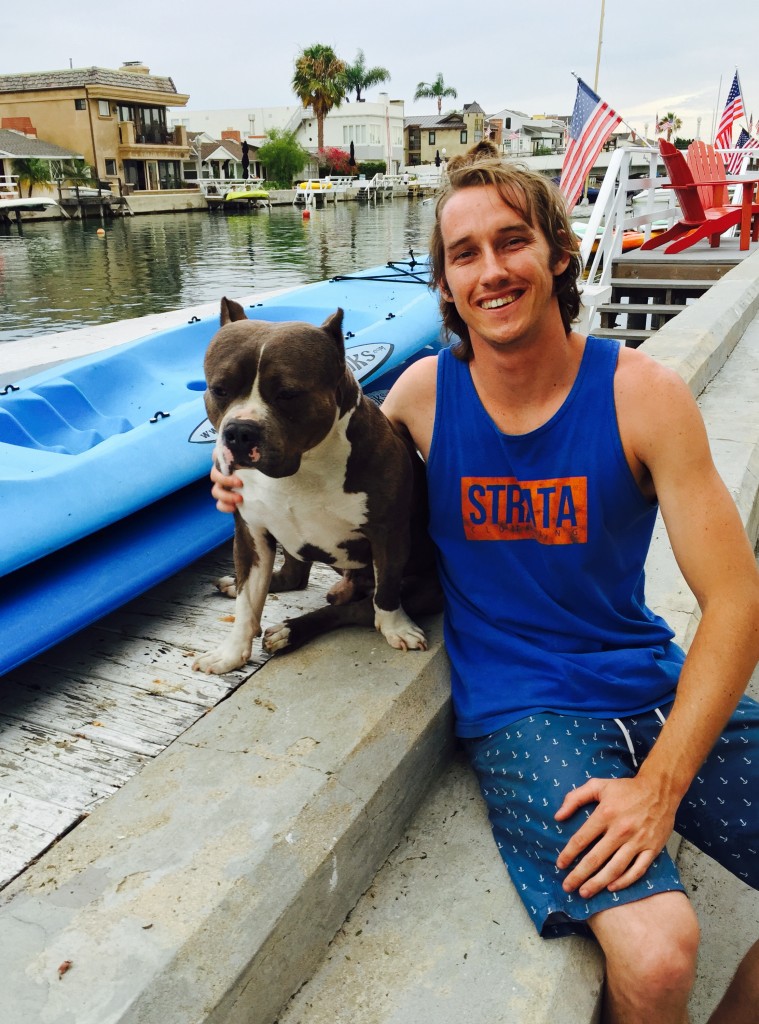 If ever there were an advertising campaign trumpeting the sweet side of
Pit Bulls, four-year-old "Diddy" would be the spokespuppy.
Despite his lion-sized head sporting jaws that originally were bred to snap around the snout of a bull like a bear trap, Diddy doesn't know the meaning of bite, chomp or grind.   This lovable dog has been raised to kiss by his adopted owner, 24-year-old Landon Rohan, who visits his grandparents on the Grand Canal most weekends.
"Yes, he's scary looking, but he's so docile," Rohan said while petting Diddy's belly.  As if underscoring that attribute, Diddy mewed more like a tummy-rubbed cat than the intimidating junkyard dog one might assume he was.
Rohan and Diddy are a team dedicated to "turning people's attitudes about Pit Bulls." As intelligent as Diddy is, it was Rohan who said that. However, there is no doubt that Diddy is one intelligent canine. He handles most dog tricks with ease, "and would be more human than dog if he had opposable thumbs," Rohan apprised.
Not a natural water dog, Diddy nevertheless is pushing aside his fears to stand like a hood ornament on Rohan's SUP board in the Grand Canal. He falls in all too often, and swims like a rock with its nose barely above the water. Yet Diddy the trooper still comes back for more.
Finley and Olive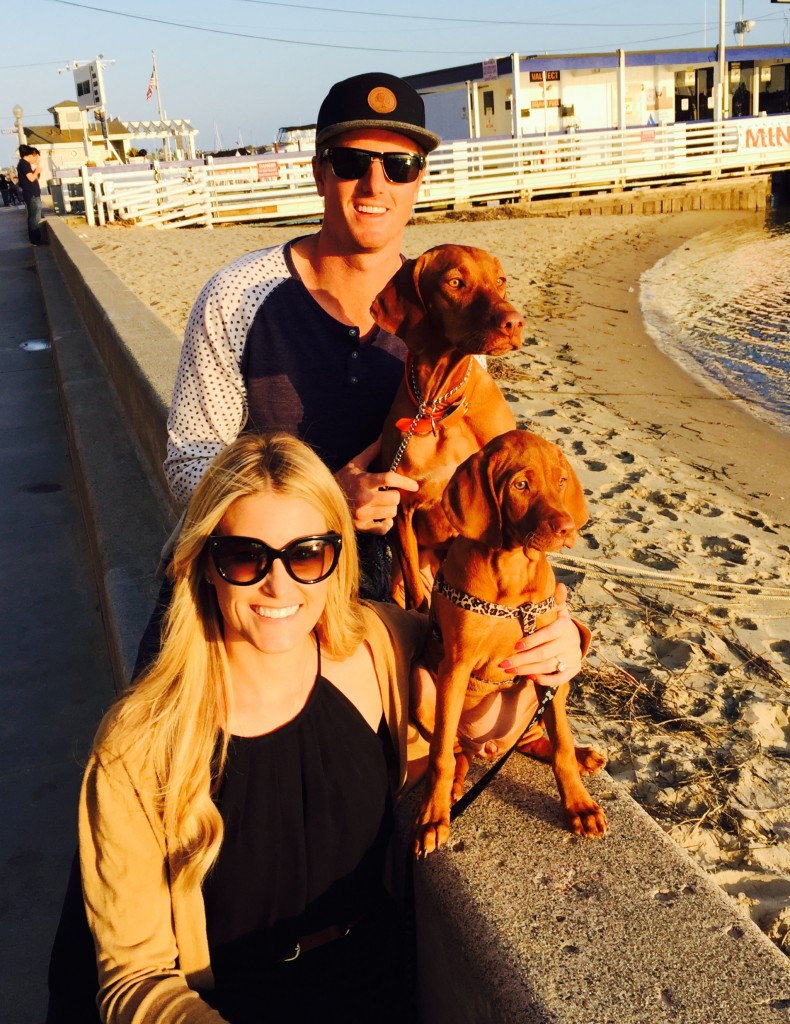 Two-year-old Finley is one of the sleekest dogs to walk and sniff Balboa Island, a reddish-haired Vizsla originally bred in Hungary, specifically for birding.
And meet Xaviar Colombi, whose own  reddish-colored hair is similar in hue to Finley's, and who often can be seen jumping in the Bay to retrieve Finley, who without notice instinctively leaps in to grab what his genes dictate he grab.
And now meet Annika Riphagen, who claims she started dating Xaviar six years ago, because his hair was similar in tint to any of the six Vizslas that she and her family had owned.
Xaviar and Annika just recently became engaged.
Finally, shake paws with 13-week-old Olive, obviously under the influence of his high-energy cousin.
"These dogs are almost human," Annika shared.  "They're 'Velcro' dogs, because they want to be with you all the time."
On occasion, Finley escapes from home, pulled toward the water. One day, Finley disappeared, and the couple were about to launch a search when a friend called to say that Finley had boarded the Balboa Ferry alone, his hunter's eyes affixed toward birds floating mid-bay.