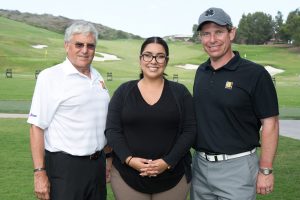 It's not often that an army general participates in a local golf tournament, but when the players are swinging to raise money for veterans, there's a good chance a high ranking officer will be out on the links.
Such is the case with Goodwill of Orange County, which hosted its annual Goodwill Invitational golf tournament on June 27 at Pelican Hill Golf Club in Newport Coast.
More than $170,000 was raised at the tournament to support Goodwill's Tierney Center for Veteran Services, an all-in-one resource in Tustin connecting veterans and their families to services that enhance their lives.
More than 140 attendees and golfers participated in the day scramble format golf tournament and early evening festivities. General George W. Casey, former Commander of the Multinational Force-Iraq and 36th Chief of Staff of the U.S. Army, attended as special guest in support of Goodwill's local model for impacting veterans in need.
"This is the third year that our golf fundraising event is dedicated to supporting our veterans' services and programs," said Frank Talarico, Jr., president and CEO of Goodwill of Orange County. "The money raised allows us to expand our job placement and training services, and larger holistic approach to serving those who served us at the Tierney Center for Veteran Services."
All proceeds from the event will directly support the Tierney Center for Veteran Services. The new facility offers a holistic, simple approach with no hoops to jump through and all services are provided to veterans at no cost. Services include employment and career counseling, education services, housing assistance, healthcare and benefits, legal assistance, financial counseling, and women veterans services.
New to the Goodwill Invitational this year was a special Spa Package for The Spa at Pelican Hill, an opportunity for guests of golfers participating in the tournament to relax and get pampered. Following the time out on the green, the evening portion of the event featured dinner and speeches, a silent auction, and live action and fund-a-need.
Union Bank and Armstrong and Associates sponsored the 2016 Goodwill Invitational at the Silver Level.
To learn more about Goodwill of Orange County, visit ocgoodwill.org.