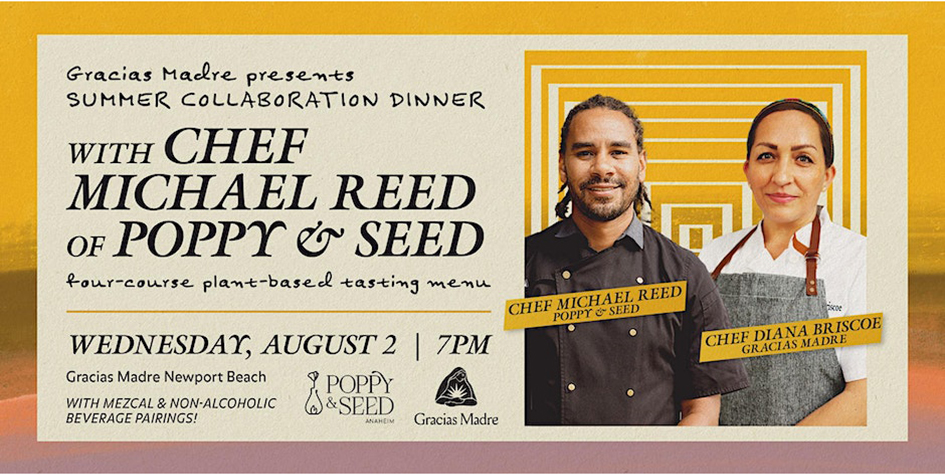 You can count on Gracias Madre restaurant to offer something fun and different. On August 2, Chef Michael Reed of acclaimed restaurant Poppy & Seed in Anaheim will join Chef Diana Briscoe of Gracias Madre for a plant-based dinner at Gracias Madre.
From 7 to 10 p.m., the four-course dinner celebrates Mexican and contemporary cuisine. Optional mezcal pairings and non-alcoholic beverage pairings are available.
First course on the special Tasting Menu is Crispy Barbacoa Squash Blossom with cashew ricotta, cascabel salsa, avocado, and corn tomato salad.
Second course is Spinach Cavatelli with smoked mushroom, Swiss chard, mole, vegan parmesan cheese, and cocoa nib-chili crumble.
Third course is Roasted Spiced Celery Root & Charred Leek with sweet corn soup, summer vegetable succotash, cherry tomatoes, and soft herbs.
Final course is White Peaches Tart with white peaches, vanilla ice cream, and salsa de tamarindo.
Tickets for this exceptional dining experience are $130 pr person and include the four-course Tasting Menu, a $20 Gift Card redeemable at Gracias Madre, and a $20 Gift Card redeemable at Poppy & Seed.
Visit https://www.eventbrite.com/e/chef-collaboration-dinner-event-ft-chef-michael-reed-tickets-676132619867 to purchase tickets. Gracias Madre is at 1617 Westcliff Dr. in Newport Beach.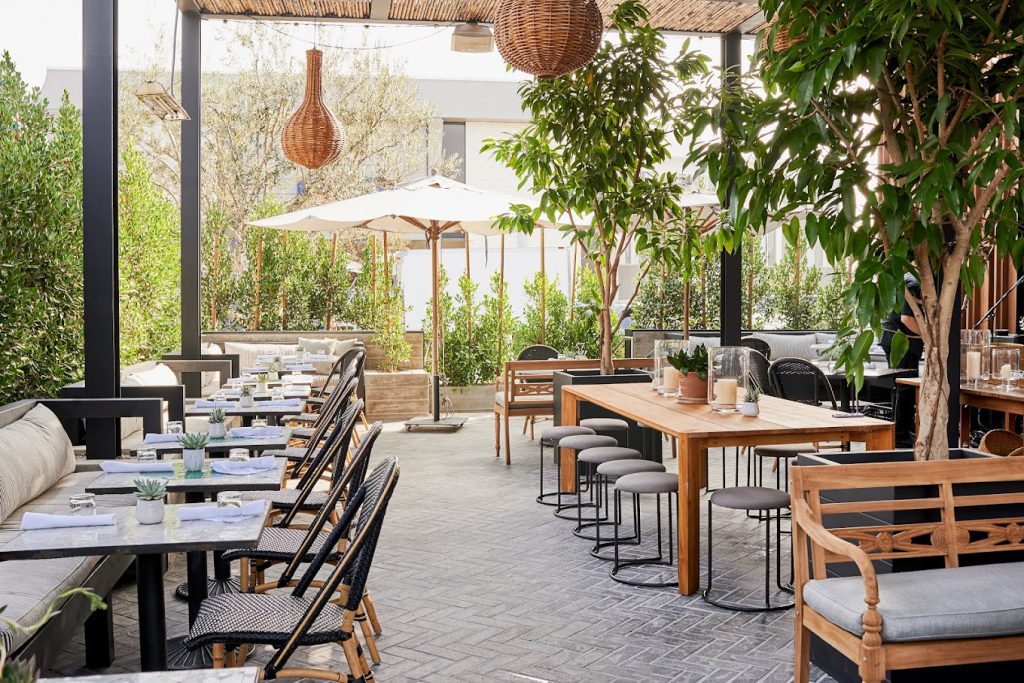 ABOUT THE CHEFS
Gracias Madres' Executive Chef Diana Briscoe grew up surrounded by the bounty of her family's farm in Bogata, Columbia. Her love and passion for food have led to 18 years in the restaurant industry, all while experiencing new cultures and ingredients throughout Mexico, Canada, and now Los Angeles.
Chef Diana enjoys developing flavor-packed and nutritious dishes for guests to enjoy and eat their way to their happiest, healthiest, most aligned lives. She is committed to sourcing local ingredients whenever possible and her healthy, sustainable approach to food extends to the bar program too, where zero-waste margaritas are made with leftover lime juice, lime, and orange peels. Gracias Madre continues to invite vegans and non-vegans alike for a truly memorable dining experience.
A 2023 James Beard Foundation Best Chef California Semi-finalist, Chef Michael Reed is among the industry's most talented chefs. Michael's recent culinary accomplishments include Poppy & Seed's addition to the California Michelin Guide. Chef Reed is also the co-owner of the award-winning restaurants Poppy + Rose in Downtown Los Angeles and Poppy & Seed in Anaheim with his wife, Kwini Reed.
Serving upscale American plates + cocktails in a modern greenhouse setting, Poppy & Seed is one of Orange County's newest dining experiences. The restaurant is located in Anaheim's bustling Packing District – the perfect setting to experience all the area has to offer in terms of fantastic food and beverage in Orange County. Poppy + Seed's elevated menu features Chef Reed's twists on classic American fare, with refreshing and innovative takes on dishes such as hangar steak and potatoes, duck sausage pasta, jerk chicken duck leg, and BBQ octopus.