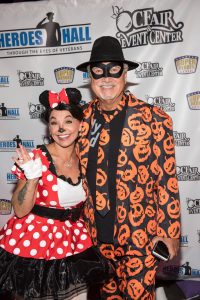 Ghouls, super heroes, witches and warlocks haunted the OC Fair & Event Center the night of October 22 to support the inaugural Haunted Halloween Costume Gala to benefit the new Heroes Hall Veterans Museum at the fairgrounds.
Newport Beach resident and community activist Barbara Venezia, co-chair of the event,
was asked to create a support group similar to the AIDS Services Foundation's Friends of Dorothy Guild that would present two to three fundraising events each year.
The result is the Super Heroes Guild, and thanks to the Halloween event attended by nearly 400 costumed revelers, nearly $30,000 was raised to support the Heroes Hall Veterans Museum.
The Sleepy Hollow-themed décor, designed by the creative team of RWB Props, Mirage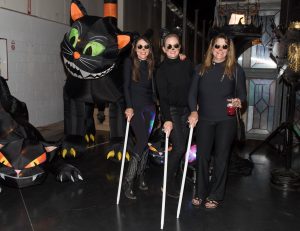 Entertainment and Pat Kennedy Inc., set the mood for this spooktacular. Guests enjoyed an array of culinary choices from numerous food stations courtesy of Spectra, and wines provided by Barefoot Wine & Bubbly. Sweet treats were donated by Nothing Bundt Cakes owner Linda Kirkpatrick.
Costume prizes included Best Group (Robert Ruiz and his family of Día de los Muertos characters), Scariest (Beverly Morgan as the Bride of Frankenstein), Best Couple (Frank Bianchini and Joe Ramondetta as the god Thor and his gladiator), and Most Original (Three Blind Mice: Monique Pallpchak, Patricia Castagna and Lisa Provence).
Heroes Hall Veteran's Museum is dedicated to American veterans whose contributions and sacrifices have protected our nation's freedom and security. Its exhibitions and programs will tell the stories of veterans from Orange County and elsewhere. It will be dedicated on Saturday, November 11, 2016, and is scheduled to open to the public in early 2017.