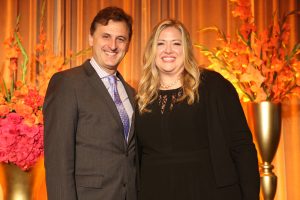 The Center for Autism & Neurodevelopmental Disorders hosted its second annual "Hope & Help" Gala on September 10 at The Resort at Pelican Hill in Newport Beach to raise awareness for those challenged by autism spectrum and other neurodevelopmental disorders.
The sold-out event raised more than $512,000 to benefit The Center's services, including diagnosis and evaluation, clinical support and treatment, education, wellness and research. 
The theme of this year's gala, "Extraordinary Talent. Exceptional People," highlighted the guest of honor, John Forsyte, president of the Pacific Symphony, whose dedication to bringing music into the autism community has allowed families of The Center to have an up-close and personal interaction with music and instruments in a safe and comfortable setting.
"The Center for Autism is a national model for excellence and it has always inspired me," said Forsyte. "When I approached the Thompson Family Foundation with the idea of bringing great classical artists from Pacific Symphony to The Center for Autism, they were immediately supportive, but we knew we needed to design programs that serve the entire family. Together, we developed a series of sensory friendly concerts that provide everyone – from grandparents to parents to brothers and sisters – with an enjoyable night out together where they can relax and immerse themselves in the transformative and healing power of music."
Co-hosted by Danielle Allison and Anne Warmington, the program for the evening included dinner, a high-energy live auction and inspirational stories about how The Center is making a difference in the lives of families throughout Orange County.
Sharing her family's story at the gala, Heather Anne Rocha recounted the ways The Center has changed her family's life for the better and how the recent Pacific Symphony events have given them hope for the future.
 "When we decided to go to the Pacific Symphony event at The Center, I figured it would be nice to get out and try something new, but I was fully anticipating that my boys would have meltdowns, and we could at the very least be accepted in our needing to exit five minutes into the performance," said Rocha. "To my surprise, the boys not only made it past the five minutes, they were engaged the entire performance.  As parents, my husband and I got to relax and enjoy ourselves while our kids were experiencing pure joy."
For more information, please visit thecenter4autism.org.