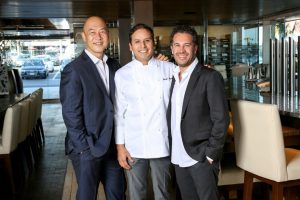 By Christopher Trela & Catherine Del Casale | NB Indy
 Mention the old Ritz Restaurant in Fashion Island to longtime Newporters, and you'll get memories of cozying up to the bar for a classic martini or dining on the signature steaks and the traditional holiday goose dinner.
The Ritz Restaurant closed on Valentine's Day 2014 after more than three decades pleasing discriminating palates, but last October a new version of The Ritz, dubbed The Ritz Prime Seafood, opened on Coast Highway in the space formerly occupied by the Chart House.
We tried them once, and found out that the only thing in common with the old Ritz was the name. We agreed that the restaurant was beautiful, the cocktails were creative, the food was good, but nothing about the experience made us want to go back.
Now, one year later, things have changed. The Ritz Prime Seafood has a new management company at the reigns (Open Bar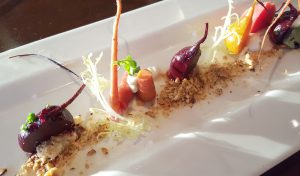 Hospitality), a new chef, and a new menu. There is still virtually no connection with the old Ritz, but time heals everything, even Ritz memories.
Christopher attended a media tasting two weeks ago to meet Chef George Neyra and try some of the dishes on his new menu.
Chef Neyra has 13 years of culinary experience, including stints at Patina Restaurant Group's Ray's and Stark Bar at LACMA, and at Michael Mina's Stonehill Tavern at St. Regis Monarch Beach.
His winter menu is focused on hearty fare such as dry-aged steaks, chops, and Jidori chicken, but there are also several fish dishes on the menu.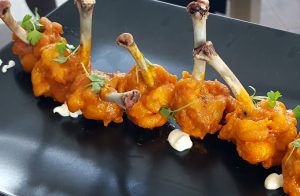 We sampled the lollipop wings with buttermilk ranch aioli ($16), a beet salad with coriander labneh, pickled carrots, and hazelnut crisp ($16), crispy skin branzino with sunchoke, pistachio, couscous, carrots and golden raisins ($37), and Colorado rack of lamb with zucchini mint puree, Israeli cous cous, golden raisins, and garlic lamb jus ($40). We finished with powdered sugar doughnuts accompanied by crème fresh ice cream and caramel sauce.
"The dishes were all beautifully plated," said Christopher. "The combination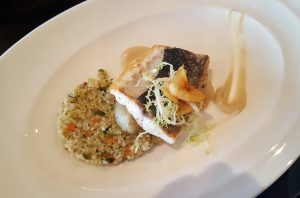 of flavors and textures in all of the dishes worked well together. I think my favorite was the branzino, the crispy skin combined with the moistness of the fish worked perfectly. The lamb was cooked too rare for my taste, so if you order the lamb, ask for it cooked between medium and medium rare. Overall, this is creative upscale food served in an upscale setting with a nice view of Newport Harbor. They still have the piano bar, and our pre-dinner cocktails were fabulous."
The Ritz Prime Seafood has a daily happy hour in the bar, lounge and patio, and a separate Sunday brunch menu.
For more information, visit ritzprimeseafood.com.