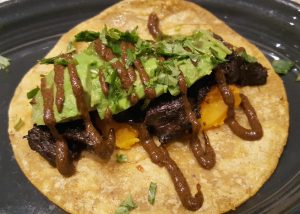 GRATITUDE
We're always thankful that Newport Beach has such an abundance of terrific restaurants to write about. We're especially grateful for Gratitude, which specializes in organic, plant-based food and cocktails. We've dined there several times and have enjoyed their healthy-yet-yummy cuisine and cocktails.
Gratitude celebrates its first anniversary inside the Castaway Commons building on Westcliff Drive in April, so the restaurant is hosting a free party on Sunday, April 9 from 2 to 5 p.m.
The celebration kicks off with live music, delicious plant-based bites, and craft cocktails. They'll also serve birthday cake, and we're told there may be a surprise guest or two.
But don't wait until Sunday to sample Gratitude's cuisine. Check out their Taco Tuesday offerings served from 11 a.m. to 10 p.m. They're unlike any tacos you've had.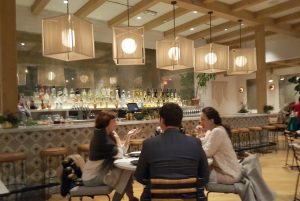 The menu includes housemade chips & guacamole ($5), nachos made with black beans, cashew nacho cheese, pico de gallo, avocado, spicy pepitas, and escabeche ($6), a choice of tacos for $4 each (grilled portobello mushroom with butternut squash and avocado, mushroom carnitas with black beans and guacamole, or flash-fried buffalo cauliflower with black beans and cashew crema), or a flight of all three for $10.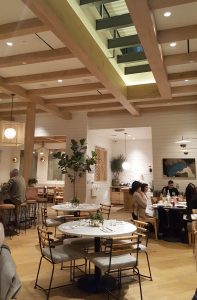 You can also get a skinny margarita for $6 and a house margarita for $7, as well as beer and wine, plus tequila shots and flights.
We've tried all three tacos and found the flavors delightfully unique and tasty. And the margaritas are terrific, and a great value.
For more information, visit CafeGratitude.com.
 TRUE FOOD
Another popular healthy food restaurant that services decadent-tasting cuisine is True Food Kitchen in Fashion Island. We've dined there for brunch, lunch and dinner, and have always been impressed with the dishes.
Now, we have another excuse to visit True Food Kitchen: Happy Hour!
Yes, True Food Kitchen has launched a weekday Happy Hour from 3 to 6 p.m. featuring a handful of food and drink specials guaranteed to make you take a break from your Fashion Island shopping. It's also the perfect spot to pop in for an after-work treat. 
The Happy Hour menu includes daily market soup ($5), the famous Tuscan Kale salad ($7), herb hummus ($8), margherita pizza ($8)n and farmers market crudites ($8). Make it a trio and choose any three for $20.
Happy Hour beverages include organic red, white or rose wine ($5), and citrus skinny margaritas ($7).
For those who have not yet discovered True Food Kitchen, they cater to nearly every food preference with a variety of gluten-free, naturally organic, vegetarian and vegan offerings.
If you're looking for a healthy Easter Brunch option, True Food Kitchen will feature a three-course tasting menu and seasonal beverage for $35 on Sunday, April 16.
Visit TrueFoodKitchen.com for more information.