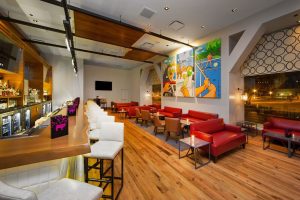 By Christopher Trela & Catherine Del Casale | NB Indy
 We were frequent visitors to the Charlie Palmer restaurant at South Coast Plaza until they closed last year—make that frequent visitors to the lounge, which boasted a long bar and a seating area with couches.
Fortunately, Holsteins Shakes & Buns, a Las Vegas-based gourmet burger restaurant, opened in the Charlie Palmer space and – other than new decorations – kept the lounge much like it was.
We've dined at Holsteins, but like before prefer the lounge, where you can usually pop in, take a seat, and order from a separate bar menu or from the full dinner menu. It's a great spot to grab a bite before or after a show at Segerstrom Center or South Coast Rep.
Now, Holsteins is celebrating its one-year anniversary at South Coast Plaza, and they have plenty to moo about.
The restaurant has added live music on Friday and Saturday nights in the lounge, featuring a rotating roster of musicians and a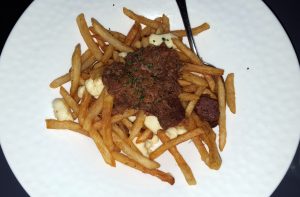 late night happy hour from 9 p.m. to close Monday through Saturday. The menu includes $4 draft beers, $5 house wines and cocktails, $7 Casa Noble margaritas, and select appetizers for $7.  
Naturally, we had to go check out the happy hour, and the music.
The night we went, Lou Lagoon was performing songs from the 60s through current hits, accompanied on solo acoustic guitar.
We ordered the poutine and the fried pickles, both $7 each, and beer—but not just any beer.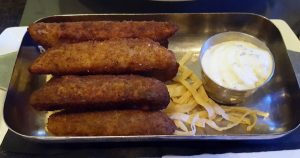 Holsteins boasts more than 350 different beers in cans and bottles, and another dozen or so on tap. Catherine ordered a Holsteins blonde draft, while Christopher sampled several drafts, including a Ballast Point pineapple sculpin, Ritual "Hop-O-Matic" and a watermelon wheat, before settling on a Belching Beaver peanut butter milk stout with nitro.
"I love peanut butter, and this beer has just the right amount of flavor without being overpowering," said Christopher.
"It's fun just looking through the iPad menu at all the canned and bottled beer selections—I've never seen a list this comprehensive and interesting," said Catherine. "The iPad makes searching for something to your liking much easier than a standard paper menu."
Christopher went wild over the deep fried pickles, while we both agreed that you can't go wrong with the poutine: a generous helping of fries with cheese curds, shredded short rib and stout gravy.
Other items on the happy hour menu we plan to go back and try: buffalo chicken dip, Bulgogi (marinated beef) quesadilla, and OC sliders.
Feeling like something sweet, we ordered the Moo-Moo Platter ($11), which features mini bites of compost rice crispy bar,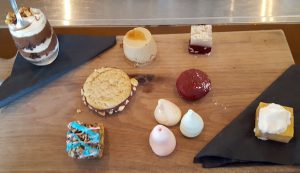 Nutella cookie, red velvet whoopee pie, loopy panna cotta, nitro meringues, chocolate stout trifle, Irish coffee cheesecake, and vegan coconut marshmallow."
"This is a perfect way to try small bites of a lot of different desserts—it's perfect for sharing between two or three people," said Catherine. "The nitro meringues are a great crowd pleaser if you want some interaction with your dessert. The strawberry and peppermint meringues are put in nitrogen so when you bite into them you blow smoke out."
If you dine at Holsteins through Sept. 5, bring an unwrapped toy to donate to Giving Children Hope and receive a complimentary virgin "Birthday Cake Shake," made with birthday cake crumble and topped with rainbow sprinkles. 
"We're very pleased with the reception we've received in Orange County and couldn't think of a better way to celebrate our first birthday than by giving back to the community," said Holsteins' General Manager Brad Prescott. "Giving Children Hope does amazing work to provide medical resources and basic essentials for children in need and we are excited to team up for this worthy cause."
For more information, visit holsteinsburgers.com or call (714) 352-2525.