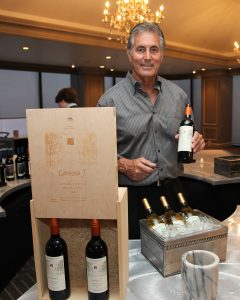 The 12th Annual Hops & Vines Charity Classic returns to the Center Club Orange County on Thursday, Sept. 27, from 6 to 9 p.m. Proceeds from ticket sales and sponsorships benefit the Center Club Cares fund, which has selected Orange County School of the Arts as the 2018 featured beneficiary.
In addition to Orange County School of the Arts, other benefactors from the event include Augie's Quest to Cure ALS and the ALS Therapy Development Institute, and the ClubCorp Employee Care Foundation.
This annual event will feature more than 30 award-winning wineries and world-class craft beers, as well as hors d'oeuvres courtesy of Executive Chef Lewis Butler. There will also be a Cheese and Charcuterie Station, a Raw Bar featuring Alaskan king crab, Spanish Tapas station, and desserts.
Entertainment will include talented Orange County School of the Arts students who will be performing around the Club during the event, including smooth saxophone music at the entry, a jazz quartet, and more.
Center Club's signature event is open to the public. Tickets are $105 per person, $190 for two people, or $320 for four. Sponsorships are also available. come to attend. To purchase tickets or for more information, visit hopsandvines.org.