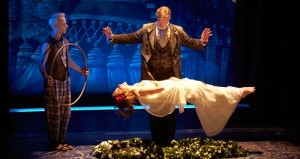 Shakespeare occasionally used magical elements in his plays, but "The Tempest" takes illusion and manipulation to another level.
"The Tempest" was the last play penned by The Bard, and it's a good one: Prospero, the rightful Duke of Milan and something of a wizard, plots revenge on his brother Antonio and others who banished Prospero and his daughter to an island. He conjures a storm that brings Antonio to the island, and puts his plan into action.
Knowing a good thing when they see it, South Coast Repertory is launching their 2014-2015 season this weekend with "The Tempest," produced in association with the American Repertory Theater at Harvard
University and The Smith Center, Las Vegas.
The play is co-directed by Aaron Posner and Teller (of Penn & Teller), uses music by Tom Waits and Kathleen Brennan, and movement by Pilobolus, the dance troupe Newsday called "mind-blowing and wildly creative."
"The Tempest" has already enjoyed two sold-out runs in Las Vegas and Boston; the SCR staging will be the show's only Southern California engagement.
This version of "The Tempest" is transported to the world of a travelling tent show, the perfect setting for Teller to create impressive illusions.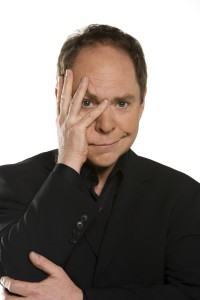 According to the press material, Posner and Teller spent years crafting this production and assembling the creative team.
"The production takes place in a Dust Bowl traveling tent show; it's a magician's world à la carnival circus," Posner said. "The phrase 'shipwrecked magic show' has guided us in the design. The wooden sets with multiple levels and strings of lights are reminiscent of the quick set-up and quick dismantling designs of traveling shows."
In addition to Teller, the credits list Johnny Thompson as magic design and Thom Rubino as magic engineering and construction, meaning audiences will be seeing some serious on-stage illusions worthy of Teller's reputation.
"One morning in the late 1970s I woke from a dream in which I was Prospero…I was fighting "mine enemies" not by stabbing them with a sword, but by driving them mad with illusions," recalls Teller in the play's program notes. "I had read 'The Tempest' many times, but prior to this dream I had never realized how different Prospero is from typical fairy tale wizards. He doesn't use spells and potions to affect the physical world. He creates shows, and those shows—"that insubstantial pageant"—are his weapons.
That makes him less like a warlock than like a stage magician who shocks an audience by apparently sawing an assistant in half, but never spilling a drop of real blood."
Stage magic will be in full force in "The Tempest," which begins previews this weekend and runs through Sept. 28.
For tickets, call (714) 708-5555 or visit SCR.org.