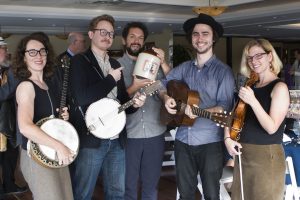 Classical music and classic ragtime joined forces when the Hutchins Consort hosted its annual Gala, dubbed "Ragtime," featuring a performance by the Consort along with the G Burns Jug Band, at the Bahia Corinthian Yacht Club on March 12.
The evening began at 5 p.m. with a reception featuring tray passed appetizers and silent auction featuring a variety of fun items, ranging from a Viking Cruise to a musical washboard.   
At 6 p.m., The Hutchins Consort – an eight-piece ensemble that performs on acoustically matched violins from a tiny treble violin to a seven-foot violin – and the G Burns Jug Band (a five-piece outfit from San Diego that included a jug player) took a giant musical step back in time for a one-hour concert filled with popular music from the 20s and 30s, including familiar ragtime tunes.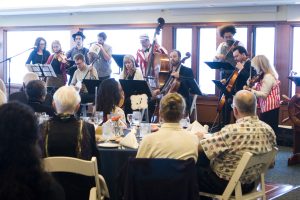 During the concert, Jug Band leader Clinton Davis provided colorful liner notes for the music being performed.
After the concert it was time for dinner: filet of beef and chicken with a mushroom truffle sauce, and crème brulee tart. In between the entrée and dessert, the musicians and gala guests (on kazoos) performed The Entertainer rag.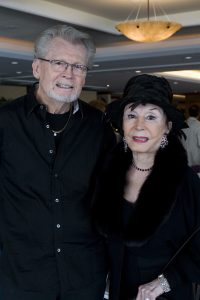 The event netted $41,000 for the Consort. Kudos to the hard-working volunteers, and the event donors, who made the delightful evening possible.
For those unfamiliar with the Hutchins Consort, the group plays on eight scaled violins designed and built by luthier Dr. Carleen Hutchins, whose research into the acoustic properties of string instruments resulted in an innovative process called free-plate tuning; a precise method of refining the top and back plates of a violin before it is assembled to bring it to peak acoustic performance.
The fruits of her labor are the eight Hutchins violins, ranging in size from the 18.5-inch treble to the 7.2-foot contrabass.
Known for its eclectic programming, the group regularly performs concerts throughout Southern California, including Newport Beach.
Joe McNalley, founder and artistic director of The Hutchins Consort, is a graduate of Corona del Mar High School.
For more information, visit HutchinsConsort.org.