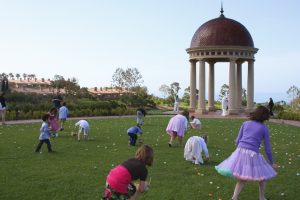 Easter is a time of traditions: spring break, bunnies, Easter egg hunts, and sunrise church services.
It also means that local restaurants are offering special Easter brunch menus so families can enjoy the holiday together without having to cook or clean up.
However, we recommend making reservations soon, as many restaurants tend to fill up fast closer to Easter (April 16).
We've compiled a list of our favorite Easter Brunch menus with the assistance of NB Indy calendar editor Laura Wise.
BACK BAY BISTRO
Back Bay Bistro will celebrate Easter with an elaborate brunch buffet and bottomless champagne and mimosas, and a special appearance by the Easter Bunny. Guests will enjoy make-your-own omelet station, pancakes, carving station and more. Served 9 a.m. – 2 p.m. Price is $79 for adults (includes bottomless champagne and mimosas) and $38 for children 12 years and under. For reservations, call (949) 729-1144 or visit NewportDunes.com/BackBayBistro.
BALBOA BAY RESORT
Grand Ballroom: Enter the beautifully decorated Grand Ballroom for an extraordinary buffet complete with all of your traditional breakfast favorites and more. Brunch includes complimentary champagne and mimosas, and live entertainment. Buffet brunch is available 10 a.m. – 2 p.m. and is $86 for adults, $43 for children ages 4-12.
Waterline Restaurant has a four-course Easter Brunch prix fixe menu. Entrée selections include lamb rack, crab cake Benedict, poached wild isles Scottish salmon, and petite filet mignon. Served 11 a.m. – 3 p.m. $68 per adult and $43 for children ages 4-12. For reservations, call (855) 923-8301 or visit BalboaBayResort.com.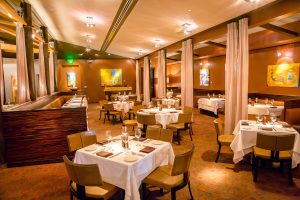 BAYSIDE
Celebrate Easter Brunch at Bayside with an extensive three-course prix-fixe menu with traditional and seasonal favorites. In the evening join Bayside for a prix fixe, three-course Easter Supper that includes a choice of six entrees. Brunch prices are $48.75 per adult ($21.75 for a separate menu for children 12 and under). Easter Supper is $40 per adult. For reservations, call (949) 721-1222 or visit BaysideRestaurant.com.
THE BEACHCOMBER
Located just steps from the beach in the Crystal Cove historic district, The Beachcomber offers an Easter Day Brunch from 7 a.m. to 4 p.m. for $38.95 for adults and $14.95 for children. Start with beignets and ambrosia, and then select one of eight entrée, including surf and turf, huevos rancheros, cinnamon pancakes, and lobster mac & cheese. Visit TheBeachcomberCafe.com.
THE BUNGALOW
Easter brunch at The Bungalow offers a two-course prix-fixe menu with bottomless mimosas or bloody marys for an additional $9. Entrée highlights include mixed berry waffle, grilled king salmon, and eggs benedict. Price is $25 per adult and $12 for children 12 and under. For reservations call (949) 673-6585.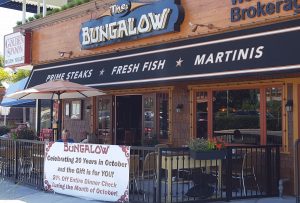 FIG & OLIVE
Easter at Fig & Olive is a three-course brunch menu with seasonal favorites. Main course options include French omelet, steak & eggs, Riviera salmon, and French toast. A live jazz band will provide music from 12 to 3 p.m. Easter prix-fixe menu is $40 per person. For reservations, call (949) 877-3005.
FLEMING'S
The exclusive three-course prix-fixe menu features an appetizer, entrée, and dessert. Fleming's à la carte dinner menu will be available all day. Served from 10 a.m. – 3 p.m. Three-course prix fixe brunch is $47.95 per adult, $18.95 per child (age 12 and under). À la carte menu priced per selection. For reservations visit FlemingsSteakhouse.com.
ISLAND HOTEL
On Easter Sunday, Oak Grill has a basket full of brunch for everyone to love. Guests will make their way around the Fireside, where they'll find live-action stations filled with traditional brunch favorites including omelets, a pancake bar, oyster, shrimp and ceviche offerings, and more. Bottomless mimosas will top off the morning. Brunch served 10: 30 a.m. – 3:30 p.m. $90 per adult and $25 per child, ages 5 to 12. Children four years and under eat free. Call (949) 760.4920 or visit OakGrillNB.com.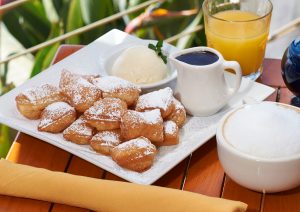 LIGHTHOUSE CAFÉ
Want a view with your Easter brunch? Try the Lighthouse Bayview Café in Marina Park. This casual restaurant is just feet from Newport Harbor, and offers both indoor and patio dining. The brunch menu features numerous signature dishes, including cinnamon sugar beignets (Christopher is addicted to them), fried breaded calamari, short rib grilled cheese, crab cake benedict, croissant French toast, and other tasty dishes. Visit LighthouseNB.com.
MASTRO'S OCEAN CLUB
For an oceanfront dining experience, enjoy an upscale brunch at Mastro's Ocean Club. Guests can enjoy a buffet menu that includes a cascading waterfall of shellfish, carving stations, create your own omelets, Belgian waffles and other breakfast & lunch favorites. Pricing: $95 per adult includes complimentary glass of champagne or mimosa. Children (6 to 12) $25. Ages 5 & under free. Brunch served 10 a.m. – 3 p.m. Call (949) 376-6990 or visit mastrosrestaurants.com.
THE RESORT AT PELICAN HILL
In Mar Vista's grand ballroom. Executive Chef Jean-Pierre Dubray presents traditional brunch favorites, accented with California and Tuscan flavors. 10 a.m. – 3 p.m. $128 per adult, $60 per child ages 5-12, and complimentary for children under age 5
Easter at Andrea: Andrea Ristorante proudly presents a traditional Easter feast with a prix fixe tasting menu from Chef Jonah. Enjoy his award-winning Northern Italian cuisine, along with fine wines from regions throughout Italy. Served from noon to 10 p.m. $125 per adult and $60 per child.
Coliseum Pool & Grill: Chef Oscar creates an extraordinary brunch buffet from 7 a.m. to 2 p.m. After that enjoy a la carte Easter dinner specials. $65 per adult and $30 per child ages 5-12 for brunch buffet, and complimentary for children under age 5.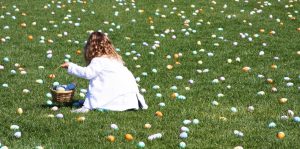 Pelican Grill: Chef Marc is creating a special selection of á la carte dishes for Easter at Pelican Grill. Available 11 a.m. – 10 p.m.
Let the little ones delight in an Easter egg hunt and visits with the Easter Bunny, all amid vast Pacific Ocean panoramas.
For more information, visit pelicanhill.com or call (855) 315-8214.
RED O
Easter brunch buffet with a taste of Mexico features omelettes, chilaquiles, a carving station, paella, ceviche, lobster mac & cheese, and other breakfast and lunch favorites. Brunch buffet available 11 a.m. – 3 p.m. Adults are $49 and children are $15. Ages 6 and under are free. Regular dinner menu available 5 – 10 p.m. For reservations visit RedORestaurant.com.
ROTHCHILDS
Spring has sprung and the patio is open for Easter brunch at Rothchilds. In addition to the regular lunch menu, Rothchilds is offering a la cart brunch specials: Belgium waffles, eggs benedict with black forest ham or crab, eggs Florentine, or grilled salmon—and of course, mimosas. Brunch served 10 a.m. – 3 p.m. For reservations call (949) 673-3750.
THE WINERY
The Winery will be featuring a special three-course prix-fixe brunch menu courtesy of Executive Chef Yvon Goetz. Entrée highlights are wild white shrimp & lump crabmeat and braised beef short rib hash & fried eggs. Price is $46.95 per person. Served 10:30 a.m. – 2 p.m. For reservations, call (949) 999-6622 or visit TheWineryNewport.com.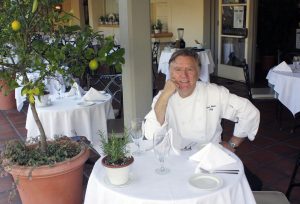 EASTER DINING SPOTLIGHT:
CAFÉ JARDIN AT SHERMAN LIBRARY & GARDENS
Our favorite French chef, Pascal Olhats, has a four-course brunch menu served from 10:30 a.m. to 2 p.m. in his charming bistro overlooking the gardens that starts with a choice of lobster bisque, steamed beet salad, homemade pate, or smoked salmon and asparagus quiche. Second course is an omelette aux herb and an olive plate. Main course choices are New York steak chimi churri with herb risotto, grilled striped bass, fettuccini vegetable plate, or roasted chicken breast with fingerling potatoes. Dessert is choice of lemon tart, flourless chocolate cake, mini passion fruit cake, or seasonal sorbet with strawberries. Cost is $39. Add $15 for endless champagne. Call (949) 673-0033 or visit SLGardens.org for more information. Note: There is also a $5 fee for entering Sherman Library & Gardens, so be sure to stroll the lush grounds before or after brunch.
ANQI
AnQi celebrates Easter with an unconventional Easter Brunch with AnSum–a new twist on California Asian small bites, Dim Sum-style. AnQi a la carte favorites will also be available, including the popular garlic noodles, which we always order whenever we go to AnQi. We also recommend the truffle fries. AnQi makes creative cocktails; our favorite is the Pink Lotus, with cotton candy, vodka, orange, grapefruit juice, and blackberry. The presentation itself is photo-worthy. Visit HouseOfAn.com/anqi.