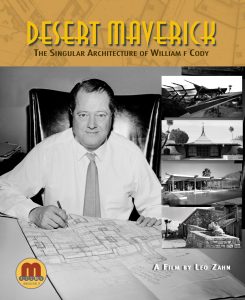 Palm Springs is haven to mid-century modern architecture. Architects such as John Porter Clark, Albert Frey and William F. Cody settled in town during the 1930s and 40s where Desert Modernism came alive using local rocks, concrete blocks and metal.
Much attention was paid to the desert's austere landscape, the lights and shadows, which was reflected in the way they built their structures.
Cody in particular brought his own style to the mix. Known as the "Desert Maverick," his works have revealed elegant, timeless buildings that have become masterpieces of desert modern architecture.
In the film, "Desert Maverick – The Singular Architecture of William F. Cody" by Leo Zahn that screens at the Newport Beach Film Festival on Saturday, April 23, we get to know Cody up close and his influence in Palm Springs from 1947 through 1975.
The film starts with a list of Cody's structures, then continues with an in-depth look at each one through his thought processes and work style from interviews with his contemporaries and experts.
An appreciation of the important part Cody played in the modernist scene is immediately gathered as the film winds it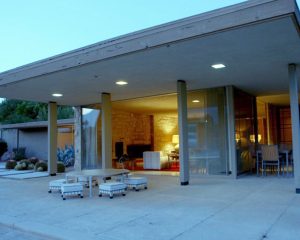 way through beautiful cinematography along with some of Julius Shulman's classic photography.
Author Alan Hess gives the key point on what makes Cody's work different from "Palm Springs' pantheon of architects." Hess states, "What makes Bill Cody unique…is his creativity and pushing modern ideas farther than anybody else."
Filmmaker Zahn himself had studied architecture and design in Europe after completing USC Film School, and explains how he was able to capture Cody's timeless buildings beautifully in the movie, acknowledging to all those who watch the film that this maverick architect certainly created masterpieces in the era of desert modern architecture.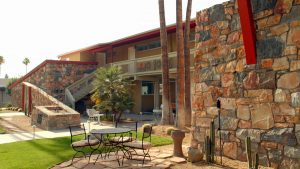 So it comes as no surprise that Zahn has worked in film for over 30 years and has been awarded the International Cinema Advertising CLIO and the Creativity Award from British Art Direction Magazine. He has directed and photographed more than 600 commercials, filmed in the US, Canada and Europe and has been a member of the Directors Guild of America since 1988. His upcoming documentary is about friends of Sinatra in Palm Springs.
Zahn reveals his thoughts on Cody.
What made you want to do a film about Cody?
Last year Alan Hess spoke at Palm Springs' Modernism Week and I was in the audience. He is one of the foremost advocates for 20th century architectural preservation and happened to mention that a film about Cody was needed. I felt I could bring my expertise and experience to the table and make a film with cinematic architecture while telling the story through interviews. I might also add that very few people, even mid-century modern architecture enthusiasts ever heard of Cody. I think one of the major reasons is that he died at a fairly young age and did not live to see the revival of modernism, and especially Palm Springs modernism architecture. He had a huge impact on architecture and design, and was revered by his colleagues.
Is Cody not "remembered" as well as the other modernists? Is that why his works were torn down?
Not only Cody's buildings were demolished, but many other significant buildings from the 50s and 60s by other architects were demolished as well. Even as late as 2004 when the famous Maslon house in Rancho Mirage designed by Richard Neutra was bulldozed. The new owner of that house obviously by mistake was given a demolition permit by the city. After that event and the outcry heard from around the world, the city had a rude awakening and decided to become very active in preservation. The city of Palm Springs had to become active in preservation much earlier, but saving a significant architectural gem from the wrecking ball is a battle every time. These preservation efforts started in the late 90s when appreciation for mid century modern architecture flourished. You need to keep in mind that mid century modern architecture was disdained in the 1980s and many structures were either remodeled or demolished back then.