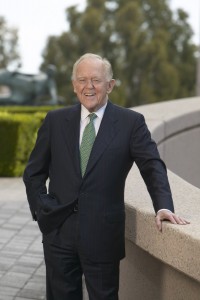 Great cities, and great communities, have great art and great arts patrons.
Florence had the Midici Family. Orange County has the Segerstroms.
Last Friday, the leading arts patron in the county and the patriarch of the Segerstrom Family, Henry Segerstrom of Newport Beach, died at age 91.
He leaves behind a lasting legacy. Yes, he helped develop his family's lima bean fields into South Coast Plaza, but Segerstrom was also instrumental in the growth of the arts in Orange County. He was the founding chairman of the Orange County Performing Arts Center (later renamed the Segerstrom Center for the Arts), donated land for South Coast Repertory, and his lead gifts helped create the Segerstrom Concert Hall and led the expansion of SCR into a multi-stage theater complex (their main Segerstrom Stage is named for him).
Center President Terrence W. Dwyer released a statement, saying "Segerstrom Center for the Arts would not be what it is today were it not for the unsurpassed vision, leadership and generosity of Henry Segerstrom. We will all remember Henry with great respect, gratitude and fondness. He will be deeply missed; and we are so fortunate that his legacy will live on and continue to inspire us all."
John Forsyte, president of the Pacific Symphony (they perform their concerts in Segerstrom Concert Hall) said in a statement, "The Symphony family is deeply saddened by the loss of Henry Segerstrom — a true pioneer, visionary and benefactor. My encounters with Henry always left me impressed with his gifts of persuasion, optimism, and an extraordinary drive. He set seemingly impossible goals and somehow made them come to life. Henry stood for the highest quality in excellence, attention to detail, and imagination, which is one of the fundamental reasons why the finest names in retail were drawn to South Coast Plaza.
Together with his family, he inspired an entire generation of philanthropy and investment in the region's arts infrastructure and programming. I personally had wonderful encounters with Mr. Segerstrom as the dream of a state-of-the-art concert hall became a reality. With the gift of this extraordinary venue and its predecessor that make up the Segerstrom Center for the Arts, Orange County became a cultural destination and the Symphony grew from a fledgling ensemble to one which could attract the finest musicians and produce ambitious projects.
It's rare that we have the privilege to be associated with a founding family which possesses the vision to build arts infrastructure which catalyzes the growth of local arts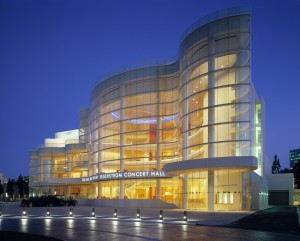 organization into nationally acclaimed ensembles and institutions. Henry was a one-of-a-kind spirit, and he will be missed terribly."
"There is no question that this is a milestone in the history of our community in many ways, but for those of us in the arts, there has hardly been a more devoted and generous patron—or one whose largess has been as far-reaching," Arts Orange County Executive Director Richard Stein told me.
As someone who has covered the arts in Orange County for more than 25 years, I understand how the opening of the Performing Arts Center in 1986 heralded a new era of arts in Orange County.
Henry Segerstrom was a visionary who saw the tremendous growth of the county and realized we needed to step out of the shadow of Los Angeles and create our own vibrant arts community.
The Performing Arts Center provided a home for the Pacific Symphony (which came of age thanks to The Center), Opera Pacific and other local arts organizations, and it attracted top Broadway musicals, dance companies, and renowned jazz and pop artists.
The opening of the Renée and Henry Segerstrom Concert Hall in 2006 offered an even deeper level of arts engagement. I remember Pacific Symphony musicians being grateful to Henry Segerstrom for building a concert hall for them—meaning a hall designed for acoustic music.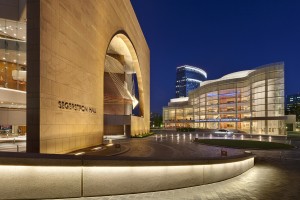 In 2005, at the half way point in the concert hall's construction, The Center held a beam signing ceremony, which I attended. I signed my name on a steel beam that was placed in the concert hall, and at the reception I dined on lima bean soup, a nod to the lima bean fields that gave way to Segersgtrom Center. I think of that day every time I enter the Segerstrom Concert Hall.
I interviewed Henry several times over the years, and always found him gracious, positive, and passionate about the arts. He had a ready smile that could disarm anyone.
He set an example for his family, all of whom are philanthropic-minded, and for others in the community to step up and support the arts.
Thank you, Mr. Segerstrom, for all you did for the arts. Your light may have gone out, but the lights at Segerstrom Center shine brighter than ever.
Henry Segerstrom is survived by his wife Elizabeth, his children Andrea, Toren and Anton, their spouses, six grandchildren and seven great-grandchildren.
A public visitation and tribute will be held at Fairhaven Memorial Park in Santa Ana on Feb. 28. Visitation hours are from 10 a.m. to 6 p.m.