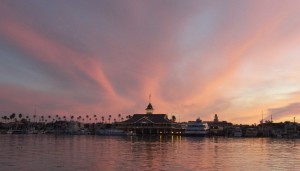 Saturday was the annual beach clean up in Newport Beach.
It was fun being able to bike down to Balboa Island from Corona del Mar, catch the ferry across to the Peninsula, and walk to the pier, where I collected trash with about 50 other people.
Then it was back on the ferry, back on my bike and home.
I always enjoy being on the ferry—it always makes me feel like I am on vacation. Watching the paddle boarders coming and going, kayakers, yachts of all sizes, jet boats, and people fishing. Do you know this is the only car ferry in all of Southern California? This ferry started in 1907 a year after Newport Beach became incorporated and is still a fun part of Newport Beach.
Newport has quite the history. Did you know that the Balboa Pavilion has had over 28 different businesses within the past 100 years such as a bowling alley, gambling hall, post office and art museum?
Let's go back a little further.
In 1870, Captain Samuel S. Dunnells brought his river steamer, the Vaquero, through the upper part of Newport Bay. Many thought this bay was not assessable.
James and Robert McFadden, who owned the land in this area, named it New Port.
It was not long before Newport Beach became a popular tourist spot, especially for movie stars such as Roy Rogers, Shirley Temple, James Cagney, Humphrey Bogart, Errol Flynn, George Burns, and of course "The Duke," John Wayne.
Then there are the movies and television shows that have been made here including Gilligan's Island, Arrested Development, Cleopatra (1917). The city even inspired the setting of Pirate's Cove in Walk Disney's "Peter Pan." Did you know that Disneyland's original Grandstand now appears in Roger's Gardens?
On another level we have one of California's oldest fishing fleets and fish markets, which date back to 1891.
According to the visitnewportbeach.com website, Newport Beach ranked among the top three in best city to live in (Orange County Register), and ranked number two for best places to work in Orange County (Orange County Business Journal, 2013).
The Wedge ranked as one of seven local landmarks to see in 2013 (OC Register, 2013), and the city ranked in America's Best Places for Holiday Lights (Yahoo Travel, 2012). The Resort at Pelican Hill was named number one Golf Resort in the World (Conde Nast Traveler Magazine, 2011).
My favorite place is Crystal Cove Beach and its 3.4 miles of coastline that has impressive cliffs, amazing waves and the cottages, plus the Shake Shack (and their yummy date shake) and the Beachcomber Restaurant.
I have seen many a whale and dolphins at least on a weekly basis playing in the waves. I've found pieces of sea glass, incredible seashells, and wild life that you would normally see in a reserve.
I have not even mentioned the amazing restaurants we get to indulge in: Bandera's, Bayside Café, Canaletto's—the list goes on. Did you know that we had the inaugural Newport Wine & Food Festival last weekend? There is always some festival, show or activity going on.
We are also spoiled with the shopping. Did you know that Fashion Island was built in 1968 and revamped in 1988? It is always evolving with new stores, new restaurants and always some great entertainment going on.
We live in an incredible city, so go and enjoy it. I know I have said this before, but remember people travel all over the world to visit Newport Beach, and we get to enjoy it every day.
I walk the beach every morning, and feel like I have to pinch myself that I really get to do this. I hope you feel the same way.
And if you do, make sure in some way, no matter how small, to be part of this incredible community.
Dr. Zavala can be reached at [email protected] or DrZavala.com.