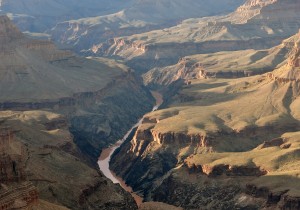 After a year of planning, I set out to hike the Grand Canyon Rim-to-Rim trail.
This was a hike of all hikes. I managed to get all the accommodations in alignment, which is extremely difficult. I trained daily to make sure I could make it up the other side of the rim. I had my snake bite kit, my emergency blanket, my duct tape, enough food to last me for a few extra days if I got stuck somewhere, and enough clothing to keep me cool or warm.
So off I went, excited and anxious but ready to do this hike of a lifetime.
I had studied the map backwards and forwards, knew where I could get fresh water, had the shuttle prepared to take me back around to the other rim, and rooms booked at the two historic lodges on either side of the Grand Canyon.
The night before the hike I made sure to eat a lot of protein and carbohydrates. I double-checked my backpack and got to bed early.
After waking at 4 a.m., I went to watch the sun rise over the rim. What a beautiful sight as the light changed the rock colors and the sky became illuminated.
After breakfast, I proceeded to the trailhead, so excited this moment has finally come.  The trail looks so enticing, snaking down for nine miles into the canyon. Expecting the temperature to get as high as 103 degrees in the canyon, I was wearing shorts and a t-shirt.
As I start my descent, I notice there is a sheer drop on one side of the trail and the rock face on the other. The path meanders with the most incredible views that make you feel so insignificant. It puts into perspective how vulnerable we are. I am cautious to keep my balance, not over exert myself, and keep hydrated.
As I continue to head down, stopping to take in the breathtaking views, I started to notice some storm clouds coming in. By the time I put on my jacket, I started to see lightening and hear the thunder. It was an amazing show, something you would see on the Discovery channel.
However, before long I was in that storm—and I mean in it.
The thunder was over my head and rattling the ground like an earthquake. Small rocks dislodged and tumbled past me down the canyon.
The rain set in so hard it felt like pins and needles against my legs. I am drenched in seconds. No jacket was going to keep me dry at this point. The lightening came in all directions.
For a moment the rain lets up, and I can see the canyon a little clearer. Drenched, but no harm done, I decided to continue.
I waded through the red mud that was previously the trail, with water coming up to my ankles.
The rain starts in again, however with an added mix of hail that was so painful I took shelter as much as I could behind a rock. Luckily no rattlesnakes had decided to take shelter there as well. The rain and hail became more insistent while the lightning and thunder were directly overhead.
Reality starts to sink in. What do I do next? It has been nearly 90 minutes of rain, hail, thunder and lightning, and the water is making the trail difficult to walk on.
I emerged from under my rock and thought logically through my options: go back to the top of the rim or head down into the canyon.
Then suddenly a lightening strikes above and a tree limb falls on the trail.
Now my logic is out the window and I fight the urge to go into panic mode. I walked up the trail a little, thinking about how disappointing it will be to not make my hike, then I walk down the trail, wondering if my life is at risk by continuing.
If I turned around and go back, I would not have any accommodations, and my goal would be demolished.
I stopped, took a breath, and decided to go back up to the rim. I had such a mix of emotions, disappointment, sadness, frustration, the "what ifs" kicked in, then the self-doubt.
Even at that emotional time, I realized this is all part of life. The storms are going to happen, disappointments are going to occur, and self-doubt creeps in.
What I know for sure is that I will hike the Grand Canyon again. No storm is going to discourage me. It might have stopped me this past weekend, but I will pick up the pieces and start planning again.
That is how you deal with life's storms. Another one will come, and another, but they will also pass.
Contact Dr. Zavala at [email protected] or DrZavala.com.