Photos by Jim Collins
Being irrelevant is normally not a good thing—unless you're the last pick in the NFL draft.
The Tennessee Titans selected Southern Miss corner back Kalan Reed as their pick, and last overall (number 253), in this year's NFL draft, automatically making Reed "Mr. Irrelevant" for 2016.
For those who don't know, Irrelevant Week and Mr. Irrelevant – celebrating the underdog – was created by NFL legend Paul Salata, a
Newport Beach resident.
Reed and his family enjoyed an all-expenses-paid trip to Newport Beach June 3 – 5 and was roasted and toasted during
the annual Lowsman Banquet, where he received the Lowsman Trophy, which has the figurine fumbling a football.
He also ran in the Corona del Mar 5K, enjoyed a beach BBQ, and was featured in the annual Balboa Island parade.
When Reed was a kid, he lived in Nashville, Tenn., where his favorite NFL team became the Tennessee Titans. He never stopped loving them, and now he's one of them.
Mr. Irrelevant's June excursion will include an all-expenses paid trip to Newport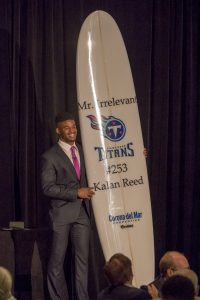 Beach, where he'll be lauded and praised as if he was the draft's No. 1 pick.
"We established Irrelevant Week to drive home an important message – that it's not a negative to be picked last in the NFL Draft; rather, it's an honor to be drafted at all," Salata said. "The last draft pick's demonstration of perseverance is lesson that resonates not only with NFL players and fans, but also with people everywhere."