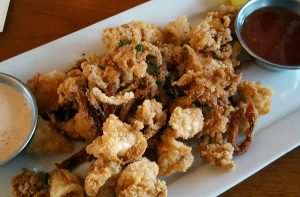 By Christopher Trela & Catherine Del Casale | NB Indy
Feeling Crabby at Bluewater Grill
We were feeling crabby the other night, so we decided to go to Bluewater Grill on Lido Park Drive for their "Get Crabby" tasting featuring soft-shell crab prepared two ways: sautéed with crab lemon caper beurre blanc with fingerling potato salad and vinegar aioli, and tempura-style served with Asian vegetable salad and cilantro vinaigrette.
The crabs were paired with a Kungfu Girl Riesling from Washington and an Acrobat Pinot Gris from Oregon.
The tasting was part of Bluewater's monthly Tuesday Night Tasting Series, which combines seasonal seafood and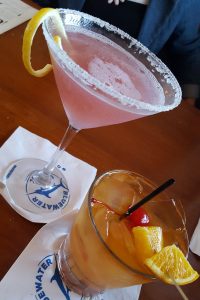 shellfish with wine, beer or sake, and roving commentary by the restaurants' resident seafood experts.
We started with cocktails – a mai tai ($9) and a Chambord raspberry lemon drop ($9.50). We also ordered the popular fried calamari appetizer ($12). Bluewater serves generous portions so this was plenty for two people.
We've had crab before, but never like this. We learned that soft-shell crab is a culinary term for crabs which have recently molted their old exoskeleton and are still soft, making them entirely edible. The most popular variety in the U.S., the Blue Crab, is typically served May through September deep-fried or sautéed.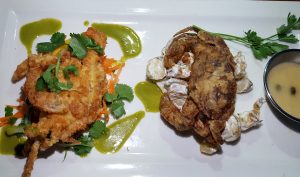 The preparation of the crabs was, as we anticipated, perfect, and the wines offered a nice pairing with the seafood.
Despite all we consumed, we managed to find room for another popular dish: the mud pie ($8), which quickly disappeared from the plate.
Something we noted during our visit: it was a Tuesday night, yet the restaurant was very busy and not just for the special tasting. A birthday party was being held at one large table, while at others groups of two to four or more were enjoying their dinners and conversations. Bluewater Grill is not only popular, but it has become a community staple that feels like a classy yet comfortable restaurant with fabulous harbor views.
The crab dish is $34.95 per person and available all month. The wines ($8 to $8.75 per glass) are an additional charge.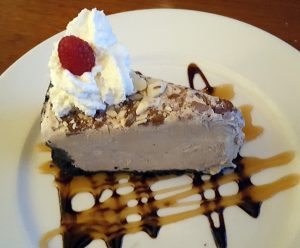 Upcoming Tuesday tastings include the return of the popular New England Lobster & Clambake on Tuesday, July 12, which combines steamed Maine lobster, Manila clams, fresh corn on the cob, baby red potatoes, crispy coleslaw, drawn butter, and a signature Bluewater lobster bib. The cost of the tasting is $34.95 per person.
And then on Tuesday, August 9, prepare for a Tuna Takeover Tasting and Sake/Wine Pairing featuring tuna prepared five ways: seared ahi; seared and smoked albacore; calico poke; and spicy tuna roll sushi. The $24.95 price includes a choice of tastings of Hakutsuru Draft Sake and Sapporo Draft Beer, or Oyster Bay Sauvignon Blanc from New Zealand.
For more information, visit BluewaterGrill.com.
Polishing Culinary Jewels at Five Crowns
Five Crowns turned 50 last year, and the restaurant has been undergoing a subtle yet obvious transformation with many new design features as well as new menu items.
We dined at Five Crowns several times last year and each time came away impressed with the direction the restaurant was taking with everything from décor to the menu, which retained many classic Five Crown dishes yet introduced new ones geared to a less-traditional diner.
This week, we were invited to a special media event at Five Crowns for a formal unveiling of the interior and exterior renovations, from the new Five Crowns sign along Coast Highway to the new dining tables (minus the formal white linens) and Cooper's Bar.
"We've invigorated the Five Crowns experience," said Ryan O'Melveny Wilson, executive chef and vice president. "From our updated sign out front, to refreshed dining rooms, the new bar and a menu that honors our classics and highlights seasonality, we're setting the table for the next 50 years."
Five Crowns collaborated on the renovation with Hatch Design Group, YYES Design Studio, Robertson Hill Architecture and Roger's Gardens.
According to information from Five Crowns, the first phase of changes focused on a new landscape design, re-imagined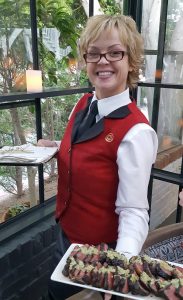 branding and the traditional façade. A second renovation phase included dramatic changes to the interior.
Lush landscaping courtesy of nearby Roger's Gardens highlights the building's English theme. Topiaries and boxwood hedges surround the property. A large, raised vegetable bed and aromatics including lavender, rosemary and sage embellish the front. Citrus trees enhance the back garden for outdoor dining and special events.
Christopher happened to be driving on Coast Highway earlier this month when the new Five Crowns sign – with a new logo – was being installed, and noticed that the building's exterior also sported distinctly different colors.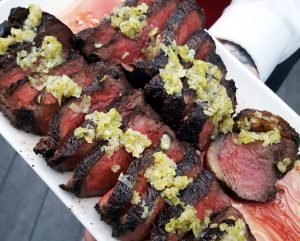 A showpiece of the restaurant is the new Cooper's Bar in the Greenhouse dining area. We learned that the bar is named for Chris Cooper, a beloved lead service bartender for 42 years. It features a copper beer tower with rotating taps, while patrons can sit on plaid barstools around a communal table whose surface is covered with thousands of authentic English shillings.
"I love the new bar," said Catherine. "It's fun and inviting with a copper beer tower with rotating taps. This is a great spot to stop off and sipping a crafted cocktail while enjoying the updated interior of the greenhouse section, which makes you feel as if you are outside without a chill from the coastal breeze."
The room also has new chandeliers and side chairs, and the metal framework has gone from green to gray. Other dining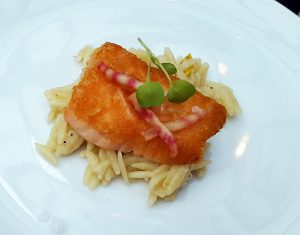 areas have also been refreshed with new colors and wallpapers, and new flooring.
"Five Crowns has done a great job of blending the traditional with the modern on their menu, and now they've added some renovations to keep the trend going," stated Catherine.
Five Crowns is offering seasonal small plates that can be enjoyed alone or paired with a shared main dish or a "heritage entrée" from the Crown Classics section.
"The new menu offers favorites from our 50-year menu archives in addition to a daily selection of fresh fish, hand cut pasta and interesting wines," said Wilson.
Some of the dishes we sampled at the media event included chilled black tiger prawns (paired with a delicious 2014 Gerard Bertrand white wine from France), wild king salmon, and mishima reserve beef, which was enhanced with a glass of Alexander Valley cab.
And speaking of wine, Five Crowns is the only restaurant we know of in Orange County that is pouring Screaming Eagle by the taste ($175) or by the glass ($500). Might be the most expensive glass of wine you'll ever have, but then it might be the only time you'll get to try the most coveted cult wine in the U.S.
Five Crowns is located at 3801 East Coast Highway in Corona del Mar. For more information visit lawrysonline.com/five-crowns.