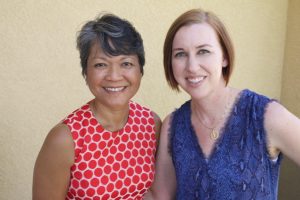 The Junior League of Orange County, based in Newport Beach, has elected Maria de Vera-Suarez as President of the nonprofit organization for the 2017-2018 fiscal year. She takes over the reins of the organization from Sara Young, who served as President for the 2016-2017 year.  
Maria joined JLOCC in 2009 with the goal to serve her local community. In preparing for the role of president, her past placements with the organization include participation on the Strategic Planning and Opportunity Drawing Committees, as well as serving as President-Elect, Community Council Director, Treasurer-Elect, and Finance Director.
Maria is a controller at Venture Retail Group, Inc., a real estate development and management company in Aliso Viejo. She holds a Bachelor of Arts Degree in Economics from UC Irvine, and a Master of Business Administration Degree from Cal State Long Beach.
"Last year, the JLOCC membership committed to focusing our community service on foster youth and human trafficking," said Maria. "We have established a long-standing partnership with Orangewood Foundation, which aligns with our focus issue on foster youth.  And, after vetting a few non-profits in Orange County that aid human trafficking victims, our membership selected to partner with The Lighthouse, a non-profit created by Orangewood Foundation. Our league is dedicated to serving the needs of the Orange County community, and we are looking forward to continuing our 60 plus years of service."
Shortly after Maria de Vera-Suarez was elected, the Junior League of Orange County was notified that it had received the Colgate Community Impact Award at the 2017 Association of Junior Leagues International Inc. Annual Conference, held recently in New York City.
The Junior League of OC was recognized for its 30-plus year commitment to foster youth, and its work with Orangewood Children's Home, the Orangewood Foundation, and the Samueli Academy. A $10,000 grant was included with the honor.
The purpose of the Colgate Bright Smiles, Bright Futures Community Impact Award is to recognize League projects that concretely illustrate the Junior League tradition of achieving significant community impact through collaboration.
"We are delighted to receive this award that recognizes the commitment our League has made to these outstanding organizations," said President Maria de Vera-Suarez. The award acknowledges the long-lasting measurable results the League demonstrated that are significantly the result of the skilled work of trained volunteers working in partnership with community agencies.
For more information, visit https://www.jlocc.org.