By Christopher Trela & Laura Wise | NB Indy
For many years a fixture on the East Coast and in popup boutiques at noted department stores, fashionable clothier Lafayette 148 has opened a flagship store inside South Coast Plaza.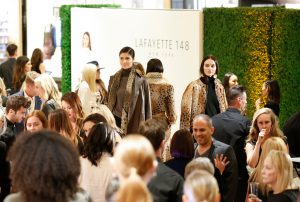 At the opening event on Thursday, Nov. 1, Lafayette 148 Creative Director Emily Smith and CEO and Co-Founder Deirdre Quinn, along with a host committee from Girls Inc., welcomed an array of VIPs to an exclusive evening of fashion and philanthropy that marked the opening of Lafayette 148.
Guests were treated to a fashion presentation featuring looks from Lafayette 148's Fall and Holiday collections. The event celebrated the "Art of Giving," with 10 percent of each sale donated to Girls Inc. of Orange County that night, and daily through December 1.
"We have such a loyal client base here, and it's wonderful to see the excitement around our arrival," said Lafayette 148 CEO and Co-Founder Deirdre Quinn. "I can't imagine a better way to inaugurate our West Coast home or a better partner than Girls Inc. We know our customer is very generous and socially aware, and this is a cause that really connects with her and our whole company."
Themed around "Art of the Occasion," the fashion show featured festive pieces suited for desk-to-dinner dressing and holiday gatherings. Highlights included day-to-night looks in a wintry palette of white and gold, luxe coats in cashmere, calf hair and leather, as well as an editor's favorite evening suit in scarlet satin.
We had an opportunity to chat with Lafayette 148 Creative Director Emily Smith prior to the opening. She talked about the versatility of the Lafayette 148 designs.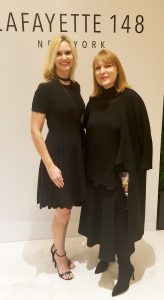 "I travel a lot and I know what it's like to be morning to night," said Smith. "I don't have time to go home and change, I just need to take a jacket off and put earrings on, switch things around. Being a women-run business, all of us share that mentality. We like to say our customer is a modern accomplished woman. Strong, powerful women with busy lifestyles. We want to make her life easy. Our approach is to pay attention to trends and make sure our stuff is constantly relevant and on trend, but not trendy. Easy wearable fashion that is versatile throughout the day. Dress it up and dress it down. Will it look good with a pair of jeans? Multiple uses is a big part of how we approach things."
Laura wanted to know if there were any trends or colors planned for winter and spring.
"We're working on spring right now," said Smith. "A lot of asymmetrical hemlines, a lot of art and architecture, hand painted approach, scribble prints, things like that. There is a sense of humor that is coming out in fashion. More minimalistic yet playful. Not head to toe serious, a softer feminine approach. Femininity is coming back in a big way."
As for colors, "greens are coming back in different tones, and yellow, everything from mustard to neon yellow. Blues are always good, and reds like peppery sunset tones are coming back in a big way."
Christopher noted that some of the designs on the Lafayette 148 website had a Picasso-esque sensibility to them, to which Smith explained that she went to art school and studied art history, so that artistic approach is often revealed in her approach to clothing.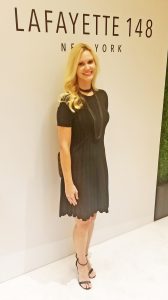 After chatting with Emily, Laura had the unique opportunity to shop with the Creative Director herself at the South Coast Plaza flagship store, located on the first level, between the Macy's Men's Store and Saks 5th Avenue.
Since the holidays are quickly approaching, Laura hoped to find the perfect Christmas party outfit. Emily selected several options for her, ranging from classic black to statement sequins
Called "Fall at Fallingwater," the Lafayette 148's Fall Collection was inspired by Frank Lloyd Wright's Fallingwater home in Mill Run, Pennsylvania. The clothing symbolizes the home's iconic architecture and natural foundation, and provided the ideal setting for the season's catalogue photo shoot.
"Like Wright, we celebrate the harmony between art and its environment. Our new West Coast flagship brings this to life with a mix of our modern design and California's natural sensibility," explained Smith.
Laura tried on nine different looks, including a wide leg black pant paired with a cream blouse with a wrap tie, a leopard print dress with an askew hemline, and a black sequins pullover with a skinny black satin pant.
"One of my favorite looks was their iconic gold sequins skirt worn with an oversized winter white sweater," said Laura. "The separates mixed and matched so exquisitely that an entire wardrobe could be filled with Lafayette's classic looks and statement pieces."
With each look Laura tried on, Emily gave styling suggestions for accessories and shoes, ranging from options in the store to ideas to use from Laura's own closet at home.
Laura noted that while not everyone has the chance to shop with a fashion designer, each Lafayette 148 store does offer a personal shopping experience. Walk-ins are welcome, but shoppers are encouraged to call ahead to schedule an appointment. They also offer in-store, complimentary alterations.
"Wishing I could take the whole store home with me, I narrowed down my selection and opted for a little black dress to wear to the store opening, called the Metropolitan Shine Structured Rib Dress (retail $1,298) paired with a black Signature Mesh Warp Necklace (retail $298). Classy, elegant, and on-trend, this ensemble will be my look for the holiday season."
To schedule an appointment at the South Coast Plaza flagship store call (714) 868-3131. Or shop online at Lafayette148ny.com.