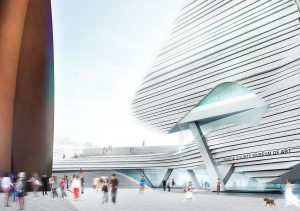 After more than 50 years in Newport Beach, the Orange County Museum of Art closed its doors and moved a few miles down the road to South Coast Plaza Village, where its current – make that temporary – exhibit space opened this month.
I said temporary, because while the new space offers a surprisingly spacious, split-level gallery, OCMA plans to move in 2021 to a beautiful new facility scheduled to be built at Segerstrom Center for the Arts.
Groundbreaking for the new building is scheduled for next year, but in the meantime, arts lovers can take in an inaugural show of seven exhibitions on display through March 17, 2019.
According to OCMA material, OCMAEXPAND (the name being used by OCMA for the new space) is a dynamic space for creative thinking, experimentation and dialogue. Indeed, while some of the exhibitions follow a traditional installation format, others are expected to change and evolve during the show's run.
The seven exhibitions include sculpture, painting, photography, video, sound, and performance. The show keeps with OCMA's tradition of showcasing artists from California and the Pacific Rim.
Admission to OCMAEXPAND is free. The museum is open Thursdays from 11 a.m. to 8 p.m., and Friday – Sunday from 11 a.m. to 6 p.m. Free tours are offered at 2 p.m. Saturday and Sunday.
OCMAEXPAND is at 1661 W. Sunflower Ave. in Santa Ana, across the street from South Coast Plaza in South Coast Plaza Village.
Visit OCMAExpand.org.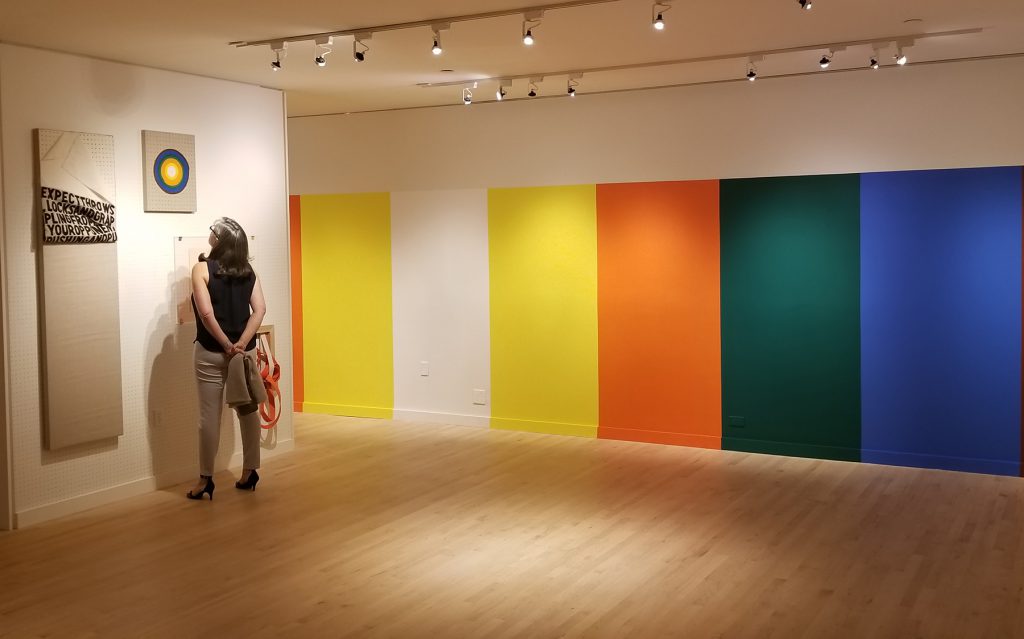 SIDEBAR: Current exhibitions at OCMAEXPAND:
Kathryn Garcia: Gone, Gone Way Beyond
In gone, gone way beyond, Garcia references ancient sacred feminine mythologies. Through sculpture, drawing and performance, she offers viewers opportunities for meditation as a pathway to greater awareness. The exhibition title gone, gone way beyond is a quote from the Heart Sutra, a Buddhist text. Garcia's project seeks to offer viewers metaphoric passageways to a place of greater refuge and, in turn, greater wisdom. In this work the notion of gaining wisdom itself becomes a form of refuge, which is increasingly important in the current climate of widespread political and cultural anxiety.
Valentina Jager: the face the mouth the back
The face the mouth the back calls attention to how desensitized people have become to seeing violent imagery in the media. Jager's work creates a tension between the seductive power of her large hanging pieces that immerse viewers in lush colors and fragile surfaces, and the fallen bodies that inspire their imagery.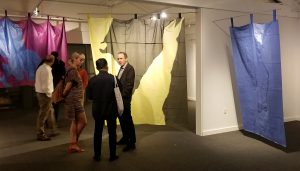 Valentina Jager is both an artist and a writer and the two practices often influence one another. Her work is infused with a deeply poetic sensibility that sheds light on the precariousness of truth, the subjectivity of interpretation, and the fragile nature of memory. In her art objects and performances, Jager looks to written texts as sources for exploring how language can be contingent or have shifting meaning.
Mariángeles Soto-Díaz: Everyday Grappling Operations
In Everyday Grappling Operations, Soto-Díaz looks to the principle of resistance central to the practice of Judo as a metaphor for political engagement, both individually and collectively. In Judo, one never uses direct force against an opponent, but instead learns to use the opponent's strength against them by timely redirection of energy, which nullifies it. She considers some of the ways that these principles might serve as a basis for strategic actions that advance broader ideals, such as wider acceptance of gender identity or racial equality and justice.
Rodrigo Valenzuela: American-Type
In his photography and video-based, work Rodrigo Valenzuela reveals tensions between individual and communal experiences. His work on view here investigates topics of alienation and displacement relative to questions about labor, immigration, and American culture. This debut presentation of Valenzuela's American-Type photograph stakes its title from an essay by Clement Greenberg, one of the most significant art critics of his day who put Abstract Expressionism and artists such as Jackson Pollock and Franz Kline on the international map. He argued that painting was about the act of painting and not about a complex idea of representation.
Forsaken Utopias: Photographs from the OCMA Permanent Collection
This exhibition of photographic works from OCMA's permanent collection offers a rare opportunity for a focused look at a sampling of OCMA's significant holdings in contemporary art. Cocurated by the museum and the currently exhibiting artist Rodrigo Valenzuela. These photographs are part of the museum's permanent collection.
Allen Nakagawa: Rescue(s)
Alan Nakagawa is an interdisciplinary artist primarily working with sound, occasionally incorporating video, sculpture, drawing, painting and performance. His work often explores his Japanese American heritage and the three projects on view probe issues of cultural assimilation and the generational impact of trauma. The installation Rescue(s) is a multi-media project that addresses Nakagawa's personal fear of the Ku Klux Klan and, more broadly, the deep-seated fear of racism that people of color grapple with in the United States. The work was inspired by a dream Nakagawa had in which he was confronted by thousands of hooded KKK members. Unsettled by this dream, Nakagawa sought out a Jungian dream analyst to assess its meaning. In this installation, audio documentation of the dream analysis is presented alongside Nakagawa's watercolor drawings, which recall all the times he was confronted with KKK imagery since childhood.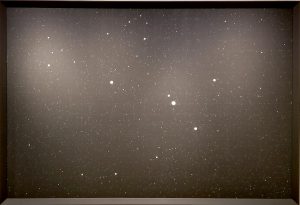 Ni Youyu: Dust Paintings
Ni Youyu draws inspiration from the tradition of landscape in art history and from his Chinese cultural background and personal history. He is fascinated by science and pushes the boundaries of photography and painting to explore concepts of microcosm and macrocosm as well as the ephemeral and the eternal. Ni's dust paintings on view use exact replicas of photographic images of the galaxy as his source. Ni creates the paintings by meticulously applying layers of glue and powered chalk to carefully gridded images. The making of each work requires extraordinary precision and patience.