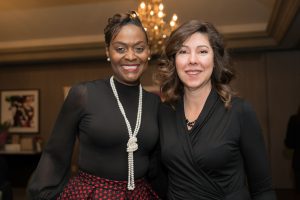 Women continue to exert their power in politics, business and everyday life. For proof, look no further than Leadership in Heels, a nonprofit organization started by Scharrell Jackson, a full-time Partner, COO and CFO for Squar Milner in Newport Beach, one of the top 70 accounting firms in the nation.
Several times a year this group brings together top speakers and panels for empowerment of women. The last panel for 2017 was held Nov. 30 at the Center Club in Costa Mesa.
Entitled "Leadership is Not a Dress Rehearsal; The Show Starts Now," the event  kicked off at 7 a.m. with a room packed with businesswomen ready to engage with a variety of topics, including:
•        Know yourself and do what you're good at.
•        Continue to learn and develop.
•        To elevate ourselves, we need to address needs and say "yes" when qualified.
•        Move through fear.
•        Be decisive and ask.
•        Have accountability partners who will tell you the truth and be able to accept that truth.
 Examples were shared of the differences between men and women, starting when we are young boys and girls.
"When a young boy comes in from riding his bike, he proudly proclaims 'look what I did, Mom!' never mentioning the number of times he may have fallen. But the young girl will focus on the falls and not on the accomplishment," Jackson said.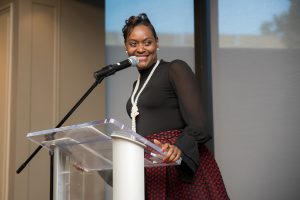 Other lessons shared: Be confident, don't let the world set the pace of your life, and end each night with gratitude and fall asleep thankful for your day.
"Each of us have individuals in our lives that we influence, and we are all, therefore, leaders. It's time we accept the responsibility of the role and learn how to be better leaders," says Jackson. "Leadership in Heels helps people to identify why and what may be stopping them from reaching their full potential. At our events, we provide tangible tools to add to your leadership toolbox."
 In addition to interactive presentations and exercises, the Leadership in Heels speaker series offered breakfast, networking and giveaways.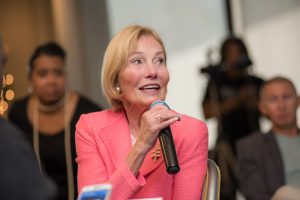 A portion of net proceeds from "Leadership is Not a Dress Rehearsal" benefitted Working Wardrobes, which empowers men, women, veterans, and young adults overcoming difficult challenges to confidently enter the workforce and achieve success. By helping those to restart their lives, the organization creates new leaders in the workforce by assuming the role of the leader in their own lives.
The next Leadership in Heels event will be held in March: "Breaking the Glass Ceiling—What Happens When the Heels Get too High." The event will feature a panel of executives and will address the cost of success, how to balance the responsibilities of success and reaping the rewards of success.
For more information about Leadership in Heels, visit scharrelljackson.com.