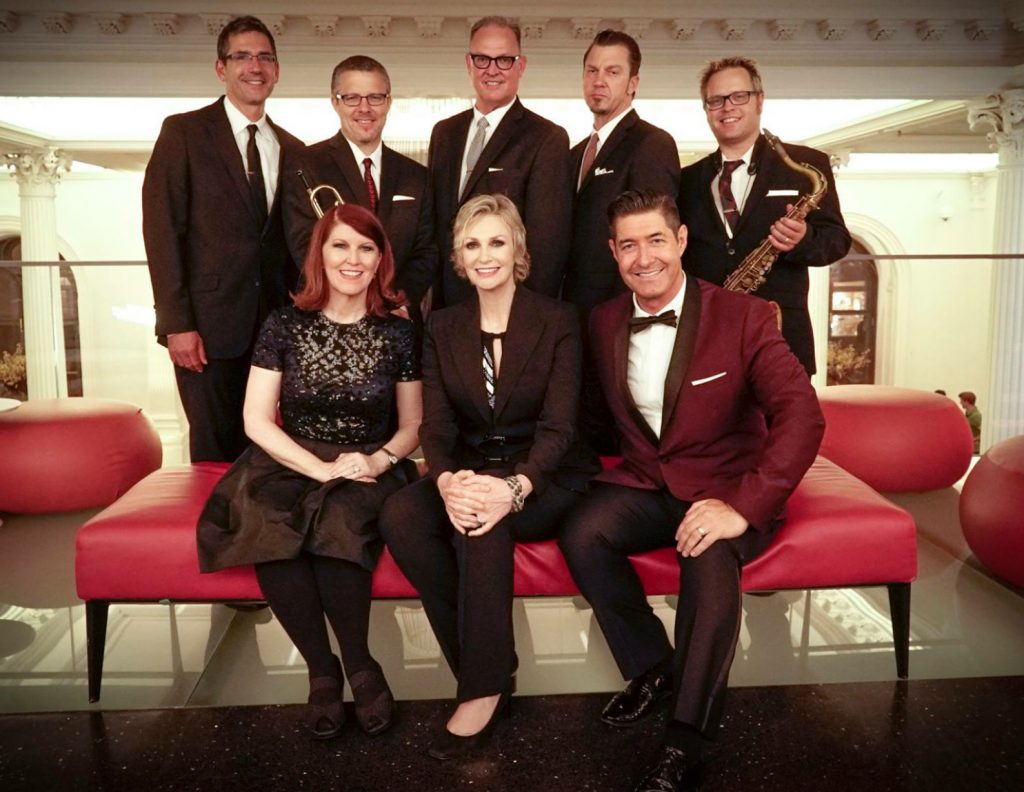 By Heather Manning | Special to the NB Indy
 When you hear the name Jane Lynch, you may think of the vibrant host of the primetime game show "Hollywood Game Night" or the acerbic Sue Sylvester from the hit TV show "Glee."
You may conjure up one of her characters from a Christopher Guest cult mockumentary, like "Best in Show" or "A Mighty Wind." If you're truly dialed into her career, you may even remember she recently starred as Mrs. Hannagan in the Broadway revival of "Annie."
I'd consider myself to be part of the latter bunch, yet I had no idea that that she was also part of her own traveling "anti-cabaret" show called "See Jane Sing," which rolled into the Irvine Barclay Theatre & Cheng Hall last Friday.
I was downright shocked to find out she'd been performing the show with the same dedicated troupe of players for the better part of the last three years. After watching this gem of a show, I was grateful to finally be in the know.
This 90-minute performance began with Jane's accompanying band, the Tony Guerrero Quintet, opening the show with a pair of songs of their own, including a tight medley of tunes from "West Side Story."
The tunes set the stage for "Glee's" music producer Tim Davis to come out and woo the audience with a crooning style that landed somewhere between Darren Criss and Michael Buble. He was the ideal choice for a warm up, especially considering he produced all 800-plus songs belted out by Lynch and the rest of the "Glee" cast during the show's six-year run.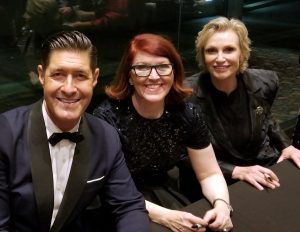 We were sufficiently warmed up for Jane, who came out in her trademark pantsuit. Davis accompanied her onstage, as did Kate Flannery from the cult TV comedy "The Office."
After opening with an a capella Christmas tune, the trio quickly came to terms with the holidays being over and moved on to a terrifically eclectic array of songs, a wide swath of familiar standards, Broadway songs, and surprises like "Anaconda" by Nicki Minaj. 
Highlights included a sleek rendition of Mr. Monotony from the classic Judy Garland film "Easter Parade,' a breezy take on Roger Miller's "King of the Road," and a hilarious riff on the Jefferson Airplane song "White Rabbit" dubbed "Go Ask Alice," a routine Lynch and Flannery had perfected while the two were in the cult stage show "The Real Life Brady Bunch."
As the show wrapped up, my daughters and I were filled with joy thanks to Lynch and her traveling band. We were entertained from the moment the lights went down, and that's saying a lot considering my 15- and 13-year-old girls weren't familiar with most of the songs performed. It was a fantastic way to spend a Friday night.
Thank you, Jane, for bringing your show to Orange County.
Upcoming shows at the Irvine Barclay include Peisha McPhee ("American Idol" vocal coach) with her cabaret show Chopin Meets Broadway on Jan. 20, Tony Award winners Chita Rivera and Tommy Tune on Jan. 27, and Broadway star Linda Eder in concert on Feb. 10.
Visit TheBarclay.org for more information.