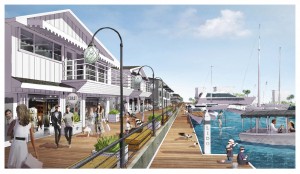 Locals and visitors of Lido Marina Village in Newport Beach have been eager to learn which hand-selected tenants will be opening in this seaside-shopping destination since restoration of the village began.
Stenn G. Parton, director of retail development for DJM Capital Partners, Inc., attended the Town Hall meeting last Monday and discussed the progress of Lido Marina Village.
"We appreciate the charm and character of the old buildings and streets, and the architectural significance of what is there and the authenticity that Lido Village represents to Newport Beach," Parton told residents at the meeting, "The benefits of maintaining that authenticity has effected our leasing. We have been thrilled to see the momentum [of marquee-rated shops] not only from a national perspective, but a local one."
Construction is slated to be finished by the end of the year, and the first new tenants will open their shops in February,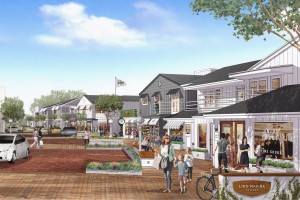 2016. Parton's enthusiasm stems from the retailers themselves and how they have fully embraced this project. The development already has 80 percent of the stores leased (a turnaround from the high vacancy rate just a few years ago), with the full opening of all the stores to take place by next summer.
Lindsay Parton, president of DJM Capital Partners, stated in a recent press release, "Our vision in re-developing Lido Marina Village has been to make it a world-class dining, shopping and lifestyle destination."
Some of the marquee culinary tenents include Nobu, one of the world's most recognized Japanese restaurant and known for its innovative cuisine and celebrity following. The restaurant will utilize a two-story restaurant space that features views of Newport Harbor. It will have an indoor and outdoor dining experience, sushi bar, lounge, and other elements to be announced soon.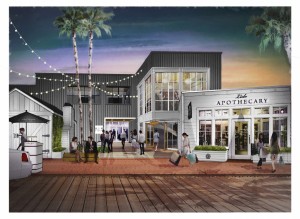 Publica by Zinque, the iconic culinary hangout from Abbot Kinney and West Hollywood, is set to bring its European vibe, food and wine, located directly on Lido Marina at Via Oporto where waterfront patio seating and chic interiors will make for a beautiful wine bar and eating experience. It will also include a street-side takeout counter, and will be open for breakfast, lunch and dinner.
Juice Served Here, a Los Angeles-based juice bar sensation, is already open, and Honor Coffee Roasters, founded by Ken Schultz and his partner Charn Bak, will also open its doors in Lido Marina Village.
Many other marquee tenants will be spotlighted. Look for the famed multi-brand lifestyle store Steven Alan. He was actually a local boy, according to Parton. "He went to USC, moved to New York and built a fashion business for men and women."
Planet Blue, the original purveyor of the beachy/boho aesthetic enclave for celebrities and in-the-know locals, opens a shop for the first time in Orange County with this location.
Dog lovers and dogs alike will be happy to know that high-end pet store Charlie & Me is set to bring modern and sophisticated dog products, accessories and pet-related home items to Newport. Newport Beach native Taylor Beauchamp selects every product to ensure every pup will leave looking stylish and chic.
Other well-renowned shops include Tress Apothecary + Salon, Curl Fitness (with waterfront views from the gym's state-of-the-art workout machines); Jenni Kayne, the American designer known for her timeless wardrobe classics; and Bailey44, a specialty women's boutique's first brick and mortar flagship retail store.
And for many who have lived on the Peninsula for years, Parton went on to say that Dan of Lido Village Books will still have his space, just bigger and better with a whole new look.
The second floors of the buildings are to be leased as creative offices. Industries such as advertising, marketing/PR firms, architects and interior designers will occupy these spaces