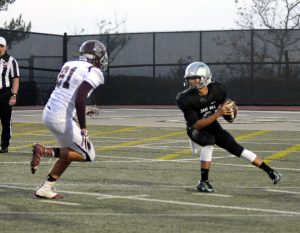 Lightning football is back at Sage Hill School, however, this year it's with a twist.
After struggling in recent years to have the numbers necessary to safely field a traditional 11-man team, the administration – led by  Athletic Director, Megan Cid – made the decision to move the program to its current 8-man status.
Faced with the options of continuing in an environment that generated matchups which were often lopsided and unsafe, eliminating football altogether, or moving to an 8-man program, Cid chose the latter, knowing her decision may be met with skepticism.
When asked what motivated her to choose this path, Cid expressed her desire to continue providing the Sage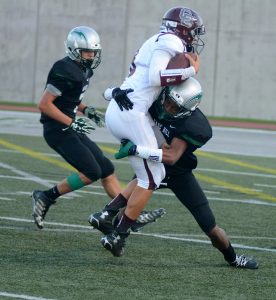 Community with the traditional Friday night football experience, as well as her student-athletes a way to safely shine on the field, adding ntha "eight-man football is for schools with small enrollment and that is Sage Hill. Our goal is to provide our student athletes a great experience in a safe environment, and this was just the right way to go in order for us to achieve our goals"
Played on a slightly smaller field, (80 yards long and 40 yards wide, as opposed to the traditional 100 yards by 53 yards) and with the deletion of two players from the line and one at a skill position, the 8-man game is still very much "real football," as fans who have attended the season's first games have been able to see for themselves.
After finding their footing in an inaugural loss to Calvary Chapel, Downey, on Aug. 26, the Lightning have gone on to provide fans with back-to-back victories, defeating the St. Michael's Prep Archangels 71-44, and the New Design Academy Cardinals 54-30.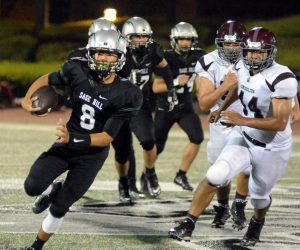 Led by head coach BJ Crabtree and assistant coaches Michael Kilkenny and Ricky Sharpe, the Lightning have found success through hard work, and developing a strong team unit. Following the team catchphrase, "Attack the Moment," athletes are being taught to find success in whatever situation presents itself.
Crabtree says he wants to teach his athletes to be balanced players who recognize the potential for growth in both victory and defeat. He says, "The idea of 'Attack the Moment' is that we do our best with what we can control, on the moment we are in. If we make a mistake on the field, we learn from it, but don't dwell on it, instead, seizing the next opportunity for success."
Regarding selecting the right person to helm the new program, Cid said, "Coach Crabtree is by far the best coach to lead our football program into success…not only passionate about the game of football, he also deeply cares about each of his players and wants to see our young men succeed both on and off the field."
This passionate coaching, coupled with great effort on the field, is proving to be a winning recipe. Led in scoring by RB Nick Karahalios, Receivers Miles McCord and Eddie Pelc, and QB William Leong, the team is rounded out by a cast of equally impressive players, who are working hard to ensure that Lightning continues to strike regularly at Ramer Field.
For a complete Lightning football schedule, please visit sagehillschool.org.