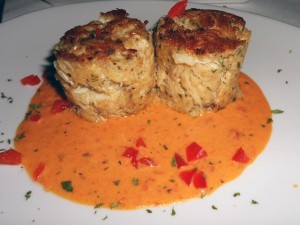 "Have you been to Fleming's in Fashion Island?" I asked Catherine, my editorial assistant.
"Chris, I'm from Napa, remember?" she replied, shaking her head. "I'm still trying to find my way around OC."
"Then we should find our way to Fleming's, because I've never dined there, you've never dined there, you love steak and that's their specialty, and they've launched new summer menu specials that look terrific," I told her.
"Such as?"
"Such as the Summer Lovin' Steak & Sangria prix fixe dinner with a different steak and sangria pairing every two weeks, Summer Sundays three-course prime rib dinner, and the Bar a la Carte menu," I recited. "They also have their daily "5 for 6 until 7″ special: five wines, cocktails and appetizers for $6 until 7 pm, in the bar."
"You've got my attention. When do we go?"
"Well, we could wait for Sunday, but why not tonight?"
We arrived at 7 p.m. on a Wednesday night, and walked in the door to discover a bustling restaurant packed with people obviously enjoying their evening. We had opted to sit in the main dining room, and after a brief wait were escorted to a booth. We perused the dinner menu, and also the wine list, which boasts 100 wines by the glass.
"I'm going to have trouble decided what to order," I said.
"Me too."
Our server, Ellen, explained the daily specials, but also helped guide us to a few of the more popular items.
"Our filet mignon skewers are very popular, and I recommend the bone-in ribeye," she said. "Also the lobster mashed potatoes."
"Those all sound great to me," said Catherine, smiling.
"I'm thinking of going in a different direction and trying some seafood. I'll have the jumbo lump crab cakes, and the sea bass special," I said, handing my menu to Ellen.
We each selected a wine flight to enjoy with dinner, and dug into the loaf of fresh baked bread that arrived at our table.
"I love the parmesan cheese on top, and these spreads are excellent," noted Catherine. "I could eat this entire loaf."
"So could I, but we have a lot of food coming," I reminded her.
Our appetizers arrived, so we shared tastes and compared notes.
"This might be one of the best dishes I've ever had," said Catherine after a few bites of her filet. "They're so tender, and the creamy gorgonzola-bacon fondue makes the dish. I'm coming back again just for this."
"Wow, you're right – the filet almost melts in my mouth," I agreed. "But I like my crab cakes too – they're huge, and the lime butter sauce melds well with the crab."
Our entrees soon followed.
"I love my steak – it's full of flavor, very tender, cooked to perfection," said Catherine.
"My fish tastes wonderful and looks beautiful on the plate, but I could eat the lobster mashed potatoes all night," I professed. "I think there's a chunk of lobster in every bite I've taken."
"You're right – the potatoes are whipped to perfection, smooth a creamy as they should be," said Catherine as she spooned more of the dish onto her plate. "The lobster taste is not overwhelming, and it's refreshing compared to the normal butter and garlic mashed potatoes."
"You come back for the filet bites, I'm coming back for the lobster mashed potatoes," I laughed.
"I'm getting full," said Catherine ruefully.
"Me too, but don't forget we ordered dessert," I said as a decadent dish of chocolate lava cake was placed in front of us.
"There's nothing better than warm chocolate oozing from the center of a dessert, with homemade whipped cream on top," grinned Catherine.
"I thought you were full," I teased as I placed a fork full of the chocolaty goodness in my mouth. "And you're right, this is a delicious dessert. A perfect ending to a perfect meal."
For more information on Fleming's, including their summer menu items, visit http://www.Fleming'ssteakhouse.com/locations/ca/newport-beach.