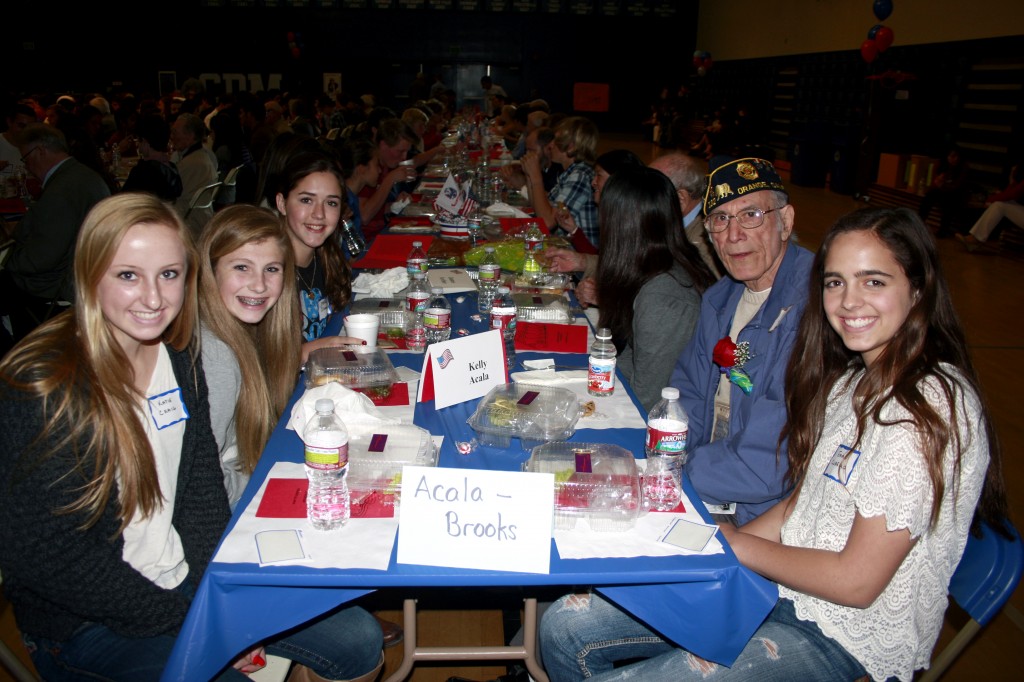 High School students have seen the famous photo of the flag being raised in Iwo Jima in history books, but Kelly Alcala saw it firsthand as he flew overhead.
Alcala flew dive bombers for the US Naval Air Corps in the Pacific Theater and participated in several major battles, including the Battle of Midway and the Gilbert and Marshall Islands campaign.
He shared his experiences with a group of Corona del Mar High School freshman girls for the school's Living History Service Learning Project. The project concluded with a luncheon on March 15 in the school's big gym.
"[The project is important for kids] to make them aware that we are not just numbers or names (in a book), we have a face," Alcala said.
Alcala's group included Emma Cubero, Maddy Givant, Brenna Currey and Katie Craig. The girls agreed that it was an eye opening experience.
Alcala said he hopes the experience helps students realize the sacrifices veterans have made and what is was like to go through war. He told them about the time he spent in the hospital and how he dealt with his injuries. He still doesn't have full use of his left hand.
It was very emotional to learn about how hard it was for some veterans to deal with aftereffects of war, Givant said. Traumatic memories don't just go away when they are sent home, she said.
"It's like a shadow that never really leaves," Craig said.
He also told them about the good times like meeting girls or scoring a pack of Pepsi's.
"The goal of the Living History Project is to inspire and engage our students to have a greater appreciation for our veterans' sacrifices and accomplishments, learn about the history of our country and understand what it means to be an American," said event organizer Denise Weiland
Between getting assigned to a veteran in December and the luncheon in March, students meet, research and interview their veteran. The school works with the Freedom Committee of Orange County for the project.
The luncheon included introductions from all of the vets, speeches from selected speakers, including CdM teacher and US Air Reserve Officer Gary Mathieson, and a video featuring photos of the students with their veterans. More than 500 students, veterans and guests attended the event.
Read Jim Fitzpatrick's story about the program here.