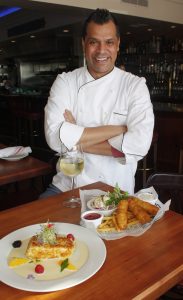 By Christopher Trela & Catherine Del Casale | NB Indy
Didn't get your fill of Newport Beach Restaurant Week in January? You're in luck—Orange County Restaurant Week is March 5-11, and more than 100 restaurants throughout the county are offering prix fixe menus for lunch or dinner.
The prix fixe menus vary from $10, $15 or $20 for lunch, and $20, $30, $40, or $50 for dinner.
A few restaurants are also offering a special $80 "luxe" menu featuring dinner with wine or cocktail pairings.
Nearly three dozen Newport Beach restaurants are participating in OC Restaurant Week, including many of our favorites and a few new ones.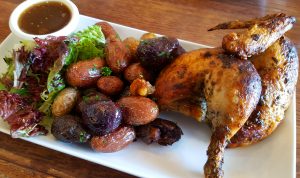 As always, we perused the menus and have a few suggestions on which local restaurants have the most interesting menus, and offer the best value—although you can't go wrong visiting any of the restaurants during OC Restaurant Week.
Back Bay Bistro: $20 lunch includes glass of House Wine or draft beer plus two courses.
Beachcomber Café: $20 Lunch includes choice of starters and choice of three items for second course, including beef short rib melt, Ahi BLT, and lamb burger. Great food with a great view.
Bluefin Restaurant: $50 dinner with four courses; $80 for cocktail or sake pairing.
Bluewater Grill: $20 lunch with hot sourdough bread, choice of soft drink or iced tea, and two courses including fish and chips or angus burger.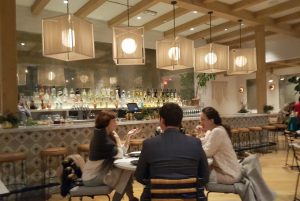 Café Jardin at Sherman Gardens: $20 lunch includes three courses: choice of paté, beet salad or steamed rock shrimp, then entrée of short ribs, trout or crab cakes, plus dessert. One of the best deals in town!
Dory Deli: $10 lunch includes choice of starters and an entrée.
FIG & OLIVE: $20 lunch includes choice of four starters, three entrees, and dessert. Amazing deal.
Fly N Fish Oyster Bar & Grill: $20 lunch includes chowder plus salad plus choice of entrée.
Gratitude Newport Beach: $20 lunch includes three courses.
Juliette: $20 lunch includes three courses.
Lighthouse Bayview Café: $15 lunch includes choice of three appetizers and four entrees.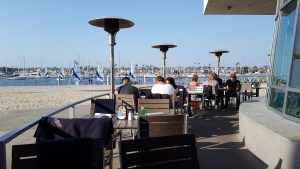 Moulin Bistro: $20 lunch or dinner starts with French onion soup, half chicken with a side, and dessert. Magnifique!
Provenance: $20 lunch is three courses including choice of six entrees.
Red O Restaurant: $20 lunch is three courses. Try the duck taquitos.
SOL Cocina: $20 three course lunch. Try the street tacos!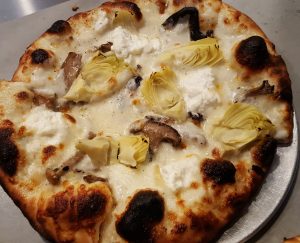 Stag Bar + Kitchen: $10 and $15 lunch options. Both terrific.
Sushi Roku: $20 three course lunch menu.
Tackle Box: $10 lunch including choice of four sandwiches with chips, plus a side and a soda.
Taco Rosa: $15 lunch includes choice of three starters, six entrees, plus sides. Terrific deal.
The Bungalow Restaurant: $15 lunch with choice of two starters, eight entrees, plus dessert. Amazing deal.
The Winery Restaurant and Wine Bar: $50 dinner includes three courses and an endless harbor view.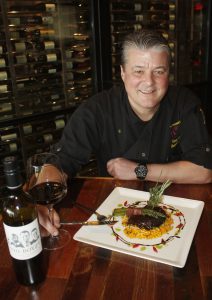 TLT Food: $10 multi-course lunch or $20 dinner for two. Delicious fun options.
True Food Kitchen: $20 lunch includes choice of five starters and five entrees.
Yard House: $20 lunch includes a pint of beer, choice of six appetizers and five entrees, including the black truffle cheeseburger.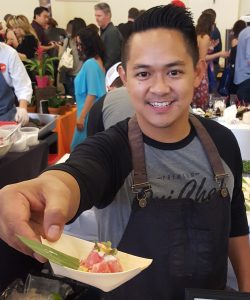 One more restaurant we need to mention: Mix Mix Kitchen Bar in Santa Ana. Chef Ross Pangilinan is offering four OC Restaurant Week menus: a three-course lunch menu for $20 (first time the restaurant has served lunch since it opened last November), a three-course Sunday brunch menu for $20 that is already sold out, a four-course dinner menu for $40, and a five-course "Luxe" dinner menu for $80 that includes wine pairings with each course.
Girl Scouts of Orange County is again partnering with OC Restaurant Week. Select restaurants will offer Girl Scout cookie-inspired desserts in honor of the 100th year of the first known sale of cookies by Girl Scouts.
This year's festivities kick off with a sold-out "First Bites" Launch Party on Saturday, March 4 at Irvine Marriott.
To view a complete list of participating restaurants and menus, visit OCRestaurantWeek.com.