Forget cake, presents and parties, all Dylan Fryer wants for his 9th birthday is to help save the tigers.
The Eastblufff Elementary 3rd grader told his mother he would rather raise $1,000 to donate toward the new Tiger Trail exhibit at San Diego Zoo Safari Park by his July 13 birthday.
"Since he was an infant he's gravitated toward animals," his mother, Michelle Fryer, said. "He wants to do his part in this, (the effort to protect the endangered tigers)."
The park received a $9 million donation to help build a "Tiger Trail," a new enclosure for the zoo's Sumatran tigers. But the park will only receive that donation if they can raise the remaining $2 million needed to construct Tiger Trail by the end of the year.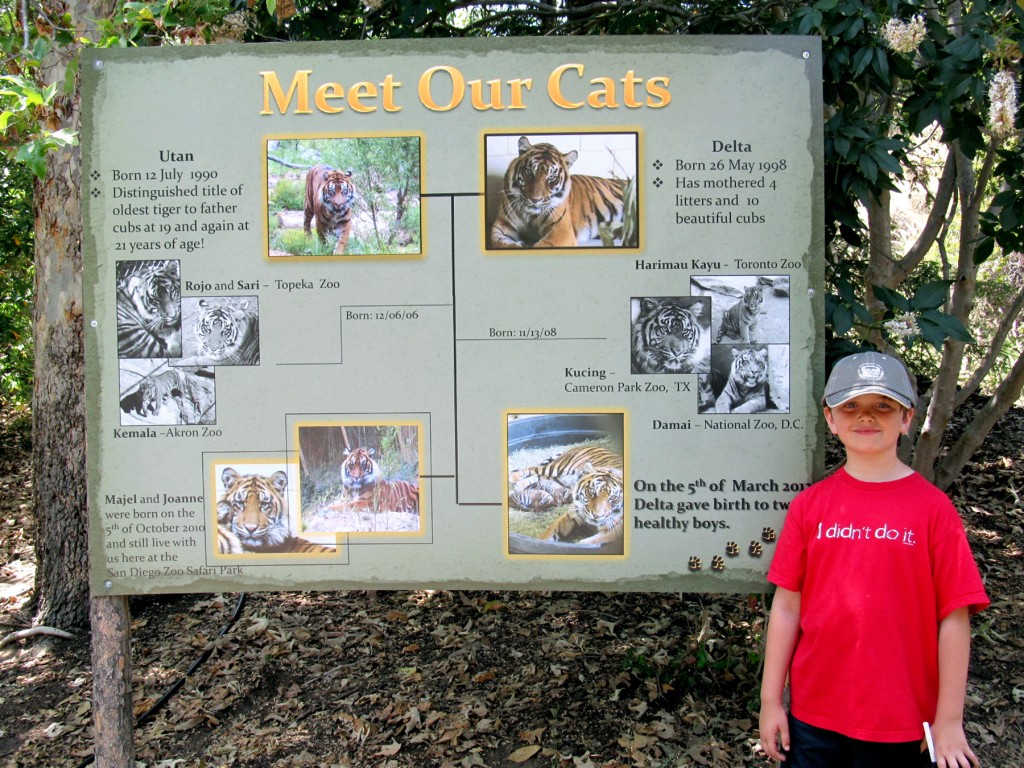 The Fryer mother and son duo heard of the zoo's Tiger Trail challenge while visiting the park on Endangered Species Day. Dylan immediately felt the need to help in this effort.
"This 8-year-old will change the world some day. Probably more than once," said Rick Schwartz, Ambassador and Keeper for the San Diego Zoo and San Diego Zoo Safari Park. "His passion and excitement to learn about animals reminds me of my mind-set at his age and to be honest, my mind-set even now. It means a lot to know the next generation of zoologists, conservationists & scientists are learning everything they can now, to make a difference in the near future. I look forward to working with him in the future."
Dylan also had an opportunity to speak with Goodwill Ambassador for the San Diego Zoological Society, Joan Embery, during a recent visit to the park and learn about how the funds will help care for the zoo's six Sumatran tigers. She also spoke about the zoo's conservation efforts over the past 40 years.
"Dylan listened so intently to every word said," Michelle Fryer wrote on her blog, "Life With Dylan."
"After reading about the new Tiger Trail and seeing sketches of what the exhibit would look like when completed, it was time to start planning," Michelle Fryer wrote on her blog.
The zookeeper-in-training wasn't sure how to help, so Michelle Fryer contacted the Zoological Society of San Diego to see what could be done and an honorarium has now been established in Dylan's name. Dylan will receive credit for any donations with his name entered as the honoree and Tiger Trail is selected as the gift designation.
Although he'd like to raise it all by his birthday, the end of July is the ultimate goal.
"The tigers need a safe home to live," Dylan said. "They can't do anything about the poachers who want to kill them in the wild. Tiger Trail will give them more freedom and more room to play and interact with others."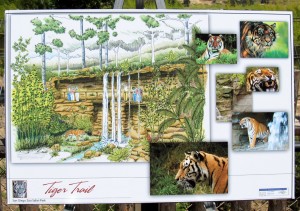 The new Tiger Trail habitat will include a waterfall, lush greenery, rocks, ponds, deadwood trees, and a training wall.
After explaining that $1,000 is a lot of money, Dylan had one thing to say: "Mom, I don't want birthday presents or a party. I just want money to help the tigers."
The proud mom then began discussing fundraising ideas with Dylan.
He has asked friends and family for donations, collected his own and neighbors recycling, saved his allowance, and received donations from strangers following Michelle Fryer on social media sites.
He has said he would wash cars or other chores too. Anything to raise the funds. The donations go right to the park while the money he is working for is at home in a jar.
He's just over halfway to his goal, the latest total reported from the San Diego Zoo Global is $505 in donations, plus he has $45 in his jar.
The $1,000 donation will also earn Dylan a recognition plaque with his name inscribed on it near the entrance of the new Tiger Trail.
Dylan was excited to learn that a plaque with his name on it would be displayed by the exhibit.
What exactly would it mean to him?
"Everything! It will mean everything to me," Dylan told his mom. "It will make me very, very happy and proud because it means that I helped the tigers and made a difference in their lives."
"'And one day, when I work there, I'll remember how I helped,'" his mother recounted what he said to her.
The Fryer family also won a Pinterest contest sponsored by the San Diego Zoo Safari Park in conjunction with their 40th Anniversary celebration called "Pin It For Tigers."
Dylan spent many hours on the computer with his mom searching for tiger pictures, reading articles, and watching videos about the plight of the endangered tiger. He helped select what they "pinned" on the online board.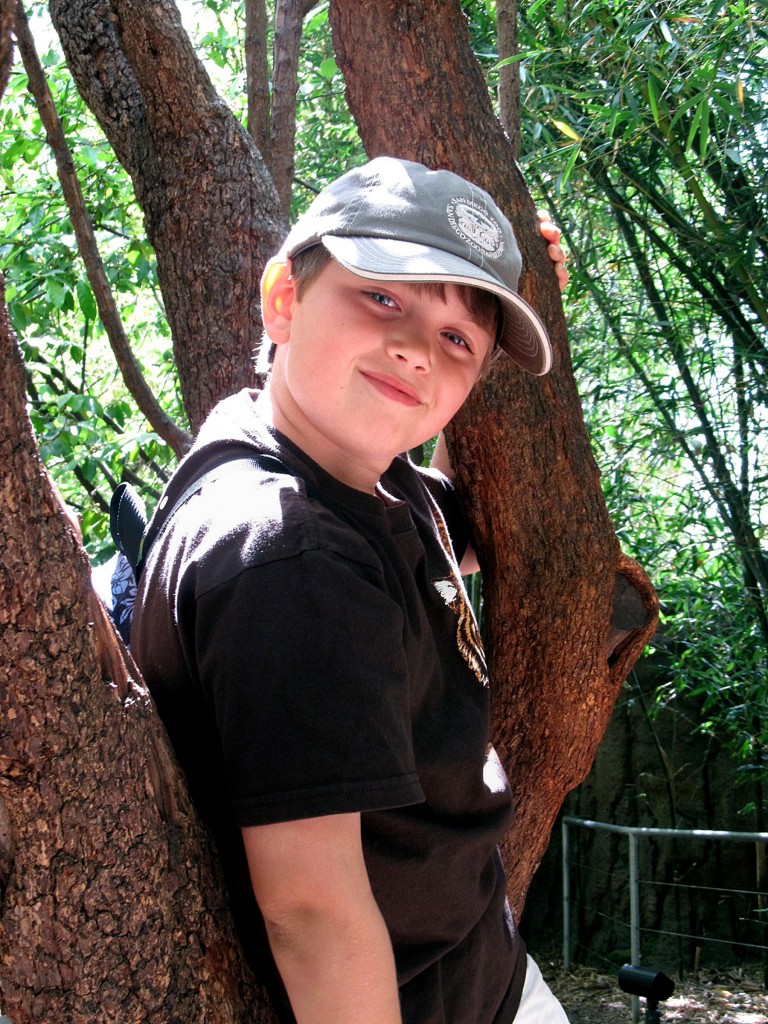 Michelle and Dylan will get a behind-the-scenes safari and will get to meet some of the park's big cats up close. Michelle Fryer went to her son's classroom to tell him the exciting news.
"He was so excited he started to cry," she said. And then he began telling the other kids in his class how they could help save the tigers and why conservation is important.
He has always talked about animals with his teachers and fellow classmates, mom Michelle Fryer said. One of his previous teachers even joked about letting him teach the class when they were learning about the rain forest in first grade because he was always adding to what she was teaching. He has loved animals for a long time, she said. He has wanted to be a zookeeper since he was 3 years old, she said, and by the time he hit preschool could name several wild animals. Of course, "Animal Planet" is pretty much his favorite channel, she added.
"Dylan has always had a deep passion for animals and enjoys learning about them," Michelle Fryer said.
Dylan is also a cub scout, and hopes to someday be an Eagle Scout, and attends summer camp at the Environmental Nature Center. He's a passionate kid, his mom said.
"He makes me really proud," Michelle Fryer said. "We recycle and conservation (of endangered animals and the environment) is really important to me… And it's important that I've instilled this in my son and that he's very passionate about it as well… He has such a love for animals and wants to pass it on to everyone. He wants to share it and for others to understand it."
For instructions on how to donate, visit Michelle Fryer's blog, Life With Dylan, at www.lifewithdylan.com, and click on "Dylan's Birthday Wish for the Tiger's" posting under the May 2012 section.
Donation check can also be sent to San Diego Zoo Global with a note that the donation is in Dylan Fryer's name to benefit Tiger Trail.