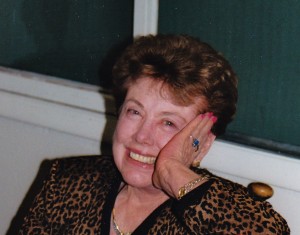 [Provided by Sheri Drewry]
On Friday, August 1, Wilma (née Scheller) Staudinger, founder and namesake of Wilma's Patio restaurant on Balboa Island, passed away peacefully at age 85 with her children by her side.
She will be laid to rest at Pacific View Mortuary in Newport Beach, where other celebrities (John Wayne, for one) find their final resting place.
Wilma was born on June 1, 1929, in Kersey, Colorado. Her parents, Heinrich & Emily, raised Wilma and her siblings, Emma, Otto, Ella and Herman, in the small farming community.
Life changed for Wilma when she met the dashing Maurice Staudinger (five years her senior) in the town's one-room schoolhouse. After graduating high school, Wilma and Maury eloped to Sherman Oaks and married on June 23, 1947. They spent their honeymoon on Catalina, settled down in Glendale, and started to build a family. In quick order, sons Del (1950) and Lyn (1953) were born. Daughter Sheri came a bit later in 1961.
In the 1960s, Wilma worked for Ralph's Bakery, where she was the shop steward for the union, negotiating for the welfare of employees. After an injury at the bakery, she decided to try her hand at real estate. After getting her license, her first job involved flying potential landowners to North Star Resort in Lake Tahoe.  Wilma often took the clients out to lunch during these jaunts, but was fairly discouraged by the lack of good restaurants in the area. So in 1972 she did something about it: she quit the real estate industry, packed up the family, and moved to Lake Tahoe to open an A & W Restaurant in Cobblestone Square. The restaurant was a success and was touted as "the best franchise in the 11 western states"!
By 1974, Wilma and Maury grew a bit tired of the cold weather. They moved back to Glendale (by this point their boys had grown and moved out, while Sheri still lived at home) and Maury had surgery on both his legs. They decided to seek a new home in Irvine.
While they were weighing their options, they chose to have a bite of lunch at Van's Belgian Waffle House on Balboa Island.  Over lunch, they asked about the restaurant and building, found it was for sale, and bought it.
Although their first restaurant on Balboa Island, "Theee Patio," opened in 1975, it wasn't a success, so Wilma and Maury leased out the building and returned to Glendale. But when the lease to the restaurant expired in 1980, Wilma and Maury came back for Round Two. After completely remodeling the existing building, Wilma's Patio was opened in 1982. And this time, it was a roaring success!
Wilma created a family restaurant that treated everyone like family. Her sons and daughter worked there (as did their boyfriend and girlfriends); her husband ran around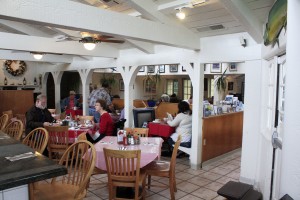 the floor pouring coffee, greeting and joking with the customers old and new.
Her staff was the epitome of loyal (a statement about her wonderful personality) where the kids she hired started working during summer holidays and then came back every break – eventually seeing their children, nieces, nephews and even grandchildren become servers, bus boys, hostesses or cooks.
The customers came back week after week, or even year after year for the special treatment they received. Wilma's Patio was the embodiment of  "the family business," complete with Wilma spending countless hours juggling the tireless tasks of running a restaurant in a small community like Balboa Island.
It was also about that time that the original location was getting a bit small. The option to move to the former Jolly Roger at the other end of Marine Avenue was offered. Before the move, however, the love of Wilma's life, Maury, suddenly passed away.
Moving to the new location helped ease the pain, and although Wilma's Patio maintained the same happy, family atmosphere, Maury's absence was definitely felt.
Wilma retired from daily involvement in the restaurant in 2007, but that didn't stop her. She traveled, enjoyed spending time with her children and grandchildren, and maintained her home in Newport Beach while still reaching out to everyone she could touch with her generous spirit.
Wilma enjoyed giving back – to her local Balboa Island community, organizations and charities, and working with local fire departments and police departments.  And in 2004 she was honored to be Balboa Island Parade's Grand Marshal!
She is survived by her brother, Herman Scheller; her daughter and sons, Sheri Drewry (Dave), Lyn Staudinger (Linda) and Del Staudinger; her granddaughters: Katie, Amy, Leslie, Danielle, Tiffany; her grandson, James; and two great-grandchildren (and two more on the way!)
When Wilma put her menu down on Friday, she was at peace. She was able to join Maury for the great dessert these two well deserved.
For more information visit wilmaspatio.com or call (949) 675-5542.