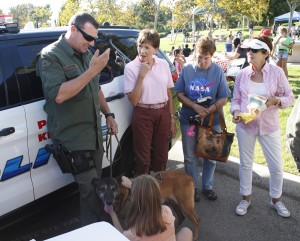 With more than 200 million scent receptors in their noses, dogs may be up to one million times more sensitive to some odors than humans are.
And those 200 million receptors make up one giant reason why two of the most valued "officers" listed on the 150-cop roster of the Newport Beach Police Department are four-legged K-9s.
Meet Jardo and Elko, whose well-trained snouts are considered some of the most advanced (evolutionarily speaking) law enforcement options available to our police force.
Jardo works paw-in-hand with Officer Mike Fletcher, his trainer and partner – and in some ways his best friend – four days a week on 10 hour shifts.
However, that's a bit misleading, for Jardo and Fletcher (as well as Elko and his handler, Officer Roland Stucken) are on 24-hour-call seven days a week, whenever the special talents of those Belgian Malinois are required.
And those talents are invaluable to both cops and citizens alike, though not necessarily appreciated by the criminals who have experienced Jardo's jaws of justice.
Jardo and Elko are supremely trained animals, conditioned to respond to commands that go beyond their instinctive behaviors. In the case of Jardo and Elko, the dogs are "dual purpose trained: patrol and narcotics detection."
As with modern drones, the dogs can be sent out tactically on their own to search for suspects, using their super-sensitive noses and ears to hone in on the target.
According to Fletcher, the dogs' eyes are the weakest of those sense organs.
"Dogs don't see color, they don't see in 3-D, and can't spot a suspect that may not be moving, especially if he is in a crowd," he said.
But if there's even the minutest trace odor of methamphetamine, marijuana, cocaine or heroin on a person or in a vehicle, the dog's alert posture provides officers with a "probable cause to search, Fletcher said. It's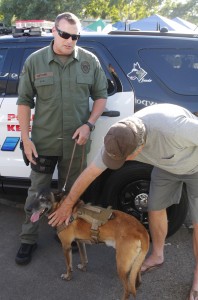 the ultimate sniff test.
Fletcher believes that Jardo's sniffing abilities helped put two bank robbers in prison for a very long time. During a police chase several years ago, the suspects "secreted a backpack after fleeing on foot. Four officers on the ground spent more than two hours searching a brushy area for the backpack without success."
Enter Fletcher with Jardo. Within 10 minutes, "Jardo located the backpack, which held two loaded handguns and several items used to disguise one's identity," Fletcher recalled. It was a proud moment for Fletcher and affirmation of Jardo's good sense.
In his Newport career, Jardo has seven suspect apprehensions, Elko two. Why not more? When the bad guys see a muscular dog focused on them, they surrender willingly – sans tooth marks. Between Fletcher and Stucken and their dogs, they have convinced 40 suspects to surrender.
Before a dog is deployed, "there has to be certain criteria," Fletcher said. "There has to be a serious crime involved, the suspect has to be actively resisting or evading, or a suspect poses a threat to either officers or public."
In some cases, Jardo will wear a bullet-resistant vest.
"Jardo is an aggressive alert dog, he scratches while facing the scent, while Elko displays a passive alert behavior, which means he sits and looks intently at the suspect area," Fletcher added.
After lots of research, Newport selected the Belgian Malinois over the better- known German Shepherd breed. Malinois are lighter and faster, and are not as susceptible to hip dysplasia, as the stockier Shepherds are. The police Malinois are generally those dogs that are retired from sporting competition because of non-winning records, but exhibit a definite "play and prey drive." This doesn't make them lesser dogs, just lesser "athletes" in their various European contests, Fletcher said.
One could argue that Newport's dogs actually are "intellectually" superior to their champion brethren, for they go on to take commands in two languages: Belgian and English. Both Fletcher and Stucken had to learn about a dozen commands in Belgian before bilingually partnering with Jardo and Elko.
Keeping the pooches in top form is a full time job. Fletcher trains Jardo daily for at least an hour, then spends more time doing such maintenance as vacuuming dog hairs from the back seat of his police SUV, bathing Jardo and reminding him of good manners.
Those manners are displayed in conjunction with law enforcement demos at countless schools, fairs and other PR events throughout the year.
Wednesdays are a dedicated shift specifically for K-9 training.
Being a police dog handler makes for "a very structured life," Fletcher admitted. Everything, including vacations, is planned around the dog. "It's much more of a lifestyle than a career path. Sometimes I think that my job is 75 percent dog trainer, and 25 percent cop," he said.
Canine officer assignments generally last for the professional life of the dog, which on average spans no more than a decade, depending on the health and luck of the canine and the cop.
According to Fletcher, this concept is changing due to the amount of training, liability and responsibility involved with the assignment.
"Jardo is 10-years-old, so he might retire within a year," Fletcher said with a note of sadness in his voice. "Usually, a dog lets us know when it's ready. They begin to experience signs of aging, such as leg weakness or other medical issues."
But it may not be so sad a day for the pooches as we humans think, for both Jardo and Elko will retire in nap-all-day comfort and security at their handlers' homes – and may do so for many years after taking on the armchair life.
When this stint ends, Fletcher in his 17-year career will have done the three things he wanted to do when he became a cop: gang enforcement officer and narcotics investigator (both with the LAPD), and K-9 handler. It'll be back to the streets, where Fletcher feels the most at home.
"At 41, I still want to throw the bad guys in jail."
At least he knows that at the end of a tough patrol day, "a cop's best friend will be at home to greet him."
Contact the writer at [email protected]