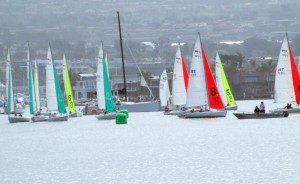 Following the end of the school year, sailboat racing commenced with a strong showing from adults and the younger crowd.
The end of June was the Summer Gold Cup at Newport Harbor Yacht Club, and the weekend prior was the Adult Sabot Association Series at the same club.
Also at NHYC: on July 20 they will host the Flight of the Lasers, (formerly for 40 years the Flight of the Snowbirds), that yours truly raced in many times. Thursday evenings they will host their Twilight Series for small sloops.
Also in June was the Rose Cup held in New York. This National Youth Championship was won by Balboa Yacht Club, (BYC), while NHYC placed second. Once again Newport Harbor sailors are in the national spotlight. Congratulations to both clubs!
July 14 through 19, BYC will host the 48th Annual Governors Cup created by President Ronald Reagan and BYC. The club produced Alan Andrews designed sloops exclusively for this championship, and the crews are from all over the world. Spectator fleet participation is encouraged. Please support our local clubs of BYC and NHYC which are always strong contenders.
The Beer Can evening races are also hosted by BYC Thursday evenings for 20-foot and above sailboats. This series started in the 1950s and is still going strong. This is one of the few big boat races held inside the harbor. American Legion Yacht Club has these same size races on Monday evening and Lido Isle Yacht Club has their big boat series on Friday evenings. These are also fun spectator races, whether by boat or along the bay front!
Saturday, July 19, LIYC hosts the All Girls All Ages Regatta. (The following day is the Flight of the Lasers.) The flight has trophies for first girl to finish and youngest girl skipper!
July 12 the Bahia Corinthian Yacht Club will host their Ocean Series 8 Regatta.
Here are results from races mentioned in this column:
NEWPORT HARBOR YACHT CLUB
Adult Sabot Series Association
Held at NHYC on June 22, 2014
Mens:              1st – Mark Gaudio – BCYC
Ladies:            1st – Deon Macdonald – NHYC
2nd – Susan Jennings – NHYC
3rd – Nancy Mellon – BYC
NEWPORT HARBOR YACHT CLUB
Summer Gold Cup- Sabot
(Listed: winners from Newport Beach)
(A)Fleet   2nd – Joseph Hou – NHYC
(B)  Fleet     2nd – Peter Joslin – BYC
(C1)Fleet   3rd – Kai Malm – NHYC
(C2)Fleet   2nd – Emma Peets – NHYC
(C3)Fleet 2nd –   Peter Gershon – NHYC
ROSE CUP – 2014 NATIONAL YOUTH CHAMPIONSHIP
(Held in New York)
1st              Christophe Killian, Jack Martin and Harrison Vandervort – BYC
2nd              Sean Segerblom, Briggs and Campbell D'Eliscu and Carter Scott – NHYC