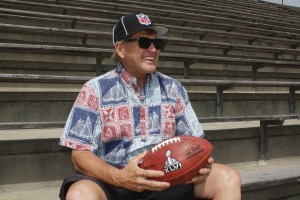 At least once a week from Sept. 10, 2015, through Feb. 2, of next year, 121 men and one woman will feel as though they must be among the smallest creatures on this planet.
But these intrepid souls chose to be NFL officials, and they're very well compensated for being frequently jeered, occasionally cheered, often run over, and sometimes intimidated by immense and muscular men who somehow defied the laws of normal genetics.
Although few of us stop to think about it, field officials are as much a part of the game of football as the lithe, star quarterback, the generously girthed tackle, or the teams' owners in their air-conditioned suites above the throngs.
Perhaps more than anyone in Newport Beach today, 65-year-old Laird Hayes knows what it's like to be in front of a stampede.  For the past two decades, the Newport native has been an NFL official while trying to stay clear from the crush of mega-men whose sole purpose in their professional lives is to race an inflated pigskin across a white line 100 yards downfield—and  in the process run over, through and around anything that gets in their way.
As much as American football is a game of muscle, collisions, conditioning and strategy, it is also a game of rules.  In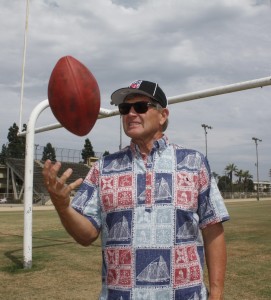 short, Hayes and his fellow officials represent law and order within a green rectangle that measures 360-feet long by 160-feet wide.
As are the athletes they scrutinize, NFL officials are scouted, generally from the ranks of collegiate refs, judges and linesmen, most of who have applied for big league consideration.
In evaluating candidates, scouts look for "decisiveness, behavior during timeouts, physical appearance, physical conditioning and one's moves during the game," Hayes explained.  "They look to see if you can and do make the right calls."
Whether scouted or not, all serious officials place pressure on themselves to do right for the game they love.
When rookie NFL officials start their jobs, they're assigned to a crew (kind of on-the-job training), even though they're expected to already know how to call a game.
No matter how many years they've been in the league, every official attends a pre-season training camp so that all are making their decisions on the "same page."
And speaking of pages, each official walks away with an 83-page rulebook, a casebook tallying 93 pages, and a replay casebook of 33 pages.  A cleric couldn't be any more familiar with the scriptures than these officials are with their NFL bibles of behavior by the first preseason game.
Additionally, officials gather throughout the year on their own time and dime for their own study meetings.
"We do this because to a one, we want to officiate the perfect game," he said.   Additionally, officials hold mini-training (or pre-game) sessions at their hotels before each game to make sure all plays will be called the same.
"What the League wants is clarification and consistency of the rules. Nevertheless, there are always judgment calls," Hayes said. Those calls are reviewed by former on-the-field officials who grade the active officials' performances; each official is then given a plus or minus grade.
"We're accountable," Hayes said, acknowledging the little known checks and balances within the NFL. Being chosen to officiate in post-season games depends on the accumulated results of the season's reviews.
Despite that accountability, "I don't worry about my evaluations. I worry about the rules and the applications of those rules."
After every game, Hayes asks himself on the plane ride home if his decisions "had an effect on the game."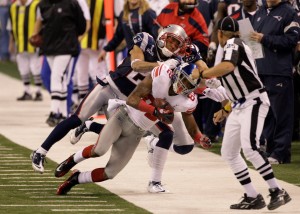 In Super Bowl XLVI (Feb. 7, 2012), Hayes certainly did have an effect on the game, an effect of historic proportions.
Although he didn't know it at the time, Hayes made a sideline call with 3 minutes and 46 seconds left in Super Bowl XLVI, with the Patriots leading the Giants 17 to 15, that FOX Sports journalist Mike Pereira opined had qualified Hayes to be crowned that Super Bowl's MVP.
"Hayes had only 1/26th of a second to make the right call, and he did," said Pereira,
The situation: "Giants' quarterback Eli Manning completed a 38-yard pass down the left sideline to Mario Manningham with New England's Sterling Moore and Patrick Chung defending.  As he came down with the ball, Manningham was hit out of bounds…the biggest question was whether Manningham was able to get both feet down in bounds while maintaining possession as he was going to the ground and falling out of bounds."
Hayes ruled that Manningham did have both feet in bounds when he caught the pass. New England Coach Bill Belicheck challenged Hayes' call. After instant replay followed by innumerable replays captured by every TV camera in the stadium, Hayes' amazing call was upheld.
Does anyone besides diehard aficionados and stat freaks remember that moment?   Mostly certainly three players and one mostly anonymous sideline official do.
His whole life, Hayes has loved and played sports, always encouraged to do the right thing and play honestly to the best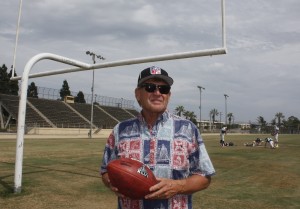 of his ability by his father, a 6th grade teacher.  Hayes attended San Marcos High School in Santa Barbara, where he triple-lettered in football, basketball and baseball. At Princeton University, he was catcher on the baseball team. In 1976, he received his Doctorate Degree in Higher Education from UCLA, at which time he began his full time professorial and administrative career at Orange Coast College.
Throughout his teaching years, Hayes made sure he had the time to officiate a variety of sports. An academic as well as a fine athlete, Hayes combined both gifts as he learned to "see" sports as few people ever do – objectively.
Off-season, Hayes is a frequent guest speaker ("I love people and I love to talk…") at venues as diverse as service clubs, civic groups, youth organizations and school classrooms.
He has continued to manage the respected summer Quarterback-and-Receiver Camps that his father established 52 years ago; and every semester, he returns to teach his favorite OCC PE class, "Surfing and Ocean Safety."
As if not busy enough, Hayes serves on the city's Parks, Beaches and Recreation Commission, which Hayes calls "a natural fit."
Also, realizing that his NFL days can't go on forever, Hayes recently became a member of the Newport Beach Police Department's Volunteer in Policing program, where uniquely his ability to make the right call on the field has translated seamlessly to traffic management in the field.