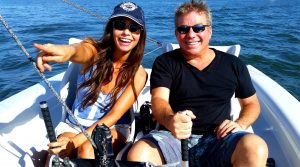 By Caroline Leedom | NB Indy
Newport Beach resident Steve Bender has found the answer to cloning.
At least, that's the best explanation for how Bender is able to be as busy as he is and accomplish so much for so many local organizations.
Two years ago, Bender – the president and founder of charitable organizations such as Doc in a Box 360 and Steve's Vision, which provide medical, dental and vision care to underprivileged people around the world – was asked to be a co-chair of the Newport Beach Host Town committee for the 2015 Special Olympics.
During Bender's research to find what facilities were necessary for hosting the Special Olympics athletes, he met with David Armendariz, the director of the Orange County region of Special Olympics for Southern California. It was at this meeting Bender learned that the Special Olympics had dropped sailing in Southern California in 2008 due to budget cuts.
Bender was surprised and sad that the community he loved didn't have the means to support a sailing program for the Special Olympics. He decided to help bring a sailing program back to Newport Beach.
A Rotarian for the past five years and current president of the Newport Beach Sunrise Rotary Club, Bender contacted fellow Rotarian Berkley Green, an avid sailor, who he worked with on the Boy Scouts Sea Base Project.
The two agreed on the need for a special sailing program and created California Inclusive Sailing, an organization that would facilitate a sailing program for Newport Beach which could easily be incorporated into the Special Olympics.
Green then contacted Christian Buhl, a fellow sailor, to see if he was interested in joining the team. Buhl enthusiastically signed on based on his own observances of his friend, Jon-Pascal Van Houden, a sailor stricken with Parkinson's Disease.
Buhl noticed that whenever he and Van Houden were out sailing, Van Houden's symptoms seemed to disappear. Buhl believed in the program so much that he provided a generous donation from The Buhl Foundation. With the help of this donation and a district grant through Rotary, the first adaptive sailboat was purchased in August of 2015.
Since its inception, CIS has given the gift of sailing to over 220 individuals, including 40 children. And thanks to a recent donation from The Steve Tisch Family Foundation, CIS will be able to expand their program and purchase a second boat this summer.
California Inclusive Sailing's five-year goal is to expand its daily programs with inclusive sailing by working with Special Olympics, veterans support groups and others with disabilities.
Dancing on the Waves
Fernanda Castelo is a former dancer at Disneyland who lost the use of her legs 20 years ago, but didn't let her disability stop her from pursuing athletic activities, including sailing, which she said is like dancing.
"The whole bay is my dance floor," said Castelo, the newly elected president of California Inclusive Sailing.
Like Castelo, many individuals, such as retired athletes and military veterans who thrived on the exhilaration and adrenaline that their daily activities and work provided but now find themselves living inside a body with physical limitations, sailing brings back the adrenalin and exhilaration they miss.
This, accompanied by the accomplishment they feel knowing they performed the task completely on their own, is an important physiological boost. It is also a physical boost. California Inclusive Sailing's adaptive sailboat has dual side-by-side bucket seats, joystick steering and a spinnaker. The boat converts easily from adaptive mode and back to open configuration, unlike most adaptive sailboats, which are purely single-purpose open configuration. This design allows people with physical disabilities to be able to inclusively sail the same boats as able-bodied sailors.
Special Olympics and Newport Beach Party
Bender has kept busy by helping to form the Special Olympics Host Town Committee and host 146 Special Olympics Athletes from Mexico and Fiji, and by bringing volunteers to Host countries to provide humanitarian services.
He developed an inclusive sailing program that could get Special Olympic athletes back on the water, and has created an annual event that promotes Special Olympics and recognizes Special Olympic athlete's family members and volunteers.
This year, Rotary Clubs from District 5320 will sponsor the "Special Olympics Volunteer and Family Appreciation Day" as part of the second annual Newport Beach Party that takes place June 25 and 26 at Newport Dunes. This two-day event created by Bender last year features food, beer and wine, live music, waterfront views and activities for the whole family.
Saturday's focus is on beer, bands and barbecue, including a Kansas City BBQ Society (KCBS) Sanctioned State Championship contest. Sunday's focus is on family, fun and community. Special Olympics athletes, coaches and family members will be honored on Sunday.
Bender gets a breather after that, although given his penchant for volunteering and giving back to the community, Bender won't stay idle for long.
For more information please visit NewportBeachParty.com.