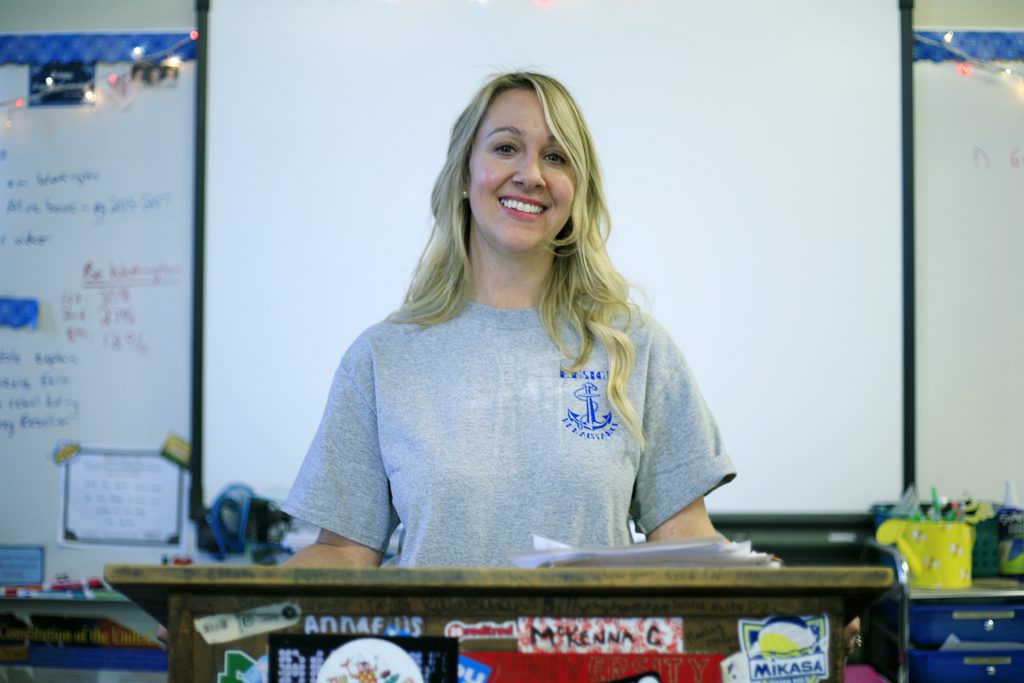 Some local students are learning what it takes to give a great speech after their teacher was selected for an instructive national program.
Lindsey Charron, a history and leadership teacher at Ensign Intermediate School, was selected to return during the 2018-2019 school year for the Ford's Theatre National Oratory Fellows Program.
The program, which started in 2011, helps teachers integrate oratorical skills and strategies, from performance to speechwriting, into their curricula.
The program is being taught by 32 teachers in 16 states. Charron is the only teacher in the program in Orange County, and one of only two from California.
"It's been an incredible experience for me," Charron said. "It's been one of the best professional development experiences I've ever been fortunate to participate in."
She applied for the oratory program after attending Ford Theatre's Catherine B. Reynolds Foundation Civil War Washington program, which brings 24 teachers together to explore the nation's capital as President Lincoln would have known it at the time of the war.
"I was intrigued because I teach a leadership class so obviously oratory is a huge part of that," she explained.
The oratory program kicks off with a training course over the summer. The teachers then get paired up with a teaching artist, and Charron was matched with actress Heidi Fortune.
Charron doesn't have any formal oratory training, apart from a few speech classes she took in college, so during her introductory year (the 2016-17 school year), Fortune virtually led the lessons via an online video chat and Charron observed.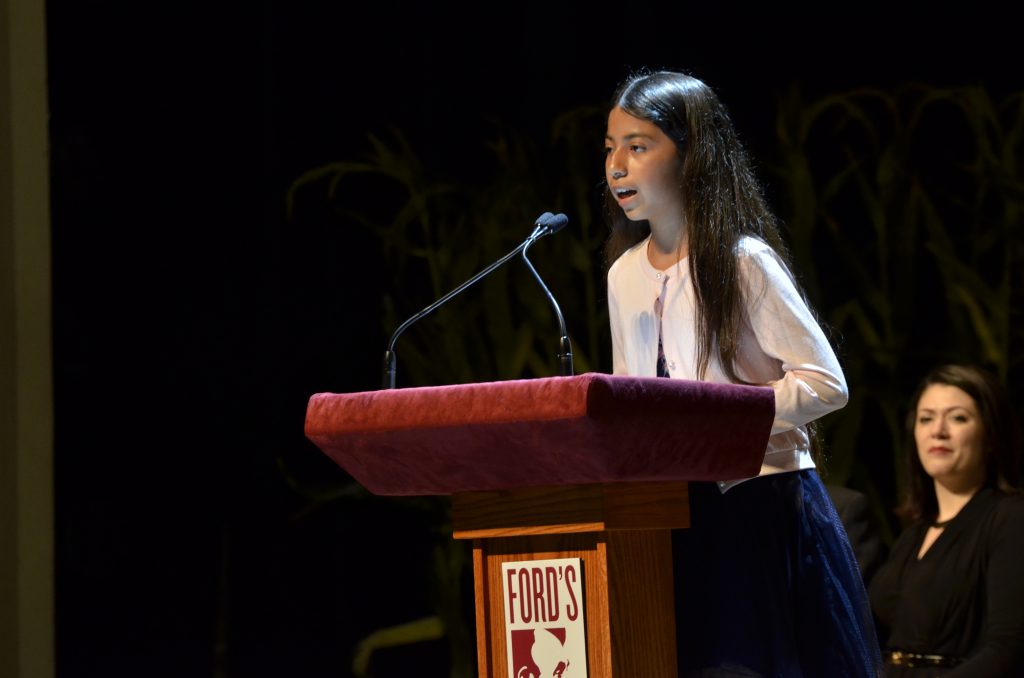 Last school year, Charron took over leading the classes while Fortune would advise her and provide feedback.
Charron incorporates the program into her two 7th and 8th grade leadership classes.
Through the program, Charron introduced her students to Ford's podium points (tips and tricks used to master public-speaking skills) and the rhetorical triangle (which covers the three elements of persuasive speech: ethos, pathos and logos).
Students learn about tone, pace and emphasis. They develop speaking, writing and leadership skills, in addition to gaining a deeper understanding of great American orators, including Abraham Lincoln.
It all culminates in a speech they write and present to the class.
Teachers in the program can have their students either recite a historical speech or choose their own topic. Charron has had her students select an issue important to them and present it.
"I've had them pick a topic where they see a problem and they have some kind of call to action," Charron said.
Her students have chosen a range of issues to speak about, including gun control, immigration, civic activism among youth, bullying, animal rights and more.
"I want them to realize there is a place for them outside of this campus," Charron said.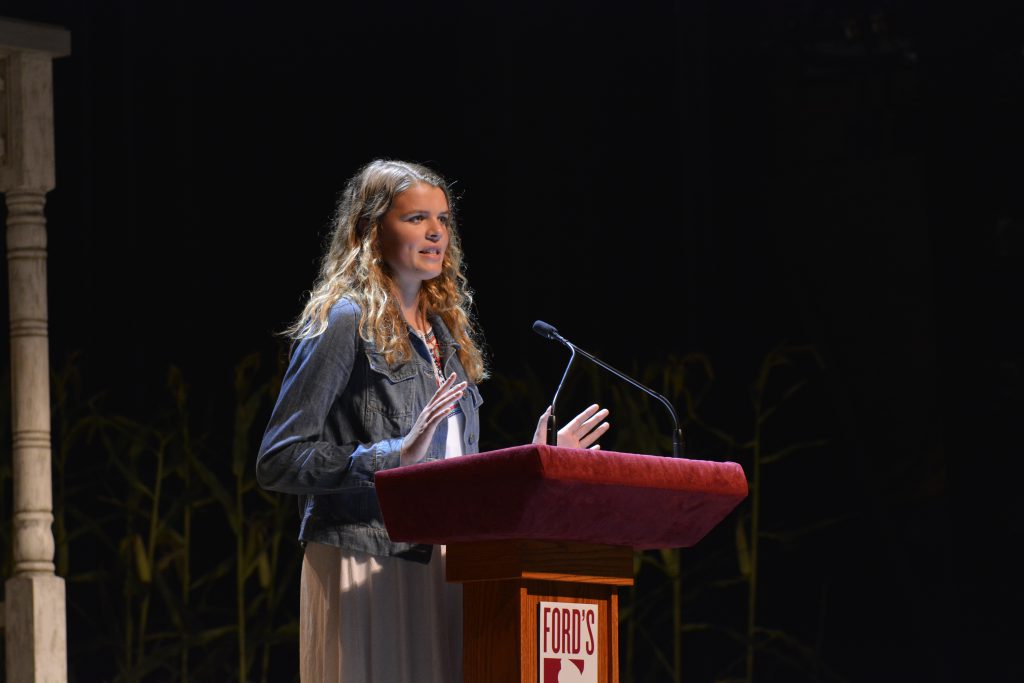 The oratory program is helping them find their voice so they can effectively convey their message to others.
Considering the current social climate, there is an awareness that students can really play a major role in politics and education, Charron pointed out.
"I've always tried to empower the kids and make them realize that, even at 12 and 13, they are very important and that their voce is important," Charron noted, it's key to help them realize their message can be heard around the world. "The students see that as a possibility now. They really do know that if they take action and if they are willing to work hard, they can make their voice heard and they can make a difference."
They will give their final speech presentations in January. Two students, one chosen by a panel and one by Charron, will head to Washington D.C. in May to present their speeches in front of the entire program at Ford's Theatre.
During the few days in Washington D.C., the students will go over their speeches with experts, participate in workshops with other kids from across the country and other activities.
The oratory fellows also have to write speeches and present them in front of the rest of the group of teachers. At the last event in May, Charron was chosen as one of the fellows to give her speech in front of the entire group on stage.
The program has not only helped the students, it has also made her feel more confident in giving speeches, she commented.
It has definitely helped the kids on other levels as well, she added, like their conversational, self-confidence and social skills.
"For me, what I've seen and what I hope, is that they're growing more confident with speaking publicly," Charron said, "and that they recognize that they do have a voice and it's important for them to use their voice."
For more information, visit fords.org/for-teachers/programs/oratory/national-oratory-fellowship or email [email protected].