Newport Beach resident Dennis Kuhl, Chairman of Angels Baseball, was one of four special honorees at this year's Olive Crest "Power of One" luncheon, held Nov. 2 at the Westin South Coast Plaza.
An overflow crowd of more than 340 guests attended the luncheon, held in celebration of National Adoption Month (November). It honors Olive Crest's adoptive and foster families and benefits abused and neglected children and families in crisis.
In addition to Kuhl, other honorees at the luncheon included The Safe Families for Children Council; Grace Cross, a Girl Scout who has designated Olive Crest to be her sole recipient of donations; Dennis Kuhl, Chairman of Angels Baseball; and Gary Taylor, Orange County Director of Children and Family Services.
Special guest speaker was Patrick Combs, a best-selling author who has inspired more than one million people in 10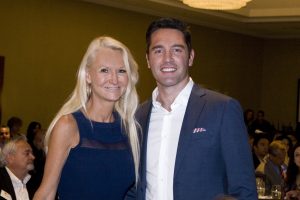 countries. Combs is a talented speaker, mesmerizing guests with personal stories of the importance of family, and illustrating the significance of getting involved and helping others.
Raised by a hard-working single mother in a double-wide trailer, Combs was the first in his family to go to college. He navigated his life based on his soulful passions, daring to create his life based on possibility, not probability.
All guests received a complimentary copy of his newest book entitled "This Surprising Life."
Luncheon Sponsors included The Kylie Schuyler & Doug Hodge Family of Laguna Beach, Roya Cole & Charles View, Toyota of Huntington Beach, HUB International, The Cavaricci Family, The Frome Foundation, Howard & Olivia Abel, Union Bank, Jeff & Shannon Mathews, The Steven Bernardy Family, and Jacobus Consulting.
For more information, visit OliveCrest.org.