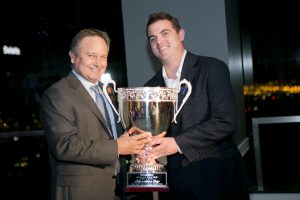 What happens when you pit USC supporters against UCLA supporters? You get Rivals United for a Kure, the largest fundraiser for Kure It Cancer Research, which held its fifth annual gala on November 13 at the City Club Los Angeles.
The USC/UCLA football rivalry was forgotten for one night in lieu of raising funds for underfunded cancers. Guests gathered on the ground floor of the City National Bank building for the VIP reception and tempting silent auction before moving upstairs to the City Club for the awards dinner.
The occasion honored the late Newport Beach resident Barry Hoeven, Kure It Cancer Research Founder, for his untiring and dedicated quest in finding cures for rare cancers. Hoeven's sons, Chase and Drew Hoeven, were on hand to honor their father.
"Our father would be so happy to know we gathered tonight to fund research and save lives," Drew said.
The Kaprielian Cup was presented to Commonwealth Partners, Presenting Sponsor for three years running and responsible for bringing the gala to City National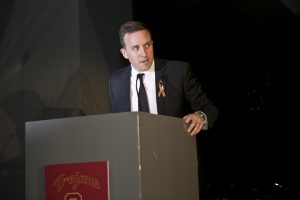 Plaza and City Club Los Angeles.
In presenting the honor to CommonWealth Partners President Brett Munger of Newport Beach, Chase Hoeven said, "Tonight we recognize a partnership that has made all the difference to Rivals United for a Kure, bringing energy, commitment and a home to us."
The live auction brought active bidding for a football autographed by legendary coaches UCLA's Terry Donahue and USC's John Robinson, a Del Mar racing experience, a Napa/Sonoma wine country package, a custom dinner for 10 at City Club Los Angeles, and a fishing trip on a 60-foot Viking Sport Fisher, owned by Munger.
Among those making it happen were Rivals Campaign Co-Chairs and former star quarterbacks – USC's Paul McDonald and UCLA's Matt Stevens – who are the gala's founding co-hosts.
Net proceeds of $250,000 are benefiting USC's Norris and UCLA's Jonsson Comprehensive Cancer Centers for the support of underfunded cancer research projects.
For more information, visit RivalsUnited.org.