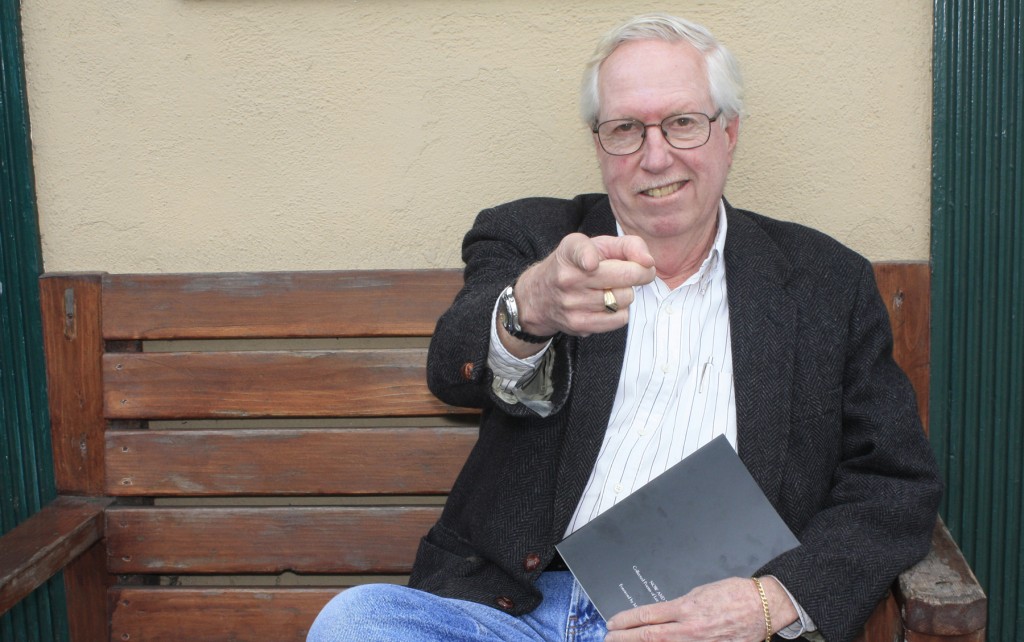 It's February, the month of love, and Newport's "love poet" is leaving town.
For good.
After 50 years of living in Newport Beach, Lee Mallory – the town's unofficial Poet Laureate – is retiring and moving to Las Vegas.
It's a gamble of sorts for Mallory, who for 20 years ran monthly poetry readings at Alta Coffee on Balboa Peninsula and taught English at Santa Ana College from 1980 until his retirement last December.
Mallory is betting that he'll find new fodder, and new outlets, for his poetry, but odds are he won't come close to the payouts – and accolades – he's received in Orange County.
"I'd call him the Poet Laureate of Orange County," said Michael Miller, a local journalist and poet who also runs Moon Tide Press, which published Mallory's most recent collection of poems, "Now and Then." "He's been called the grandfather of poetry, the love poet, OC's poetry man. No other local poet has been written about as much as Lee Mallory. He's brilliant when it comes to promotion, which is a gift that not every poet has. In terms of keeping poetry in the media, it's all because of Lee."
Miller recalled meeting Mallory for the first time nearly 12 years ago at one of Mallory's monthly Alta readings.
"He was up in front of the room, doing his performance thing, reading his poetry, and there was a vibe in the room I'd never experienced before. It got me going as a poet," he said.
Anyone who has been to one of Mallory's readings knows that the word "reading" is a misnomer. Mallory's poems come alive as he paces around the room like a pent-up python, ready to unleash his verbal venom. He may stand on a chair while emphasizing the rhythm of the words, or even smash two plates together as an exclamation point for his prose. He can also ooze sweetness as he conjures sexy images when reciting his poems about love.
"I cannot read one of his poems without hearing his voice – that drawl, kind of like Jack Nicholson," Miller. said "If you know his actual voice, you'll catch nuances in the poems. They're very unpretentious, never straining for effect. They're very candid and casual. He puts it down on the page without too much artifice, as directly as a poet can speak."
"Don't try," Mallory stated over a cup of coffee at a back table at Alta. "That's what Bukowski told me. That's his epitaph. He didn't mean don't try to write a poem. He meant don't force the words. Let the poem bubble up. If it's rooted in experience and imagination–well, that's always worked for me."
Mallory has plenty of experience and no lack of imagination.
After graduating from Newport Harbor High School in 1964, Mallory went to Orange Coast College before attending UC Santa Barbara. He moved back to Newport, obtained a M.A. in Comparative Literature at Cal State Long Beach, and in 1980 found a job teaching writing and English as a second language at Santa Ana College.
He first became interested in poetry during the "summer of love" in 1968, which Mallory said was a very creative time despite the anti-war protests. He later met and hung out with famed poet Charles Bukowski, who became Mallory's mentor and friend.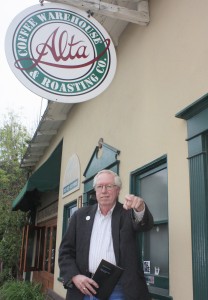 "Here's a story I used to perform at Alta," recalled Mallory with a smile. "One night at a party, he came up to me, nose to nose, and said, 'Tell me about my face,' which was pockmarked. I knew if I backed off he'd throw me out, so I said, 'It's a flare-scorched face, it looks like it's been bitten by red ants.' We froze, he got a look in his eyes, like he was going to kill me, then he threw his head back and laughed. I had passed the test."
After teaching for several years, Mallory decided to start a poetry reading series in downtown Santa Ana so his students would have an outlet for their work. In 1987, he launched The Factory Readings, which lasted 25 years and drew scores of poets, and audiences, from throughout southern California.
In 1992, Mallory launched Poetry at Alta, which had a 20 year run.
But why Newport Beach?
"People told me Newport needs a poetry reading to wake the residents up who might have superficiality in their lives, with their affluence and well-to-do digs. Poetry can bring them back. It's the very thing that society needs right now. If I can get any thinking person off the street and in for a reading one evening, I can hook them, whether it's a punker with pink hair or an engineer."
Mallory paused, then said simply, "I really believe in poetry. Deeply. Really. That's what has kept me sane the past 30 years. My daughter passed away in 1999 at age 23. If you count three tables down from this one, that was her favorite table. She sat there on many nights. She had been writing poetry, and had her first book written but not published before her death. This book, 'Two Sides Now,' received critical acclaim when it came out after her death. It's her way of saying, 'Daddy, I'm still here, I'm speaking to you now, from beyond. That's why the title 'Two Sides Now.' This life, and the afterlife. She touched people, and now she touches them from beyond. Life is so ephemeral and transitory."
Despite his passion for poetry – or maybe because of it – Mallory believes the written word is dying.
"The printed word is becoming devalued. More time is being spent watching TV or sending text messages with abbreviations. Technology gives us wonderful tools, but it's screwing us up. People leave voice mails instead of going out of their way to give a hug. People's interest in the written word is drying up. But if they can get hooked to the excitement of poetry, the wonder of the word, the excitement of dense, supercharged language, highly compressed, that communicates that high moment when you got your first kiss, or that low moment of despair when you attend your kid's funeral, all that can be locked up in a poem."
"Poetry is essential and visceral and seminal," added Mallory. "Poetry might be the thing that sustains the written word. As Shelly said, 'Poets are the antenna of the human race. They know if we're headed in the right direction, or if we're going down, but hopefully they get us back to the common touchstones of love and nature.'"
And now, Mallory's antenna has him pointed toward Las Vegas.
"Change is good," said Mallory wistfully. "I love Newport, but I'm bothered by its disparities. It's so politically insular, it's a world unto itself. And my mom is in Las Vegas, and I like the weather there. I'm moving there with my girlfriend of 24 years. I'm already scouting places in Las Vegas to do readings."
"It's a loss," Miller said of Mallory's impending departure. "I'm sad to see him go, but I have a feeling we've not heard the last of Lee Mallory."
As Mallory writes in his poem "My Stairway is Falling Down,"
in or out /up or down/like this day/I don't know how this poem/will end.
One suspects that for Mallory, the poems will never end.
Newport Bluffs / by Lee Mallory
From a laundry
I see the bluffs across
Coast Highway
scraggy ice plant
something sad
like willow
spills towards the shoulder
all sedimentary
I see eons
of geologic time
tight bands of
strata & sand,
above, I think of indians
Gabrielaños, Juaneños
gathering, hunting
hauling kids,
while SUV's whir below
now they rest
old bones
deep in willow roots & time
cradled gently
back to sand