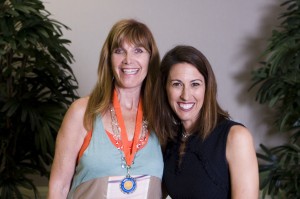 44 Women for Children recently held its Ninth Annual Scholarship Luncheon benefiting Orangewood Children's Foundation at the Westin South Coast Plaza.
Always an inspiring presentation, this year's keynote speaker at the event was Olympic Gold Medalist Janet Evans, who is considered to be the greatest female distance swimmer in history.  The event also recognizes a Scholarship Youth each year, and chose a foster youth who has been supported by the Foundation. This year's recipient was Osiris Avalos.   
"For foster youth, Orangewood Children's Foundation is one of the happiest places on earth," said Avalos, who just successfully completed her first year of college.
Considering the odds, Avalos could have easily fallen through the cracks of society. Unwanted by her father, she spent her first 14 years living primarily with her grandparents while her mother was in and out of jail. When her grandparents died, Avalos lived for a short time with her mother until she was arrested again. That is when Avalos was taken to the Orangewood Children and Family Center (formerly known as Orangewood Children's Home), as there were no family members to take her in. 
Thankfully, Avalos' third grade teacher and her husband stepped up to become her foster parents. Since that time, she has flourished. Today, her goal is to earn her degree and become a teacher just like her foster mother.
There is a reason the saying "it takes a village" applies to the kids who find themselves in the foster care system. 44 Women for Children was founded in 1999 as an auxiliary of Orangewood Children's Foundation and is comprised of women who are passionate about helping the abused and neglected children throughout OC.
"I have children, and I can't imagine someone abusing a child," says 44 Women Founder Susan Samueli. When the group was first formed she was quoted as saying, "we want women who will work hard and are passionate about the cause." Needless to say, that is exactly what the group is made up of, and their hard work has truly paid off–it can be seen in the many young people who have been given a chance thanks to their dedication.
44 Women's work specifically centers around nurturing, supporting and inspiring teens who are required to leave the foster care system on their 18th birthday. By helping to emancipate these young adults through mentoring and educational scholarships, the goal is to help them become responsible, contributing members of society.
44 Women also supports the Orangewood Peer Mentors program, which encourages former foster youth successfully living on their own to give back to children and teens still in the system. They also recently helped with the renovation of the Orangewood Resource Center, a drop-in center for current and former foster youths that provides a wide array of services needed for them to become independent.
Since its inception, 44 Women has raised over $2 million for Orangewood. For more information, visit orangewoodfoundation.org.
Columnist Lynn Selich is the Founder and Editor-in-Chief of OCSocialScene.com, an online magazine devoted to covering philanthropic events and stories throughout OC. Reach her at [email protected]