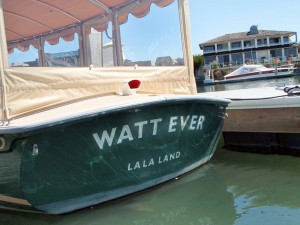 On Friday, I participated in my very first electric boat poker run, this one in support of the Leukemia Lymphoma Society, part of the Leukemia Cup Regatta activities being held here in Newport Harbor, which I wrote about in my Feb. 16 column.
The Leukemia Cup Electric Poker Run & Auction was organized by Las Commodoras, the women's auxiliary at Bahia Corinthian Yacht Club. BCYC is hosting the Regatta Cup races and activities May 17 – 19, and on July 13, with all funds raised going to LLS.
In case you're not familiar, an electric poker run involves visiting different destinations around the harbor via electric boat – in this case five private home docks – where we were greeted by the hosts and given a card bearing our assigned number (this prevents any temptation by participants to "muck" their hand). The hands are then tabulated back at the dock and winners announced.
My website, OCSocialScene.com, is an official media sponsor of the Regatta, so I invited eight friends to join in the poker run fun.
As we all boarded our Duffy, like every good captain should, I pointed out where the personal flotation devices were stowed, who was in charge of drinks, who would navigate, who would keep another eye out for other vessels/kayakers/paddle boarders, where the trash receptacle was located, etc.
Launching their individual leadership skills into action, there was a flurry of activity as each gal took charge of her designated assignment. We left without incident, following the trail of electric boats to our first destination.
Though I had assigned my friend Robyn to navigate with the map we'd received, it wasn't too tough to find the homes since there was always a line of electric boats heading in the same direction and queued in front of each dock. (I must say, on top of a fun day for a great cause, I also honed my Duffy driving skills considerably as we all got in line and waited for our turn to tie up at each dock.)  
  As the champagne flowed (not in the captain's glass I might point out), sushi and hummus were passed (captain did enjoy a plate) and before I knew it, along with multiple conversations and questions bouncing around ("Which one is John Wayne's house?" "Isn't Lido back that way?" Who's got the wine opener?" Please pass the edamame!"), I didn't have one navigator, I had eight.
Suddenly, the event began to feel like herding cats, not just out on the water, but on board as well. I say this without malice but with all the tenderness in my heart, for all I could do was crack up as I concentrated in getting us back to BCYC before we all went deaf.   
If you've ever been seated next to a table of nine women during brunch or dinner at a popular restaurant, you can imagine the scene. The only difference is that we were underway and I kept having to put on my mental cone of silence to concentrate on driving the boat since I am pretty sure the Dory fisherman down at the pier could hear the commotion. The more each gal talked or gave instructions, the louder each got trying to talk over the others.
This is one of those "you had to have been there" stories to truly appreciate the flavor of the afternoon, but I have to say, I love my friends' well-meaning, assertive personalities (which I suppose is why we're friends!) and their desire to steer their captain in the right direction.
We got back to the BCYC dock safe and sound and in the same manner we started. The girls had the Duffy ship shape in no time and off we went to peruse the fundraiser's silent auction followed by dinner with our hubby's who no doubt were regaled by our stories of the day's adventure.
Leukemia Cup Regatta events this week include a Family Bingo Night on May 17, Junior Leukemia Cup Regattas on May 18 and 19, and Harbor 20 Leukemia Cup Regatta on May 19. The final event, PHRF Leukemia Cup Regatta, will be held on July 13. For more information, log on to leukemiacup.org/ocie or bcyc.org.  
Columnist and some time Duffy captain, Lynn Selich, resides in Newport Beach. Reach her at [email protected]