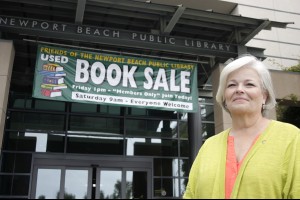 Nashville Tennessee may seem like a long way from Newport Beach, but for retiring City Library Services Director Cynthia Cowell, the state's capital will soon to be home for her and husband Jeffrey and their four dogs.
During a retirement reception held earlier this week at Big Canyon Country Club, members of the City Council and staff, Board of Trustees, Friends of the Library members and Arts Commission members gathered to bid Cowell a fond farewell, presenting her with both an architectural rendering of the newly expanded Central Library and a photo of its majestic new entrance facing the Civic Center lawn.
Jill Tucker, Chair of the Library Board of Trustees summed up the feeling of the event during a casual presentation where various admirers passed the mic, saying, "We missed you the minute you said you were leaving."
Cowell arrived in Newport in 2008 with over 25 years of public library experience and had served for 10 years as the Director of Library Services for the city of Moreno Valley. She has also held managerial and executive positions for several library systems in Texas and for public libraries in Ohio and Oklahoma. She earned a Masters of Library Science degree from Texas Woman's University and Bachelors of Science degree in Secondary Education from North Texas University.
With four community libraries under her supervision, Cowell's primary goal was to bring the entire system in to the 21st century and beyond by focusing on e-library services which circulate iPads and Kindles, and provide broad e-book selections and electronic magazine subscriptions. She also oversaw the installation of a Radio Frequency Identification system and the library's very own app.
"We are trying to be where our users are, and that's everywhere." Cowell commented.
Her greatest legacy to the city will be the expansion of the Central Library and building of the new Civic Center and City Hall, now all fluidly connected in to one campus.
Cowell led her staff through days of disruption, dust and rubble to see it through to completion. One has only to walk through the Library and its grounds and see children studying, guests in the computer bays, and visitors reading in comfy alcoves to experience the wonder, wisdom and serenity that can only be found in a library – and this one, thanks in part to Cowell's leadership, is world class.
During a heartfelt speech during the reception, Cowell praised her staff, Board and Friends of the Library for their support and professionalism. She lauded the city council for accepting her vision and working with her to make it a reality. 
"I could not have done any of it without the support of everyone here," she said. "I am humbled standing here tonight and will miss each one of you for the kindness you have shown me during my time in Newport Beach. It's very hard to say goodbye to such wonderful people."
No doubt Cowell will have fun perusing the art, music and culture that make up Nashville's vibrant arena. An avid art fan, Cowell once co-owned and operated a gallery that specialized in antiques and American Impressionistic paintings.
The Newport Beach Public Library system includes the Central Library and three branch libraries. Cowell directed a budget of more than $6.4 million and a staff of 85 employees in library services and cultural arts. The Library has two non-profit support groups, the Friends of the Newport Beach Public Library and the Newport Beach Public Library Foundation.
We wish Cynthia and her husband a long and blissful retirement, and hope she will visit Newport and the great library she helped build.
 Columnist and library devotee Lynn Selich resides in Newport Beach. Reach her at [email protected].