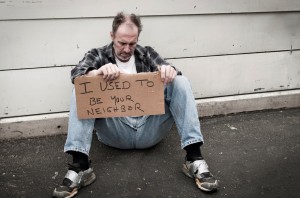 Picture this man (see photo) clean shaven with coiffed hair, wearing a handsome suit and driving a Mercedes, shopping at Fashion Island, frequenting fancy eateries and living in Newport Coast.
The sign he's holding isn't far from the truth.
There are many men and women in Orange County, even right here in Newport Beach, who, in a horrible collision of circumstances, somehow find themselves somewhere they never dreamed: homeless or on the verge, and worse, hopeless.
Enter Serving People in Need, or SPIN, the Costa Mesa based non-profit dedicated to helping the homeless of Orange County.
Their clientele includes homeless families with children that are in need of housing assistance, and homeless individuals living on the streets of Orange County, many of whom are working, or have special needs like the mentally ill, etc.
Not all of SPIN's clients are homeless, but many are near and simply need assistance in order to remain under a roof.
"SPIN is committed to giving people a hand-up, not a hand-out," says Jean Wegener, SPIN executive director. "We are known for the quality of our programs and the outstanding success rate we achieve with our clients."
In fact, Wegener tells me, 92 percent of SPIN clients were successful in becoming self-sufficient and independent of all public support.
SPIN was founded in 1987 by Sam Boyce and six friends who found a mutual passion in wanting to help people in need. Each week they passed out food and asked questions trying to determine what had brought the families and individuals they were helping to these circumstances.
Time and time again, volunteers received similar responses: "I lost my job and couldn't pay the rent, so I was evicted." "Even though I have a job, I cannot get the money together to pay the move-in costs for housing." "I am a substance abuser and lost everything. My family and friends want nothing more to do with me."
Sadly, more than 20 years after the founding of SPIN, the need for access to permanent housing and substance abuse treatment remain the two greatest needs Orange County.
Wegener shared with me some startling statistics on the issue. In a study commissioned by the Orange County Community Foundation, it was determined that one in six children in Orange County lives in poverty and that a person earning a minimum wage in Orange County must work 133 hours, or the equivalent of three full time jobs, in order to pay the rent on a one bedroom apartment in Orange County.
Remarkably, Orange County, Riverside and San Bernardino have the highest percentage of unstably housed children in California. And, despite its significant wealth, Orange County has more homeless, per capita, than Los Angeles or San Diego County.
I first wrote about SPIN in 2010 when my husband Ed and I were asked to be guest bartenders at a fundraiser held at A Restaurant to benefit SPIN. At that time, volunteers and staff were providing more than 23,380 meals to people living on the street. This past year, they served 25,200 and could serve more if they had the additional resources.
With the numbers of those in need continuing to rise throughout Orange County, every dollar counts. The good news is that because SPIN is made up of mostly hands-on volunteers, 95 percent of every dollar raised goes to work aiding those they serve.
Wegener will be Tom Johnson and my special guest on KOCI Radio (101.5FM) this Sunday between 11 a.m. and noon. Tune in and hear more about SPIN, those they serve and how you can help stem the tide of need in OC. You can also visit their website at spinoc.org.
Lynn Selich resides in Newport Beach. Reach her at [email protected].