By Christopher Trela and Catherine Del Casale | NB Indy
Newport Beach Restaurant Week only comes once a year, so we've been busy sampling menus before the event ends on Jan. 26.
With 60 restaurants participating in Restaurant Week, we know it's impossible to hit them all, so we picked several we wanted to try.
First, Christopher went to JackShrimp to try their $10 lunch menu, which featured salad or gumbo (he chose the gumbo), and a choice of three lunch items (he picked the pulled pork sandwich). The sandwich was loaded with pulled pork, and the gumbo had just the right amount of spice, although it arrived so hot it needed a few minutes to cool down. Mayor Rush Hill was spotted dining there at lunch having the same items, and he gave a thumbs up to the meal.
We were intrigued by the $15 lunch menu at Crow Burger, which listed 10 different items. Having never dined there, we ordered a classic cheeseburger with three different cheeses, and a mac n cheese burger. Catherine loved the way the mac n cheese was slathered on top of the meat patty. They came with sides of fries, so we ordered the duck fat fries and the sweet potato fries, both excellent. And, the menu included beverages, making for a great self-contained lunch.
Christopher also sampled the $30 Restaurant Week menu at Bungalow, which included a choice of four entrees. He tried the short ribs, which were slow braised in a cabernet veal stock and came with red skin mashed potatoes and braising jus. The short ribs were so tender that a knife cut through them like butter.
To see the list of participating restaurants, visit NewportBeachDining.com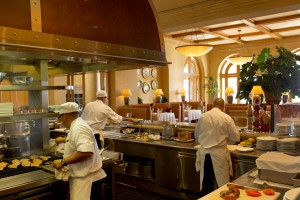 Restaurant Week Spotlight: Pelican Grill
Dining at Pelican Hill Resort is like spending an afternoon or evening in the Mediterranean without using a passport.
But more than the upscale yet comfortable ambiance, the resort's three restaurants – Andrea, Coliseum Pool & Grill, and Pelican Grill – all offer superb culinary experiences.
We named Andrea one of our top restaurants of 2013, but could easily have included Coliseum, as they both provide exceptional service and creative menus.
However, other than a media tasting on the patio, we had never dined at Pelican Grill until this week, when we went to experience the restaurant's $40 three-course, prix fixe menu that's part of Newport Beach Restaurant Week.
Pelican Grill is a few hundred feet down the road from the main resort, and has the same luxurious feel. When you enter the grill, there's a large bar and lounge to your right with several large screen TV, a perfect spot to relax and watch a sporting event.
To the left is the restaurant, which features an open kitchen and plenty of booth seating—although a 10-person chef's table has just been added.
We were seated at a booth with views of the kitchen.
"This is like being at home if your home was extremely nice," said Catherine. "It's a cozy atmosphere, yet allows for privacy, and the view of the kitchen makes it more of an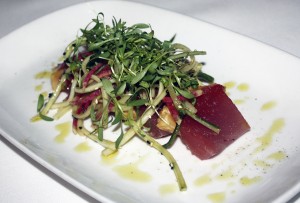 intimate space."
The Restaurant Week menu is perfect for two, as there are two starters, two entrees, and two desserts listed.
Catherine started with the mushroom bisque, which included truffled crème fraiche and parmesan crisps. Christopher had the Tombo Ahi crudo with caramelized grapefruit, wasabi oil, cucumber, and ponzu sauce.
"The crisps are a nice contrast to the smoothness of the bisque," noted Catherine. "It's more of a wintery dish but not too heavy, I feel like I still have room for an entrée."
"This ahi and grapefruit combination is perfect—the flavors are nicely balanced, and the textures offset each other well," Christopher told her. "It's more of a summer dish, but given the weather we've had this week, it's a perfect fit."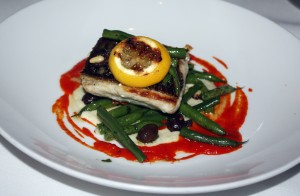 For entrees, Christopher went with the pan-seared barramundi with fennel purée, Irvine Ranch blue lake beans, and roasted red pepper coulis, while Catherine had the grilled 8-ounce prime hanger steak with creamed Irvine Ranch kale, fries, and herb gremolata.
"This is the best kale in the world!" exclaimed Catherine. "I have never had kale this delicious, and it goes nicely with the hanger steak, which is tender and juicy, not like some hanger steaks I've had."
"The barramundi is exceptional too, and the sauce is perfect—I could pour that on everything," Christopher said.
For dessert, we shared the peanut butter apple puff pastry tart with sea salt caramel gelato, and the strawberry tiramisu with light mascarpone cream, Irvine Ranch strawberry sorbet.
"The tiramisu is amazing, I like it more than regular tiramisu. It's light and fluffy, and paired with a nice sorbet," said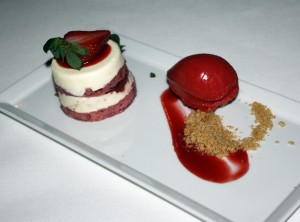 Catherine.
"I love peanut butter, and apple pie, so this pastry tart is a terrific combination of those two flavors, and the addition of the caramel gelato is again, perfect," Christopher countered.
We agreed that the $40 menu was a terrific value, and vowed to return soon to try more items from the regular menu.
For more information, visit PelicanHill.com.