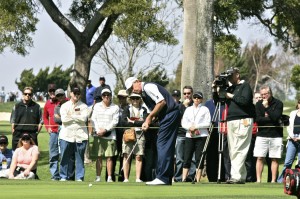 Bright and early Tuesday morning, I arrived at the Balboa Bay Resort along with 500 other early rising golf enthusiasts and VIP's for the Toshiba Golf Classic's Breakfast with a Champion.
Despite the early hour, the energy in the room was upbeat with camaraderie that reflected the love of the sport, and with the fantastic weather that is forecast for the tourney, this should be one of the best Toshiba Classics to date.
With this being the 20th anniversary of what has become an annual Newport Beach tradition, there is a lot happening throughout the week. For me, Sunday at the Newport Beach Country Club is going to be a hoot. More on that in a minute.
The Toshiba Classic isn't just about showcasing 81 legendary, world class PGA champions.  It is a major fundraiser for Hoag Hospital and other worthy Orange County charities. Over the years, more than $16 million has been raised. Proceeds from this year's tournament will benefit the Mary and Dick Allen Diabetes Center at Hoag. This will allow the hospital to provide comprehensive services for those with, or at risk for, diabetes regardless of their ability to pay.
In addition, from an economic standpoint, the tourney brings more than $27 million to the community. No small feat for a week-long event.
But back to the breakfast. After being presented the key to the city by Mayor Rush Hill, Toshiba Chairman Mr. Atsutoshi Nishita addressed the audience and announced that Toshiba is committed to be the title sponsor of the tourney for another three years.
"We feel this is a smart decision to make a positive impact," said Mr. Nishita.
The morning's keynote speaker, Champions Tour pro and World Golf Hall of Fame member, Colin Montgomerie, was chipper as he regaled the audience with stories of his two decade long career as the undisputed leading European golfer.
Affectionately known as "Monty" around the world, it's easy to see why he is one of Britain's most admired sportsmen.
Back to this coming Sunday. I've been co-hosting "Sunday Brunch with Tom and Lynn" on KOCI 101.5 FM for almost 2 months now alongside Tom Johnson. Our station manager Brent tells us that listenership is up 40 percent during our timeslot of 11 a.m. to noon on Sundays. As a result, we'll be broadcasting live from the Toshiba Classic this Sunday from 11 a.m. to 1 p.m. We have a great schedule of guests lined up. Tune in to 101.5 FM to hear all the action. We might even get Mr. Montgomerie to say hello to our audience.
If nothing else, it should be a beautiful day outdoors enjoying one of Newport's great events of the year.
Lynn Selich resides in Newport Beach. Reach her at [email protected].