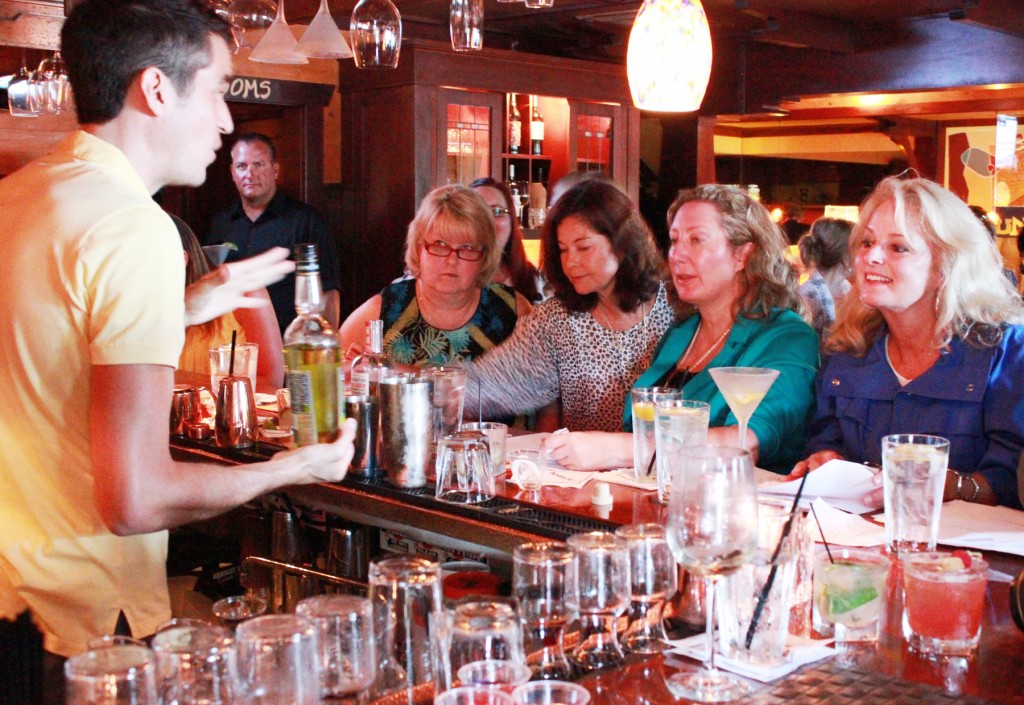 While muddled cocktails have been enjoying plenty of popularity over the last few years (and many are steeped in history), I'll admit I hadn't embraced the trend. What with all the mess of the muddle, I'm just too lazy to go to all the fuss.
That was until I was asked to be a judge for the first "Summer Muddled Cocktail Recipe Contest" at The Bungalow in Corona del Mar.
The premise of the contest was simple: budding OC mixologists were invited to submit an original cocktail that would be featured on The Bungalow's menu. All recipes submitted were required to contain seasonal ingredients and incorporate a muddling step. For his or her efforts, the winner would receive a $250 gift certificate and menu bragging rights.
After receiving a good showing of submissions from both amateur and professional mixologists, four finalists were chosen to compete for the title which was held recently at a special happy hour event at The Bungalow.  
I arrived at 6 p.m. and was promptly escorted to my stool at the bar to join the other judges, all fun and talented media representatives, including my buddy Amy Senk, founder and writer for Corona del Mar Today; Susan Belknapp, editor for OC Register Metro; and Teri Williams, editor of Great Taste Magazine.
The four finalists each demonstrated in detail how to mix their concoctions, and we arbiters were charged with critiquing their creativity, ingredient compatibility, presentation and overall flavor, taste, and texture.
How hard could that be?
I have to say, and I know it sounds cliché; it turned out not be as easy a task to chose the best between them. Each contestant had, excuse the pun, muddled through a plethora of ingredients to come up with their recipe, and their efforts really shown through with vim and vigor put into each, especially when it came to the cocktail mixer shaking infused in each presentation.
Up first (always tough) was Ari Moshayedi, 27, from Corona del Mar, who attended culinary school in New York and has a Masters in social work and education. Her cocktail,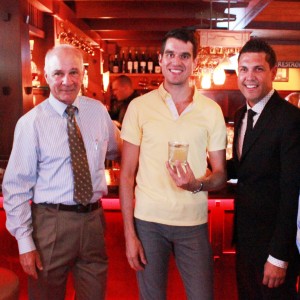 "The Bayside" was a twist on a margarita with muddled tarragon which she called the "new summer herb" that is making its way in to all kinds of cocktail concoctions. I love tarragon so this started the contest off on a high note for me.   
Next came Brent Evans, 62 of Costa Mesa with his entry called "Home Before Sunrise," as in  "Honey, I gotta get…" (extra points from me for the inspired name). Along with some other ingredients, muddled ginger and bitters were mixed with bourbon and his homemade rhubarb syrup which he said gave the drink that "deep, amber red, reminiscent of the sun rising after a long evening." As he helped the bartender wash glasses post-presentation, he lightheartedly joked "If nothing else, I plan to win in the senior category." Thumbs up from me, but two more contestants to go!  
Third was Benjamin Webb, 32 of Corona del Mar, who presented his dandy "The Mifflin" which he named after the street he grew up on in Madison, Wisconsin. He got our attention as he brought out his personal, special muddling tools "to give the basil some love." Not sure if his Masters in Environmental Studies had anything to do with it, but as he combined fresh squeezed grapefruit juice acquired from one neighbor and muddled purple basil purveyed by his other neighbor, it was clear "The Mifflin" was a heady contender.
Last, we had Laurel Chowdhury, 37, from Laguna Niguel, a brand marketing consultant, who had a relaxed and chic style all her own as she presented her "OC Garden Party" featuring Cucumber Vodka (I didn't know it existed), Elderflower liqueur, muddled mint leaves, lime and club soda topped with fresh raspberries. I felt like I was at the spa it was so delicate and fresh.
Dang, this contest wasn't getting easier, it was getting harder.
As I pondered my favorite of each of the drinks presented, I easily could have seen all on The Bungalow's specialty cocktail list. Depending on your palette, each would have been popular choices with diners.   
We handed in our votes which were tallied and the ultimate winner, Benjamin Webb with "The Mifflin" was announced to the standing room only crowd. Brent Evans came in second, Ari Moshayedi was third, and Laurel Chowdhury came in fourth.
I am now a muddled believer.
Indy Columnist and OCSocialScene.com Founder and Editor-in-Chief, Lynn Selich, resides in Newport Beach. Reach her at [email protected].    
 Editor's Note: The Bungalow has a summer filled with fun events. On Mondays, enjoy complimentary Happy Hour sliders 4:30 – 6:30 p.m. Tuesdays there's a barbecue on the patio (burgers, salmon, steaks, and more). Midweek is Wine Down Wednesday. Thursday is "CDM" Night (Happy Hour available all night in the bar). And every Sunday, no corkage fee in the dining room.