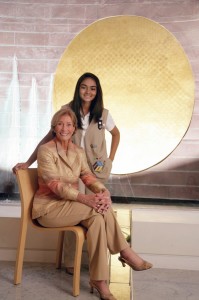 The National Philanthropy Day Awards Luncheon is one of my very favorite annual events held each year at the Hyatt Regency Irvine in celebration of select Orange County philanthropists, business leaders and individuals.
What I love most about the event is hearing the stories, experiences and reasons each person or organization decided to make a difference as well as hear from those impacted by their philanthropic efforts.
To learn about why each decided to make the effort to leave the world a better place – be it on a large scale, or a smaller one – is profoundly inspiring, enriching and empowering.
In a world that sometimes seems overwhelmingly small-minded, I have never attended an event that does such a great job recognizing the angels amongst us by telling their deeply personal stories or shining a light on quiet corporate giving philosophies that make up the fiber of the human experience, and how we connect with each other and those in need.    
Celebrating its 28th year, the event is beautifully produced by the Orange County Chapter of the Association of Fundraising Professionals and has become one of the most prominent philanthropic recognition events in the county. This year's theme is "Giving is Always in Season" – apropos of the holidays coming right around the corner. This is the time of year when many make their year-end contributions, so the event also serves as a reminder of the importance of those gifts.
More than 1,000 outstanding nominees, including local residents Henry Segerstrom, Susan and Henry Samueli and John and Donna Crean, have been honored since the event's inception in 1986. On Thursday, November 21, eight more will join the ranks including two from our own community.
Corona del Mar resident, philanthropist Victoria Collins, Ph.D., CFP, is being honored as Outstanding Philanthropist, and was nominated by several of the many organizations she has been involved in supporting, including Girl Scouts of Orange County, Human Options, Orange County Community Foundation and Women Investing in Security and Education (WISE). Among her many accomplishments, Dr. Collins is also an original founder of United Way's Women's Philanthropy Fund as well as the Women's International Load Fund.
Natalie Cernius of Newport Beach will be honored as Outstanding Youth for her efforts in founding the Friday Night Club, a social club where high school students earn community service hours for spending quality social time with teens who have autism, cerebral palsy, Down Syndrome or other special needs.
Because Cernius was getting ready to head off to college following in the footsteps of her other siblings, she worried her brother Andrew, who is autistic, would be lonely in their absence. Thanks to her leadership, she has made a tremendous difference in the lives of those with special needs and their families. More than 14 organizations and families nominated Cernius for the award.
Additional honorees will include the Roosters Foundation of Orange County for Philanthropic Group; Mary Lynn Coffee for Volunteer Fundraiser; Margie Wakeham of Families Forward for Founder; Chemers Gallery/Karen Raab for Small Business or Corporation; Haskell & White LLP for Midsize Business or Corporation and Edwards Lifesciences Corporation for Large Business or Corporation.
To purchase tickets, become a sponsor or find additional information about the National Philanthropy Day Awards Luncheon, visit npdoc.org. Read profiles of the 2013 nominees at OCSocialScene.com.  
Columnist Lynn Selich resides in Newport Beach. Reach her at [email protected].