I'll never forget my first bicycle.
On Christmas morning 1971, my brother and I ran to the living room anticipating the new bikes we had asked Santa to deliver. As we stared in disbelief, it was evident we'd have to ask Santa to reconsider his decision in 1972 for no bikes were to be seen.
My brother and I did our best to act like we weren't disappointed, but as we looked at each other over a pile of flannel jammies and Mr. Potato Heads, it was evident we obviously hadn't been good enough through the year to warrant the likes of new Schwinn bikes.
That was until our parents asked us to open the curtains, and as we pulled the cord, there on the patio stood two shiny new bikes. Mine was pretty pink with a flower-covered banana seat and pink tassels – I loved it. It was the best Christmas ever.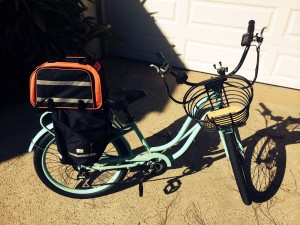 More recently, after getting a new, more grown-up Pedego Electric Bike, the pure joy and love I felt for my very first bike has been exceeded by a landslide. I am downright addicted to the thing – in such a good way.
If you aren't yet familiar with them, Pedegos are the Teslas of the electric bike world. And what I love most about the brand, besides the integrity of the design and the quality of the components and accessories, is that the company is U.S.-based with headquarters in Irvine.
Pedego was founded in 2009 by two local baby boomer entrepreneurs, Don DiCostanzo and Terry Sherry, both with a vision to differentiate Pedego from all other electric bikes.
Through sleek styling, advanced technology, top-of-the-line components and comfortable designs they were able to achieve that goal. The Pedego brand offers fun for people of all ages with a specific emphasis on the 40-plus market. Pedego electric bikes emit zero- emissions and travel up to 30 miles per battery charge resulting in a significantly lower environmental impact than cars.
I had the pleasure to meet with Pedego CEO, Don DiCostanzo, who told me about bringing their dream to a reality.
"We always knew that the best way to get people back on a bike was to create a comfortable ride with reliable parts and components. Everything from the Shimano gears to triple-coated durable finishes are among the finest available in the industry."
I chose the "Interceptor" model in retro sea foam green. Powered by a 48v battery and a proprietary 500-watt electromagnetic motor, I can use either it as a regular bike, turn on the peddle assist in hilly terrain, or just give it some juice when I don't want to peddle at all.
Pedego offers nine different models that come in a slew of color combinations and customization options.
One model that is growing in popularity thanks to its easy step-through frame is their Step Thru Comfort Cruiser and Step Thru Interceptor, which is also used by police departments. These models are great for people who might have knee or back issues that prevent them from being able to get aboard a standard bike frame.
Pedego's new Boomerang has an extra-low step thru frame so people can simply sit down on it and lift their leg over.
I recently rode my Pedego to a community event and was amazed how many people stopped to ask me about it, or tell me how much they love their own. One gal told me that she has nerve damage in her legs but thanks to the Pedego peddle assist option, she is now able to go biking and keep up with her husband.
I've added some fun accessories to my Pedego including a smart-phone holder and blue tooth enabled mini speaker (great sound!), as well as saddle bags and a sturdy dog carrier so Charlie-dog can come along for the ride. I find myself looking for ways to take my Pedego instead of my car!
The best part is having so much fun while getting exercise and checking out the many bike trails we can enjoy here both locally and throughout Orange County. I am seeing different areas of our wonderful community from a completely different perspective and losing weight to boot!
With 21 stores throughout California including nearby in Corona del Mar and by the Newport Pier, all Pedego stores offer rentals as well.
Visit their website at pedegoelectricbikes.com.
Pedego owner Lynn Selich resides in Newport Beach. Email her at [email protected].